Commentary
Catching up with the Baseball Boogie
Originally Published:
May 20, 2009
By
Jim Caple
| Page 2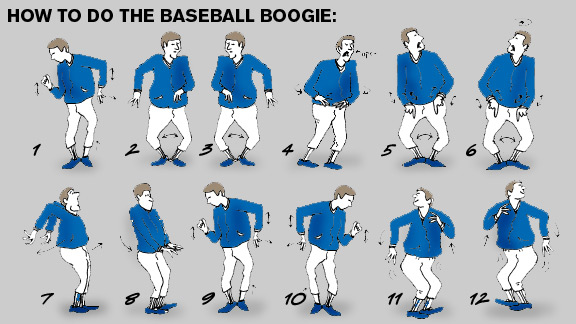 Kurt Snibbe
YouTube isn't fair.
Orel Hershiser broke Don Drysdale's scoreless innings streak record in 1988, and he did so in dramatic fashion by throwing 10 scoreless innings in his final start of the season. Could I find any of his 59 scoreless innings on YouTube? No. Hershiser won three games (and saved another the day after pitching seven innings) in the 1988 postseason, threw two complete-game victories in that World Series and was on the mound to retire the final batter in the Game 5 clincher. Could I find those games on YouTube? No. He won 204 games in his career, pitched in six postseasons and won a Cy Young award. Could I find any of that on YouTube? No.

But his singing and dancing performance in "the 1986 Dodgers' tragically humiliating "Baseball Boogie"? Oh, yes. That's on YouTube, out there for everyone in the world to pull up, view, snicker at, ridicule, share, and then do what everyone else has done (all of them certain they are the only one to come up with the idea): show it to Hershiser as a painful reminder of just how awesome the '80s were.
"Great. Thanks a lot," Hershiser said when I told him I was writing about the video. "Why would you want to do that me? ... Let's not promote this video. This could be a nice thing. I'm sitting in Yankee Stadium, getting ready for a game and you're bringing that up?"
That's the horrible problem with YouTube, though. Your embarrassing high school yearbook stays safely tucked in your parents' house and is brought out only when your fiancée visits for the first time. But nothing stays hidden away on YouTube. A fact that Hershiser is reminded of again and again at dinner parties, in e-mails, in ballparks, church socials...
Hey, Orel! Mind if we show this video of you in a really, really embarrassing moment from when you were in your 20s? And right after that, we can look at photos of you taking a bath when you were 2 years old.
"It's like someone picking your nose -- you don't want to watch it," Hershiser said. "I see the first frame and I turn away. That might be the most embarrassing thing ever. It's right up there with 'The Super Bowl Shuffle.'"
Ah, "The Super Bowl Shuffle," the music video produced by the 1985 Chicago Bears that exemplified an unfortunate era. MTV was in its infancy (i.e., it still showed videos) and teams decided to cash in on the new art form by filming videos with their own players singing and dancing awkwardly in disturbingly tight pants. Among others, the 1986 Raiders had "The Silver and Black Attack" and the Seahawks had "The Blue Wave is on a Roll."
And then there were the 1986 Dodgers and "The Baseball Boogie."
"Everyone was doing one," said Angels manager Mike Scioscia, who was the Dodgers' catcher that season. "We weren't even that into it. I think people said, 'It might be fun to do, let's go do it.' And we did it."
Unfortunately.
The video begins with the Dodgers, dressed in pastel satin jackets that must have seemed very cool at the time, readying for a night of partying on a set that is part baseball clubhouse, part backstage dressing room, part discotheque and entirely cheesy. Others arrive in a limo, and then many young women in white shorts join for a fabulous evening of singing and dancing to such lyrics as, "Come on baby, why don't you boogie with me -- We're gonna dance 'til a quarter to three."
This is exactly what life in the big leagues is like, by the way.
You may not think so by the looks of it, but Hershiser says there was a choreographer to instruct the Dodgers with their moves. "Oh yeah, it won a lot of awards. I don't think the choreographer was Paula Abdul."
Watching these videos, you're struck by a couple of thoughts. First, four minutes may sound like a brief time, but it can be very, very long when watching a team music video. More importantly, just what the hell were they thinking to agree to such a thing?
"I can't even believe it," Hershiser said. "That just shows you how powerful culture and peer pressure are. What was I thinking? But it's the same when you see pictures of yourself in bell-bottoms and hair with no gel -- back then, you were thinking you were looking good."
While "The Super Bowl Shuffle" somehow reached No. 41 on the Billboard charts, the interesting thing about "The Baseball Boogie" is that neither Scioscia nor Hershiser says he recalls ever seeing the video at the time. "I don't think it was even released until this generation of YouTube," Scioscia said. "I've never seen it. I've seen glimpses of it here and there, but I have absolutely no interest in seeing it. As soon as it was completed, we were saying, 'This is going to be pretty sorry.' We didn't have too many guys on the team who had the talent to put that sort of thing together. Nobody was doing it to launch any music career, believe me."
Mercifully, the team dance/music video craze faded away, only to be replaced by the individual athlete music video, which at least had the advantage of featuring only a single player singing or rapping (we are blessed that the Shaquille/Kobe feud kept the two from teaming up on one horrendous project). Asked why team videos died out, Hershiser replied, "I am NOT a video historian. This is not a great part of my life where I say, 'Let me look back on that!' People compare me to Drysdale, not music videos."
As many a college student has learned, there is not much you can do once an embarrassing photo or video enters cyberspace, but Hershiser will combat "The Baseball Boogie" link the only way he can. "I will never buy YouTube stock."
BOX SCORE LINE OF THE WEEK
There were some impressive candidates last week. Slumping David Ortiz went 0-for-7 with three strikeouts and stranded 12 runners (7 AB, 0 R, 0 H, 0 RBIs, 3 K), which earned him a seat on the bench for the remainder of the road trip. Then there was San Diego starter Chad Gaudin, who gave up four runs on one hit and seven walks (4 1/3 IP, 1 H, 4 R, 4 ER, 7 BB, 3 K) and Oakland's Sean Gallagher, who gave up nine runs on three hits (2 1/3 IP, 3 H, 9 R, 7 ER, 5 BB, 1 K) in a game in which the Athletics walked 11 batters and threw 200 pitches. And Dontrelle Willis allowed no runs on one hit to win his first game for the Tigers -- in fact, his first win since September 2007, when he was with the Marlins (Roy Halladay won 29 games in between Willis' victories).
Great performances all, but this week's award has to go to the Angels' John Lackey, who put up this line in his season debut:
0 IP, 0 H, 1 R, 1 ER, 0 BB, 0 K, two pitches
After beginning the season on the disabled list, Lackey took the mound, threw his first pitch behind leadoff batter Ian Kinsler, hit him with the second pitch and was promptly ejected by home plate umpire Bob Davidson.
Lackey maintained he wasn't throwing at Kinsler but evidently umpires are more sensitive to possible beanballs these days than back in 1974. On May 1 that season, Pittsburgh starter Dock Ellis intentionally hit the first three batters of the game, tried to hit the fourth, Tony Perez, but missed and wound up walking him ("There was no way I could hit him," Ellis complained to writer/poet Donald Hall later, "he was running") and then threw two pitches at Johnny Bench's head (missing him each time). And even then, he wasn't ejected -- Pirates manager Danny Murtaugh pulled him for a reliever.
Oh, and as Hall recounts in his splendid book, "Dock Ellis In the Country of Baseball," he also tried to hit Pete Rose when he was warming up before the game. Ellis was a very interesting pitcher.
TELL YOUR STATISTICS TO SHUT UP
Some people saw Manny Ramirez's positive drug test as further reason to strengthen baseball's policy against PEDs, but isn't the suspension of one of the game's most high-profile players a sign that the program is working? Certainly there are improvements that can be made, but increasing the punishment -- some suggest a one-year suspension for a first offense -- isn't warranted. Fifty games is a lot. The NFL, with its supposedly oh-so-strict program, suspends players for a smaller percentage of the season (25 percent) for a first offense.
Meanwhile, baseball's decision to move up World Series game times by half an hour should make East Coast critics happier. Now if only they can end "Monday Night Football" early enough so that kids can stay up to see the finish.
Because of a lineup-card blunder by manager Joe Maddon, Tampa Bay's Andy Sonnanstine became the first American League pitcher to bat in the starting lineup of an AL game since 1976 (the Yankees did start pitcher Rick Rhoden as DH once in 1988, but he did not pitch). Maddon had accidentally listed two third basemen (Ben Zobrist and Evan Longoria) and no designated hitter on the lineup card he submitted to the umpires. Because he did so, he wasn't allowed to have a DH in the game but was allowed to put Sonnanstine into the No. 3 hole and have Longoria available on the bench. But why? If the umpires are required to treat the fine print in the rule book as if they were IRS auditors and thus require the Rays to go with the DH-less lineup Maddon handed in, why not also require the team to start the game with two third basemen? Wouldn't it be more consistent to make Tampa Bay start the game with Longoria and Zobrist in the lineup and then have to remove one to get Sonnanstine into the game? Of course, the simplest solution would be to just let Maddon correct the mistake with a pencil and eraser.
For some reason, comedian Larry the Cable Guy took batting practice with the Mariners on Friday, wearing cutoff sleeves on his jersey a la Ted Kluszewski. At least one player wasn't impressed. "He didn't give me any batting advice," Ichiro said, "and at the same time, he didn't make me laugh very much, either."
Jim Caple is a senior writer for ESPN.com.