Commentary
A Bud Selig statue is a bad move
Originally Published:
February 10, 2010
By
Jim Caple
| Page 2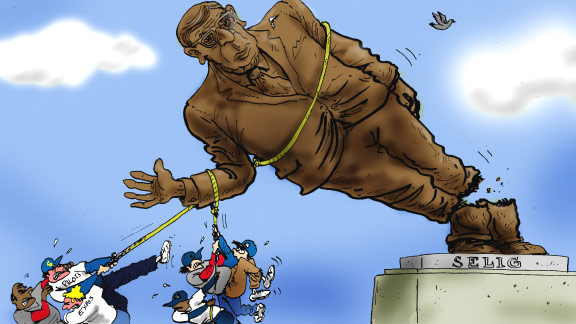 Kurt Snibbe/ESPN.com
The Milwaukee Brewers announced this week that they will erect a statue of former Brewers owner and current MLB commissioner Bud Selig in front of their stadium this summer. (Readers may insert their favorite Beavis and Butthead reference here.)
I'm not sure whose idea this was, but Selig might want to tell them to reconsider this honor. Nothing against Selig, but honoring any team owner or former team owner with a statue is asking for trouble.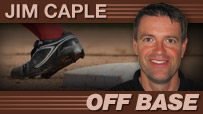 Athletes provoke warm, fuzzy feelings in fans. Put up a statue of Willie Mays (San Francisco), Roberto Clemente (Pittsburgh), Bob Feller (Cleveland), Al Kaline (Detroit) or Ted Kluszewski (Cincinnati) and you'll not only have a work of art, you'll soon have a popular gathering spot for fans of all ages. The gloomiest, most miserable people on Earth will hand $500 cameras to total strangers so they can pose with the statue for their Christmas card photo, hugging the figure more tightly than their own spouses. Kids will climb all over the statue, and their parents will be so busy snapping photos they'll forget to warn the kids they might fall and break their arms. Grandparents will point to the statue and tell stories about the player to their grandkids, with such emotion that pigeons will go to the bathroom elsewhere out of respect.
You don't have to be a player to inspire these reactions; statues of non-athletes can inspire as well. The Harry Caray figure outside Wrigley Field and the Jack Buck statue outside Busch Stadium always draw fans.
But an owner? The suit who controls ticket and beer prices? The filthy-rich man who demands that taxpayers help pay for new stadiums to make him even richer? The meddlesome guy who fails to re-sign a beloved star and then gives a boatload of cash to a free agent so fat he uses real donuts on his bat in the on-deck circle? Giving him a statue is just a bad idea. It's like putting up a statue of a politician. You're guaranteed to tick off at least half the people.
John Sisko, a good friend and a nationally renowned sculptor, said that celebrating athletes with statues is a great tradition, allowing us to gaze upon the near-nude human figure without shame.
"The appreciation of those athletes is like sports in that it is a celebration of the body in the moment," he said. "You could have a sculpture that celebrates an athlete in that moment, and when the moment passes, there is no contradiction 50 years later -- we can love the sculpture and love the athlete, and we may know that the athlete is now 75, and there is not a conflict." Memorializing non-athletes who are still alive in the same way, he said, is kind of creepy. "It is like you are trying to force an agreed-upon institutional 'memory' of a person that is alive."
Brewers fans could recall Selig as the man who brought the Brewers to Milwaukee, and a World Series to the city in 1982. Or they could just as likely remember how he never got them back to the postseason after that, and lost Paul Molitor to free agency after offering him a paycut.
[+] Enlarge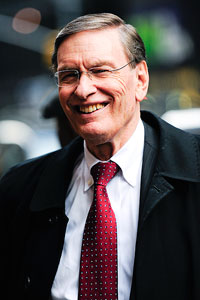 Ray Tamarra/Getty ImagesWill Bud Selig's statue be a popular attraction in Milwaukee? We'll see.
Fans outside Milwaukee could remember how as commissioner that Selig added the wild card and ushered in an era of record attendance and revenue. More likely, though, they will remember him for how he hijacked the Pilots from Seattle after one season. How he canceled the World Series in 1994. How he tried to kill off the Expos and Twins in 2001. How he ended the All-Star Game in a tie in 2002. Not all these things are entirely his fault, but he's the one who lives with the blame.
The Selig statue will reportedly stand near the ones currently honoring Hank Aaron and Robin Yount. That's like standing next to George Clooney and Clive Owen; you're only going to suffer by comparison. The Selig statue also will be more than seven feet tall. The Brewers were considering a similarly proportioned statue of Prince Fielder, but decided there isn't enough bronze on the planet for that.
Here are the rules for receiving the honor of a statue at a stadium:
1. You wore a uniform instead of a suit during your career.
2. You used your voice to provide play-by-play rather than demand a tax-funded ballpark.
And that's pretty much it for statues. Anyone else should settle for a bobblehead.
Besides, there are other ways to honor an owner, although they've generally fallen out of favor. In bygone days, owners would name their ballparks after themselves, but that is a rarity now. Rather than slap their names on the sides of stadiums, today's owners usually desire no greater honor than selling off the naming rights for $100 million.
Sigh. It could be worse. Instead of a bronze statue, it could be an animatronic Bud Selig who keeps arguing with an animatronic Donald Fehr about arbitration, salaries and the plight of small-market teams.
Jim Caple is a senior writer for ESPN.com. You can follow him on Twitter at jimcaple.