Commentary
Thirty ballparks, 12,000 miles by bicycle
Originally Published:
June 22, 2011
By
Jim Caple
| Page 2
The Tour de France starts next week, and before the race ends, the world's top cyclists will ride more than 2,000 miles and climb over some of the highest, steepest roads in the Alps and Pyrenees. Which is nothing, compared to what Darren O'Donnell is doing. On his own personal Tour de Baseball, he's already cycled nearly three times that far, crossed the Arizona desert and the Rocky Mountains, fixed more flat tires than he can keep track of (two dozen in California alone) … and he still has about 6,000 miles to pedal.
The only way this could be a more grueling trip is if he were riding a tandem bike with Prince Fielder seated behind him.
On the other hand, he'll come home with something more precious than a yellow jersey: the memories from seeing a game in every major league ballpark. That's right -- O'Donnell is riding his bicycle to all 30 stadiums this season. He started at the April 8 home opener at Seattle's Safeco Field and will finish in late September at St. Louis' Busch Stadium, some 12,000 miles later.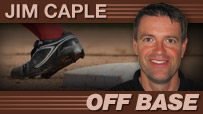 After I read about O'Donnell in The Seattle Times on Tuesday morning, I wished I was riding alongside him. I love baseball. I love ballparks. I love biking. What could be better than combining all three, especially if you top them off with beer at the ballparks? But then I listened to O'Donnell tell me over the phone about the flat tires, the rain, the heat, the humidity, the headwinds, the flat tires, the 41-pound steel-frame bike he rides, the 41 pounds of supplies he carries on it -- did I mention the flat tires? -- and I thought, well, maybe I'll catch up with him when he gets near St. Louis.
When O'Donnell visited Tropicana Field last week, he met Rays manager and avid cyclist Joe Maddon. I called Maddon and asked whether he would like to join O'Donnell.
"No,'' Maddon replied. "I did a cross-country drive with my car after last season, and that was tough enough. I can't even imagine what biking would be like. … It's hard for me to wrap my head around what he's doing. The roads he rides on, the bike he's riding, the weather he has to deal with -- it's just mentally staggering.
"And the other side of it is that he gets to go to all these ballparks, which is exceptionally cool.''
O'Donnell, 24, was working at a food co-op in Bellingham, Wash., when he came up with the idea for the tour last year following a two-week ride with a couple of friends from Bellingham to Chico, Calif.
"I've loved baseball for as long as I can remember,'' he said. "And I'm fascinated by how different each stadium is but how the game is the same. You have different foul territories, different dimensions of outfield fences -- the whole allure of the stadium. I told my friends, 'Wouldn't biking be a cool way to see all the ballparks?' And they said, 'Why talk about it, why not do it?'
"So I set my mind to do it. I like challenging myself and I set forth to do it.''
[+] Enlarge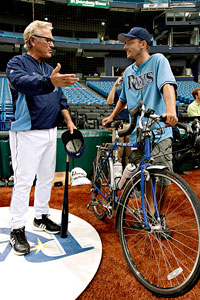 AP Photo/Chris O'MearaDarren O'Donnell chats with Rays manager Joe Maddon during the 11th stop on O'Donnell's baseball biking tour.
O'Donnell funded his tour by budgeting his money and plowing into his savings for grad school. He tries to bike about 100 miles a day, spending his night either in a motel or in a tent (he pitched it behind a gas station near Yuma, Ariz., one night). With his girlfriend, mother and father providing road updates, hotel reservations and food packages from home -- "Mom has been sending me about 40 Clif Bars at a time'' -- he has a better support crew than Lance Armstrong ever did.
He says the toughest stretch was the opening leg from Seattle to San Francisco. The Northwest had record-setting cold and rain this spring and O'Donnell caught the brunt of it, riding through long, wet, cold stretches when he repeatedly asked himself, "Why the hell am I doing this?"
"The weather was absolutely brutal and the rain was unforgiving when I rode from Brookings [Ore.] to Arcata [Calif.],'' he said. "That was the first night I stayed in a hotel. I rode 110 miles that day and there was not one second it didn't rain. That hotel room was my motivation. I kept saying, 'I'm going to be in a hotel tonight and I'm going to get dry and nothing is going to stop me.'"
And we complain about sitting inside our cars for 20 minutes in game traffic?
But then O'Donnell reached Oakland, and the ride has been a joy ever since (aside from the headwinds and flat tires). He says sightseeing isn't the primary purpose of his trip, but he's taken in enough breathtaking views to challenge an eight-gig memory card. He's seen the spectacular Pacific Coast, the southwestern deserts and the Rockies on his journey, and Monday night in Miami he was witness to perhaps the most awe-inspiring sight of all: an 80-year-old big league manager.
"It was so awesome to see Jack McKeon,'' he said. "He had a big fat cigar in his mouth, and it was like the perfect image of him from managing the Marlins in 2003.''
Plus, O'Donnell has seen all those ballparks, a dozen so far with 18 left to go, including Fenway, Wrigley, Camden Yards, PNC Park and Target Field. "My favorite stadium is Safeco,'' O'Donnell said. "I love how the roof opens and closes and you still have air coming in.
"As far as the complete game experience, right now I would say the one that is freshest in my mind, Miami. I got to meet Tony Perez. And I had a great time in Tampa Bay. I met David Price and Evan Longoria and Joe Maddon. … But there really is not a bad stadium. They're all unique.''
You know a man is having a great road trip when he has only good things to say about the ballparks in Tampa Bay and Miami.
O'Donnell rode to Fort Pierce, Fla., on the first day of summer, his odometer registering Mile 5,735 when he reached his motel. As the clock neared midnight, he said he planned to get up early the next morning, watch the sun rise over the Atlantic and take a dip in the ocean. Then he would get on his bike and continue his tour. He plans to be in Atlanta for a Braves game next week and he has 600 miles to cover.
"After the Marlins game Monday, I was getting on my bike and someone said, 'I hope you don't have far to go.' I said I only had to ride about eight miles. 'Eight miles? That's a long way.' Not really. I just enjoy riding. Every morning, I'm excited. I really like looking at a map of the U.S. and seeing where I'm going. I've covered some ground out here. I look forward to every day … except when I know there is big headwind.''
(You can follow O'Donnell's travels on Facebook -- Baseball Biking Tour -- and on Twitter @Baseball-Biking)
CSI: BOX SCORE
You know the rules. You get a fragment from an old box score and the challenge of determining what game it is from and why it is significant. I give this one a difficulty rating of 6.5.
Kurt Snibbe/ESPN.com
BOX SCORE LINE OF THE WEEK
With all the low-scoring games this season, it often seems a lot like 1968 out there, especially on the West Coast. But every once in a while we get a reminder of pitching from more recent years. Such as when San Francisco's Madison Bumgarner gave up eight hits to the first eight Minnesota batters he faced Tuesday and retired only pitcher Carl Pavano before leaving the game (1/3 IP, 9 H, 8 R, 8 ER, 0 BB, 1 K). Or when five St. Louis relievers allowed nine runs in the eighth inning the same night against the Phillies. Or when four San Diego relievers allowed 10 runs against the Red Sox in the seventh inning Monday, producing this award-winning line from Ernesto Frieri:
1/3 IP, 0 H, 4 R, 4 ER, 2 BB, 0 K, 2 HBP
[+] Enlarge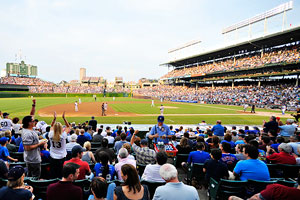 Rob Grabowski/US PresswirePage 2 is definitely not among the camp that thinks Wrigley Field is a dump.
BALLPARK RANKINGS
Wrigley Field, Chicago: The Friendly Confines got a most unfriendly review last week when Peter Gammons referred to it as a dump. If so, there must be some mighty nice garbage dumps out in Boston because Wrigley is one of my favorite ballparks. Do the concourse and concession areas need some serious upgrades? Yes, absolutely. There was a time when I preferred Wrigley to Fenway, but not since the Red Sox spent a lot of money upgrading the oldest ballpark in baseball so that it seemed both historic and fresh. Wrigley could use a similar amount of love. But a dump? Please. Looking out at the scoreboard and the ivy-covered walls is like a trip through a time machine to a delightful past. I've often said that if foreign visitors wanted to capture the true American experience, they should see Yosemite and the Pacific Ocean, and sit in the bleachers with the wind blowing out at Wrigley and a beer in their hands on a warm summer day. Of course, it would be nice if Cubs had a better team to watch on the field and sold some better food in the concession stands, but as they say in Chicago, there's always next year.
Score: 90. Current Rankings:
1. AT&T Park, San Francisco 94.
2. Camden Yards, Baltimore 92
3. Target Field, Minnesota 91
4. Wrigley Field, Chicago 90
5. Dodger Stadium, Los Angeles 88
6. Safeco Field, Seattle 87
7. Comerica Park, Detroit 87
8. Kauffman Stadium, Kansas City 86
9. Progressive Field, Cleveland 82
10. Busch Stadium, St. Louis 78
11. Rangers Ballpark in Arlington, Texas 77
12. Oakland-Alameda County Coliseum 74
13. Tropicana Field, Tampa Bay 68
[+] Enlarge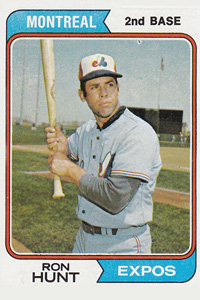 Topps
BASEBALL CARD OF THE WEEK
From the looks of his stance on this card (1974 Topps No. 275), is it any wonder that Ron Hunt tried to reach base as often as he could by getting hit by a pitch?
YEAH, WELL, THAT'S JUST LIKE YOUR OPINION, MAN
Congratulations to Jack McKeon for his return to baseball. McKeon is so old that there are two managers in the Hall of Fame who were born after he was (Whitey Herzog and the late Sparky Anderson) and a third born the same year (Earl Weaver). He's the oldest active manager since Connie Mack, who was 87 in 1950, his last year as manager. He's even older than Jamie Moyer. I think it's great McKeon is back in the dugout, and I think it would be even better if he managed in a suit and a straw hat like Mack. …
Here's the trailer for "Moneyball,'' which comes out in September, with Brad Pitt starring as A's general manager Billy Beane. I'm still not sure how you can make a compelling movie out of a book about on-base percentage and undervalued players, but I know I'm much more eager to see "Moneyball'' than "Real Steel,'' which is about boxing robots.
CSI: BOX SCORE ANSWER
Basketball fans might have gotten this one, recognizing that DeBusschere and Conley were Dave DeBusschere and Gene Conley. Conley won championships in both baseball (1957, Milwaukee Braves) and the NBA (Celtics, 1959-61). DeBusschere, of course, was named one of the 50 greatest players in NBA history. On April 27, 1963, they briefly pitched against each other. I doubt we'll see any players from this week's NBA draft facing off on the mound.
Jim Caple is a senior writer for ESPN.com. You can follow him on Twitter at jimcaple.