By Jim Caple
Page 2 columnist
And if you think the Yankees' first day of spring training is going to be a circus so outlandish that Cirque du Soleil would charge $100 a seat for it in Vegas, check out what's on the calendar for the rest of the spring: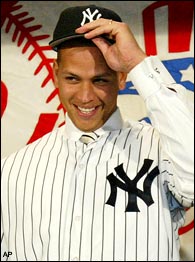 A-Rod may be smiling now, but maybe not for long.
Feb. 20: Bernie Williams and Derek Jeter strip A-Rod to his jockstrap, coat him in Ben-Gay and duct-tape him to the center field flagpole.
Feb. 21: During opening fundamental drills, the Yankees practice opening champagne and pouring it over their heads.
Feb. 22: The Yankees are encouraged when No. 5 starter Jon Lieber pitches to live hitters for the first time since his 2002 elbow injury. Lieber had gone 12-5 with a 2.39 ERA against dead hitters during his rehab (not including Ted Williams' frozen head).
Feb. 23: In a straight Boone-for-Boone deal, owner George Steinbrenner trades Aaron Boone to the Mariners for All-Star second baseman Bret Boone. The Red Sox respond by trading Nomar Garciaparra to the Mariners for his brother, minor leaguer Michael Garciaparra.
Feb. 24: Now that they've given it a little more thought, Roger Clemens and Andy Pettitte announce that they want to come back to New York.
SPRING STRAINING
Prefer an artist's rendition of the Bronx Zoo down south? Check out cartoonist Kurt Snibbe's portrait of Legends Field.
Feb. 25:
Jeter and Jorge Posada give A-Rod an atomic wedgie and stuff him into his locker.
Feb 26: Steinbrenner tells reporters that he would like to extend Joe Torre's contract and that he is the best manager in baseball, then casually adds, "Of course, he hasn't won a game since late October."
Feb. 27: The Yankees' brass encourages Enrique Wilson to invite Boston outfielder Manny Ramirez to lunch, followed by a "spirited" game of pickup basketball.
Feb. 28: Jeter and Jason Giambi steal A-Rod's lunch money.
Feb. 29: General manager Brian Cashman strolls onto the field for five minutes for his quadrennial exposure to the sun.
March 1: In a final push before the Florida primary, Democratic frontrunner John Kerry pledges to restore the shortstop job that A-Rod lost during the Bush administration. Democratic challenger John Edwards counters by saying he'll do even more: He'll restore the three World Series the Yankees have lost during the Bush presidency.
March 2: To celebrate the beginning of their second century as a team, the Yankees add commemorative "2004 World Champion" patches to their uniforms.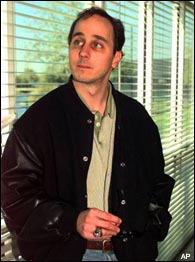 Go on Brian, go out and play, you deserve it -- but don't forget to slather on that SPF-45!
March 3: The Yankees announce that while Jeter will continue to be captain, they are naming A-Rod "Mr. Congeniality.
March 4: The Grapefruit League season begins. Rudy Giuliani throws out the ceremonial first pitch, pitcher Kevin Brown throws out his sacroiliac and Giambi throws out his knee.
March 5: A-Rod bobbles the first grounder hit to him at third base and Jeter pops out in his first spring training at-bat. Steinbrenner orders Torre to switch the two.
March 6: Jeter bobbles the first grounder hit to him at third base and A-Rod goes 0-for-3. Steinbrenner orders Torre to switch them back.
March 7: Minor-league camp opens with instructor Darryl Strawberry holding his "fundamental" drills at the famous Mons Venus strip club.
March 8: Jeter "waters" his side of the infield to mark his territory.
March 9: The Yankees begin selling World Series tickets.
March 10: The Yankees travel to Fort Myers for a game against Minnesota and spend the entire game lighting $100 bills in the dugout, just to annoy the hell out of the Twins.
March 11: At the quarterly owners meetings, Steinbrenner tells Rangers owner Tom Hicks to pay the dinner tab. Hicks agrees quickly, saying, "Let me pay for the valet, too."
March 12: Jeter draws a line in the infield and tells A-Rod to stay on his side.
March 13: Steinbrenner phones Boston general manager Theo Epstein and asks him whether he has Prince Albert in the can. When Epstein says no, Steinbrenner tells him, "That's because the Yankees have just signed him!"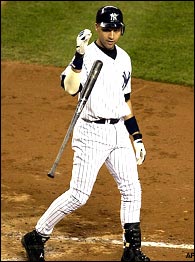 If it comes to physical violence, Jeet might start throwing bats.
March 14: Jeter warns A-Rod to scoop up grounders in front of him only when told "Simon says" he can.
March 15: Steinbrenner guarantees victory in the front-office NCAA pool by buying up all 64 teams. The Red Sox respond by buying up all the teams in the NIT.
March 16: New York's game against Tampa Bay is delayed in the sixth inning when Jeter has A-Rod arrested for trespassing.
March 17: The Yankees celebrate St. Patrick's Day with a huge party to finish off the beer left behind in David Wells' locker.
March 18: Jeter begins building a 25-foot-high "separation barrier" between shortstop and third base.
March 19: The Yankees' game against Cleveland goes unreported when the entire New York press corps collapses from exhaustion.
March 20: In another controversial move, the Yankees lease Alfonso Soriano back from Texas with zero down and no interest until 2007.
March 21: Agent Scott Boras sends C-40 cargo planes into third base to supply A-Rod with needed wrist bands.
March 22: Owner George Steinbrenner purchases the Dominican Republic. The Red Sox respond by purchasing khakis from Banana Republic.
March 23: Secretary of State Colin Powell arrives at Legends Field to outline President Bush's road map for peace in the Yankees infield.
March 24: During a nationally-televised exhibition game between New York and Boston, Steinbrenner angrily criticizes Boston president and CEO Larry Lucchino for calling the Yankees the "Evil Empire," saying that it is a malicious, jealous lie.
In a related development, Steinbrenner reveals that he is Luke Skywalker's father.
March 25: Called in to maintain peace between Jeter and A-Rod, National Guard units turn two double-plays and drive in three runs to lead the Yankees to a 6-4 exhibition-game victory.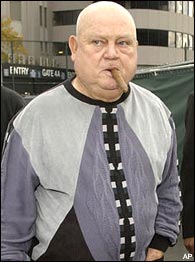 Yankee fans, beware of Don Zimmer -- he might just come back to haunt you.
March 26: With just minutes to spare before the Yankees leave for their season-opening series in Japan, United Nations Secretary-General Kofi Annan brokers an A-Rod/Jeter peace treaty. Under terms of the Rizzuto Partition, A-Rod will be given all infield territory from the third base line to within 52 feet, eight inches of second base. Jeter will be given all territory from second base to within 43 feet, two and three-quarter inches of third base. A four-foot, 11-and-one-quarter-inch "Sojo Corridor" between the two will be maintained and defended by UN groundskeeping forces.
March 27: Japanese customs guards deny entry to Gary Sheffield when his glove sets off airport metal detectors.
March 28: Hideki Matsui goes on the disabled list with carpal tunnel syndrome from signing autographs at the Tokyo Dome.
March 29: Steinbrenner replaces Matsui by trading for Barry Bonds. The Red Sox counter by signing Barry's trainer.
March 30: Just minutes before the first pitch, Devil Rays bench coach Don Zimmer sprints from the dugout and tackles A-Rod, knocking him out for the season.
The Yankees immediately trade for Nomar.
Jim Caple is a senior writer for ESPN.com