By Jim Caple
Page 2
Yes, Minnesota outfielder Lew Ford admits, he once mistook Portland, Maine, for Portland, Oregon, when he was told about a minor league assignment.
And yes, he missed a flight with the Twins because he read the arrival instead of the departure time. And yes, he ran the wrong way out of the clubhouse when he was told to pinch-hit in Anaheim.
But no, no matter what you hear and no matter how many players tell the story, he did not burn himself when he ironed his shirt while wearing it. He might have had a big burn the size and shape of an iron on his stomach one day, but that's because he accidentally leaned against the iron while he pressed his shirt the same way everyone else does.
"I'm saying that I don't iron with my shirts on,'' he says.
Nor did he lose his cell phone and then call the number to leave himself a message. Nor did he look at Keith Foulke and ask Mike Restovich whether they had faced the 2003 American League saves leader in Triple-A last year.
No, wait -- actually, he did do that. "But I really thought we had faced him at Pawtucket.''
Listen to the Twins tell their favorite Ford stories and you get the impression his nickname should be Rube. But that's hardly the case. He scored 1,400 on his SATs, 750 on the math. He repairs software and hardware on his teammates' laptops. He attended Texas A&M on an academic scholarship. And then the stories get a little wild. Ford, 27, walked on to the A&M baseball team and got cut. He attended five colleges -- A&M, Seminole Junior College, Lee Junior College and Dallas Baptist -- before Boston drafted him in the 12th round in 1999 and signed him for $1,000.
"Plus, they paid my final year of college," he says. "I negotiated that."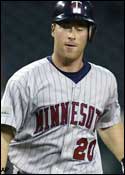 Lew Ford has the Twins smiling for many reasons.
Most significantly, when Ford woke up last week, he was leading the league in batting. And that's no exaggeration. It was even more impressive when you consider that when the season opened, Ford was at Triple-A Rochester. When Torii Hunter strained his hamstring, though, Ford came up and kept Minnesota in first place with his bat (.347 batting, .947 OPS, 21 RBIs).
The challenge is finding a spot for Ford in Minnesota's overloaded outfield now, what with regulars Hunter, Shannon Stewart and Jacques Jones, plus Michael Ryan, all healthy. For now, Minnesota is using Ford as a DH and having him sub in the outfield.
"We've got to keep him in the lineup somehow," manager Ron Gardenhire says. "But that's a good problem to have."
So how is it that no one noticed this talent until his senior year in college? "I had probably the best year of anyone in that conference. I don't know. I had a pretty good season. It could have been the size," says Ford, who is generously listed at 6-foot. "I don't look like an athlete who's strong or fast. Maybe it's the body type. I don't have the body type of a first-round draft pick."
First-round pick? Ford didn't even get an athletic scholarship offer from anyone out of high school. It wasn't until he played summer ball after his freshman year that scouts showed interest and suggested he might want to pursue baseball more seriously. That began his sojourn through the U.S. collegiate system. As late as his senior year, he figured he would finish up his college eligibility and then get a job like everyone else.
And then the Red Sox finally came calling.
"The rest is history," he says. "But it was a long haul -- I didn't get any breaks as far as getting drafted."
Ford smiles at his growing reputation for goofiness -- "I get a kick out of it. I don't care. I'm not embarrassed by it" -- while his teammates gladly add to it.
"Sometimes," Gardenhire says, "he's too honest."
"He might be a Rhodes scholar, but he says something every day where you shake your head," Twins first baseman Doug Mientkiewicz says. "We always say he's a good hitter but that he's going to be a great hitter. Because his brain is never going to get in the way at the plate."
BOX SCORE LINE OF THE YEAR
Seattle reliever Mike Myers had a short night Tuesday, throwing exactly one pitch to provide this interesting line:
0 IP, 0 H, 0 R, 0 ER, 0 BB, 0 K
Myers came in with the bases loaded and hit Jacque Jones with his first pitch to force in a run, then got the hook.
LIES DAMN LIES AND STATISTICS
Baseball placed special logos on its bases Sunday and no one complained. The difference was that, instead of hyping Spider-Man, the logos were pink ribbons for breast cancer awareness and Mother's Day, allowing the bases to be auctioned off for charity. No one minds small logos (you could barely see them even if you knew they were there) when they're for charity, but a blatant money grab for a movie is another thing.
Look, I don't mind advertising in baseball. Put ads behind the plate and on any fence you want -- heck, the Green Monster used to be one large advertisement. Just keep them off the actual field. But my biggest question about the Spider-Man controversy is this: Did the producers really think this advertising deal was necessary? Like there is anyone in America who wasn't going to know about the Spider-Man sequel unless they saw it on the bases at a Devil Rays game? ...
And here's another sign of the times. As you might expect for a team that has a huge following in Japan, one of the messages on the revolving billboard behind home plate in Seattle is printed in Japanese. But you might find its English translation interesting: "Advertising space available for rent" ... Tuffy Rhodes hit his 300th career home run in Japan last week. ...
FROM LEFT FIELD
Is your team already buried too deep to reach the playoffs? Could be. Since 1996 (the first year of expanded playoffs in which baseball played the entire month of April), only 11 teams reached the postseason after entering May with a losing record. Of those, only Oakland in 2001, Anaheim in 2002 and Minnesota in 2003 did so after finishing April as many as six games out of first place. And only the 2001 Athletics overcame an April record of more than three games under .500. That's bad news for the Mariners, who woke up Wednesday eight games under .500 and 9 1/2 games behind Anaheim. The good news is that the final standings have been somewhat more forgiving of bad starts in recent years.
The 11 teams to overcome losing Aprils:
Year
Team
W
L
GB
1996
St. Louis
12
15
1
1997
Cleveland
12
13
1
2000
St. Louis
10
13
5
2000
Oakland
12
13
2.5
2001
Atlanta
12
14
3
2001
Oakland
8
17
12
2002
Atlanta
12
15
4.5
2002
St. Louis
12
14
4.5
2002
Anaheim
11
14
6.5
2003
Minnesota
12
14
6
2003
Florida
14
15
4
INFIELD CHATTER
"It was like picking out your funeral plot. Like looking at your final resting place."
-- Paul Molitor on visiting the Hall of Fame and seeing where his plaque will hang
Jim Caple is a senior writer for ESPN.com