By Jim Caple
Page 2
All right, let's get the Squiggy jokes out of the way.
Yes, the Mariners recently made David Lander, the actor who portrayed Squiggy on "Laverne and Shirley,'' a scout. But no, Seattle has no plans to sell Shotz beer in the concessions or have the Big Ragoo sing the national anthem or trade John Olerud for Lenny (though they are willing to listen to any offers for Rich Aurilia).
And there will be no scouting reports that read like this:
Last name: DeFazio. First Name: Laverne. B: R. T: R. Hometown: Milwaukee.
"Nice legs but throws like a girl. Still, I wouldn't mind turning two with her, if you know what I mean ..."
Lander is officially listed as an associate scout, which he jokes, "is the equivalent of being an executive producer.'' Which means to say, he simply attends as many games as he can in between gigs and while traveling to speak to groups with Multiple Sclerosis (he's been fighting the illness for two decades) and if he sees anything interesting, he'll let the Mariners know. Mostly, he's there because he loves baseball. He did the same thing with the Angels for a couple years when Bill Bavasi was the general manager.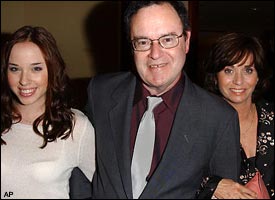 When Lander isn't being an advocate for MS research, he's scouting for the M's.
"He has a passion for baseball and it's sincere,'' said Bavasi, who is in his first year as the Mariners general manager. "If he sees stadium lights somewhere, he's at the game.''
Lander is so passionate he can give you the scores of every game of the 1960 World Series off the top of his head and is such a purist that he once got in an argument on the set of "A League of Their Own'' whether a 1940s announcer should refer to a baseball as "the old cowhide'' or "the old horsehide.'' He not only keeps score at every game he attends, he saves the scorebooks. "I have 83 dating back to 1970. People will be talking about a game in 1975 with the Padres and I'll think, 'I was at the game,' and go look up the scoresheet.'"
He developed his passion as a kid growing up in the Bronx in the '50s, rooting against the Yankees ("My brother told me it was too easy rooting for them'') and rooting for the Pirates. "Everyone knew I was a Pirates fan so when they played the Yankees in the 1960 World Series everyone came up and bet me a quarter that the Yankees would win. And I took all the bets. Well, you know how the series went. The Pirates won the first game 6-4 and lost the second one 16-3 and lost Game 3 10-0 and won Game 4 3-2 and won Game 5 5-2 and then lost Game 6 12-0. And I tell you, when they were losing 16-3 and 10-0, I was really afraid if I went back to school I would be killed because I didn't have the money. The Pirates won Game 7 but it turned me off gambling for life.''
After studying at Carnegie-Mellon ("It was seven blocks from Forbes Field"), Lander moved to Los Angeles where he went to as many games as possible on a radio station pass and even covered the 1974 World Series for "True'' magazine before it folded. "I've seen more than a thousand games, a lot more, and probably paid for three. It all started when I was working in radio and realized with the right stationery, you could get into any game.''
He was a minority owner of the AAA Portland Beavers in 1980, brought in to help pay Luis Tiant's salary. "I thought, 'This will be fun, I'll get to see the inner workings of baseball. The first game I saw as an owner was in Spokane. I showed my pass and the kid at the gate doesn't know any better so he waves me in and I go sit down in the dugout. The game starts and I'm still sitting there. I know the rules about non-uniformed personnel being on the field and I know I'm not supposed to be there but no one says anything and Tiant has a no-hitter going so I'm afraid to move and jinx it. And no one is saying anything to me because they don't want to jinx it, either. The game goes on and I'm starting to worry that we'll have to forfeit the game because I was in the dugout when I wasn't supposed to. I can see the headlines, 'Squiggy Ruins Tiant's No-Hitter.' But I don't want to move because he's got a no-hitter going. Finally, it's the seventh inning and Tiant sits right down next to me and he says, 'So, what do you think of my no-hitter?'"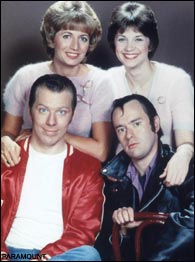 No one will ever forget Lander in his signature role as Squiggy.
Lander also played the announcer in the wonderful "A League of Their Own,'' directed by his former "Laverne and Shirley" co-star, Penny Marshall. "I was talking to one of the actual women who had played in the league and I asked her what some of the cliches the announcers would use. She said the biggest compliment you could get was when they said, 'She played that ball like a man.' I thought that was a great line, so I used it for one of the scenes. Madonna made some play and I said, 'She played that ball like a man!' and Penny yelled, 'Cut! Don't do that. I don't want to hear that.' I told her that's what they actually said at the games but she didn't care. It's such a good line. I never said it in the movie but if I had, it would be quoted like 'There's no crying in baseball.' 'She played that ball like a man!' "
And now the man who will forever be known as Squiggy is a Mariners scout. There's no punchline, no rimshot. It's not like he's the scouting director -- he's just doing what he's done all his life, the same as the rest of us who were never in an old sitcom. He's watching baseball and loving it.
"I didn't hear it, but I'm told Jim Rome went ballistic about it,'' Lander says with a laugh. " 'Squiggy? You can't hire Squiggy to be a scout! If the Mariners can hire Squiggy, why doesn't Steinbrenner get Fonzie?'
"You're always afraid of being typecast as an actor, but being typecast in real life -- that's something else.''
Which reminds me. Jason Alexander just applied to be Seattle's assistant traveling secretary.
BOXSCORE LINE OF THE WEEK
He's 40 years old and he's spent the past 15 of those dazzling us with one of the game's great fastballs. He's won 233 games and five Cy Young awards. He struck out 20 batters in a game and almost 4,000 batters in his career. He started and won a World Series game one night, relieved and won a World Series game the next. He turned a pigeon into a cloud of feathers and made John Kruk soil his uniform even more than usual.
And Tuesday night Randy Johnson amazed us again when he became the oldest pitcher in baseball history to throw a perfect game. He struck out 13 and threw only 30 balls the entire night. His last pitch clocked 98 miles on the speed gun.
One year after having his worst season since he was a rookie, Randy Johnson once again stood taller than anyone else in baseball. His line:
9 IP, 0 H, 0 R, 0 ER, 0 BB, 13 K
Johnson's previous no-hitter was in 1990, 14 years and more than 200 wins and nearly 3,700 strikeouts ago. "That was far from perfect,'' the Big Unit said of the 1990 no-hitter when he walked six batters. "I was a very young pitcher who didn't have any idea where the ball was going. I was far from being a polished pitcher. Fourteen years later, I've come a long way as far as knowing what I want to do.''
LIES, DAMN LIES AND STATISTICS
Meanwhile, 41-year-old Roger Clemens was prevented from winning his eighth consecutive start when the Astros bullpen blew a ninth inning lead. Clemens recently moved into second place on the all-time strikeout list but would need to average 300 strikeouts a year for the next five seasons to pass Nolan Ryan. The most amazing thing about Clemens, however, is that he has somehow never thrown a no-hitter ...
FROM LEFT FIELD
Tuesday's perfect game made Johnson the 20th pitcher in modern major league history (since 1901) to pitch two no-hitters in his career. The 20:
MLB Multiple No-Hitters:
No.
Pitcher
The Skinny
7
Nolan Ryan
18 years between first no-hitter and last
4
Sandy Koufax
One a year from 1962-65
3
Bob Feller
Also threw 12 one-hitters
3
Cy Young
Threw last one at age 41
2
Jim Bunning
One in each league
2
Steve Busby
Won 68 other games in career
2
Carl Erskine
In 1952 and 1956
2
Bob Forsch
Brother Ken threw one, too
2
Ken Holtzman
First Cub with two no-hitters
2
Randy Johnson
14 years between first and last
2
Addie Joss
One was perfect game
2
Jim Maloney
First no-no was 10 innings
2
Christy Mathewson
His first was first in modern baseball history
2
Hideo Nomo
One in each league
2
Allie Reynolds
Both in 1951
2
Warren Spahn
Threw them at ages 39 and 40
2
Bill Stoneman
First was for expansion Expos
2
Virgil Trucks
Threw two no-nos and still went 5-19 in 1952
2
Johnny Vandermeer
Threw them in consecutive games
2
Don Wilson
One in 1967 and one in 1968
(Source: HickokSports.com)
Jim Caple is a senior writer for ESPN.com