By Jim Caple
Page 2
Long-suffering Yankees fans can finally rejoice. The World's Greatest Team finally is back where it rightfully belongs. On top.
The long-awaited Randy Johnson trade continues to take longer to complete than even famously patient New York fans are accustomed to, but that's only because it was the Christmas season and owner George Steinbrenner was too busy feeding the unemployed, sheltering the homeless and adopting orphans to give his full attention to his baseball operations. There also was a slight delay last week when the Diamondbacks requested compensation for the pitcher, but Brian Cashman cleared up that confusion by agreeing to lend Arizona a couple players who aren't needed at the moment.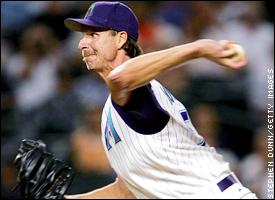 Getty Images
Yankees fans are eyeing a return to glory with Randy Johnson leading the way.
Don't worry, though, Yankees fans -- Cashman prevented the Diamondbacks from taking unfair advantage of Steinbrenner's well-known generosity. "We'll get the players back if they wind up being any good," Cash promised with a wink.
Trading for the best left-hander of his era should restart the Yankees dynasty and bring an end to New York's too-long stay as baseball's "lovable losers." Perhaps no other fans have ever suffered as much as Yankees fans have recently -- they haven't seen their team play a World Series game in more than a year.
"Now I know how Cubs fans must feel," one New York fan said while standing in line to buy officially licensed "2005 World Championship" T-shirts after the Johnson trade was agreed upon. "I spent Christmas Eve sitting by my father's hospital bed and just before they wheeled him in for surgery, he grabbed my hand, looked up at me with tears in his eyes and said, 'I just hope I live long enough to see the Yankees win the World Series one more time.'
"Fortunately, he was only undergoing cosmetic surgery and he's just 56 and healthy as a horse but I know exactly what he meant. Yankees fans have suffered long enough. When's it going to be our turn?"
Their turn should be next year, with the addition of Johnson, the five-time Cy Young winner.
"I always dreamed about having the Big Unit in our rotation but I never thought we would be able to get him," another fan said while standing in line for the Randy Johnson Yankees bobblehead dolls that have been in stores since late October. "After all, when was the last time the Yankees were able to trade for or sign a superstar like this? I mean, not counting Alex Rodriguez, Gary Sheffield, Mike Mussina, Jason Giambi or Roger Clemens."
Yankees fans are very familiar with Johnson, who was the winning pitcher when the Yankees lost to the Mariners in the 1995 playoffs and in the 2001 World Series. That World Series loss forced New York to put the champagne in storage and they haven't been able to drink it in the three long years since.
"I remember watching the Red Sox celebrate winning the World Series," another fan said. "Well, I didn't actually watch them celebrate but I saw someone reading the newspaper on the subway and there was something in the paper about it. Anyway, I looked at the picture and I just thought, 'Wouldn't it be something to see Derek Jeter and Joe Torre finally get to celebrate like that
again?' "
The endless celebration of Red Sox fans has been especially difficult for Yankees fans, who are accustomed to politely keeping their passionate feelings to themselves. Such is not the case with Boston's arrogant, obnoxious fans. Sadly, they insist on flaunting their lucky break now that they have won half as many World Series as the Florida Marlins have since 1997.
"It really is annoying," another fan said. "We New York fans are so shy and reticent, you would hardly even know that the Yankees have won 26 world championships and 39 American League pennants, far more than anyone else. Why do the Red Sox always have to rub their success in our faces the way they do? If I hear one more Red Sox fan chant '2000' or bring up the Curse of A-Rod, I'm going to puke.
"But that's OK. We've got the Big Unit now. And when we win the World Series, it will be all that much sweeter because we went through so much for so long."
As welcome as the deal for Johnson is, Yankees fans who have grown accustomed to so many October disappointments may find themselves asking whether the trade will be enough. Fortunately, the answer to that is: It doesn't have to be.
That's because the Yankees also signed Carlos Beltran to a 10-year, $200 million contract, though that signing won't become "official" for several weeks because Cashman is withholding the announcement out of respect for the feelings of other general managers.
Jim Caple is a senior writer for ESPN.com