By Jim Caple
Page 2
Who would you rather have, Sandy Koufax or Bert Blyleven?
I know, I know. That's like asking which star from "Good Will Hunting" would you rather see in subsequent movies. But wait. The question is not as ridiculous -- or as easy -- as it first appears.
Say you are a general manager in an alternate universe and you can choose a clone of either the 19-year-old Koufax or the 19-year-old Blyleven, knowing ahead of time that both will perform exactly as they did in our major leagues. Wins, losses, ERA, innings -- all those stats on the backs of their Topps baseball cards will be exactly duplicated. The key aspect to keep in mind, however, is that free agency is still banned in this alternate universe. In other words, you'll not only get the pitcher for the start of his career, you will have lifetime rights to him (just as the Dodgers did with Koufax). He's your indentured servant for as long as his arm can still pitch.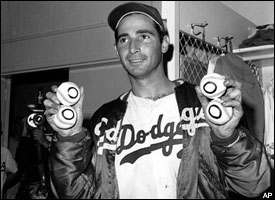 Koufax won 20 games just three times.
All of a sudden, the Koufax or Blyleven question becomes less like "Matt or Ben?" and more like "Betty or Veronica?"
Who do you pick? The Hall of Fame pitcher who had three 25-win seasons, threw four no-hitters and won three Cy Young awards in a four-year span, but who only won a dozen games six times and was done by age 31? Or the non-Hall of Famer who won 20 games only once and never won a Cy Young award, but who won at least 14 games a dozen times, was still pitching at age 42 and finished with 122 more wins than Koufax?
Do you pick a short span of greatness or a long career of good, solid performances? Do you want the spectacular pitcher, knowing you'll have to find someone else to replace him soon? Or do you go for the guy you can build a rotation around for two decades? The pitcher who may put your team over the top right now? Or the pitcher who will help keep your team near the top for years to come?
Basically, I'm asking whether six great seasons (and Koufax was great for only six years and mediocre the rest of his career) are worth more than 15 good years (which is essentially what Blyleven had). It isn't an easy question.
Koufax was the biggest single reason the Dodgers won three pennants and two World Series in the early and mid-'60s. And those seasons are still an important part of that team's legacy. Without him (or a similar replacement, such as Juan Marichal), the Dodgers would have had a much different legacy -- one like the Giants, a frustratingly good team that never could win it all.
On the other hand, even a great pitcher in his prime doesn't guarantee a championship. (Roger Clemens was proof of this with Boston.) And while he couldn't match Koufax at his peak (not many ever have), Blyleven did help two teams win World Series championships, including the 1987 Twins.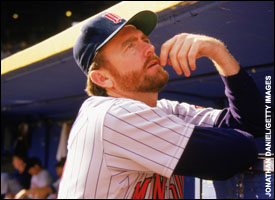 Blyleven finished in the top 5 in his league in ERA seven times.
Minnesota, in fact, won two World Series in five years. Yet by 1995, a terrible stretch of seasons for the Twins -- with plenty more on the way -- made those championships seem as if they had never happened. Fans quit coming to the ballpark. So winning big in a couple of years doesn't help much when you're stuck in the middle of a decade in last place.
As Red Sox fans are only too happy to tell you, winning the World Series can bring comfort to a lot of cold winters. But winning doesn't feel as good as losing feels bad.
So, again: Would you rather have a pitcher who might put your team over the top for a couple seasons, or someone who will help keep your team competitive for many years?
Koufax or Blyleven? The question might seem strictly hypothetical, along the lines of "What if Oprah could fly?" But really, it gets to the heart of what makes a Hall of Fame career. Koufax's brief span of greatness was enough to get him into Cooperstown, but wasn't Blyleven's longevity also a type of greatness? Doesn't being that good for that long make you great? Or do you just become really, really good?
I don't know the answer. But I do know that the very fact that this is a difficult question is a big reason why I cast my Hall of Fame vote for Blyleven this week.
FROM LEFT FIELD
With the election of Wade Boggs, there are now 10 third basemen in the Hall of Fame (not counting Negro League veterans), one for every decade of the modern era. That isn't many -- only seven percent of position players in the Hall are third basemen -- but it's a huge improvement from the start of Boggs' career, when there were only five. And if you think that's bad, consider that prior to 1975, the Hall had deemed only three third basemen worthy of entry.
Whether we're seeing a surge of great third basemen or standards for the position are just becoming more realistic, it's good to see the hot corner better represented. Now, if only the veterans will vote in Ron Santo.
| | | |
| --- | --- | --- |
| Year | Player | The Skinny |
| 1945 | Jimmy Collins | Turn-of-the-century star with Boston (NL, AL) known as a terrific fielder |
| 1948 | Pie Traynor | .320 lifetime average, 2,416 hits, 7 100-RBI years, all with Pirates |
| 1955 | Home Run Baker | Led AL 4 times in HRs; earned nickname with clutch HRs in 1911 World Sereies win |
| 1976 | Fred Lindstrom | .311 average but a regular for just 7 seasons; one of worst players in Hall |
| 1978 | Eddie Mathews | 512 home runs; 1,453 RBI; hit 40 or more HRs 4 times |
| 1983 | Brooks Robinson | 16 Gold Gloves; 2,848 hits; 1964 AL MVP; 1970 World Series MVP |
| 1983 | George Kell | 10-time All-Star; .306 career average; 2,054 hits |
| 1995 | Mike Schmidt | 548 HRs; 1,595 RBI; 3-time MVP; led NL 8 times in HRs |
| 1999 | George Brett | 3,154 hits; 317 HRs; .305 average; 1,595 RBI; 1980 AL MVP (hit .390) |
| 2005 | Wade Boggs | .328 average; 5-time batting champ; 3,010 hits; 12-time All-Star |
Jim Caple is a senior writer for ESPN.com