By Jim Caple
Page 2
CHESTERFIELD, N.J. -- The Chesterfield Greene housing development being built here 45 minutes north of Philadelphia offers homes of 3,500 to 4,000 square feet that sell from the low $600,000s to as much as $1 million, feature model names such as "Harvard Colonial" and the "Philmont Georgian" and boast "finely crafted Williamsburg style main staircase," a "first floor powder room" and "designer style elongated commodes."
In other words, they're the sort of houses that are purchased by NFL players, not built by them. No wonder the story of Jeff Thomason's shift from construction work to backup tight end for the Eagles in the Super Bowl has garnered so much media attention that E! may be forced to pare down to mere triple-coverage of the Michael Jackson trial.
"Jeff called me Monday night and told me that he had signed with the Eagles," Chesterfield Greene project manager Michael Assofsky says. "By 8:30 Tuesday morning I had received my first call from a radio station. Seven local TV channels pulled up that day. And it hasn't stopped since. I've been doing live radio shows constantly. We've had calls from book publishers and movie producers. ESPN. The New York Times. '60 Minutes' called."
Book publishers? Movie producers? "60 Minutes"?
"Mr. Assofsky, you claim that you are rooting for the Eagles in the Super Bowl, but how do you explain this photograph that shows you wearing a Dan Marino jersey with your face painted in Dolphins colors?"
MORE ON JEFF THOMASON
For more on Jeff Thomason's journey from Chesterfield Greene to Jacksonville, read this story by Kieran Darcy.
"Well ... er ... "
"Isn't it true, Mr. Assofsky, that you are in fact a lifetime Miami fan and that you have never rooted for the Eagles prior to Jeff Thomason's signing last week? Isn't it also true that your construction manager, Bill Kowski, is an unapologetic Jets fan who likewise never before rooted for the Eagles?"
"Ummmm, maybe. But our warranty manager is a lifelong Philadelphia fan. You can tell by the anguished expression on his face when each season ends."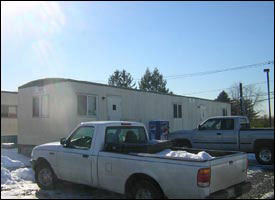 Jeff Thomason's office is in this trailer at Chesterfield Greene.
By the time Hollywood is finished with the "based on a true story" version of this tale, Thomason will be played by Dennis Quaid and the script will have him trying to overcome a critical dropped pass in Super Bowl XXX by running away with Hilary Swank to raise barns with the Amish and Habitat for Humanity when he gets the call from the Eagles. The reality is that Thomason is an assistant project manager in training for Toll Brothers home builders and does no hammering or sawing whatsoever (all the actual construction work is contracted out). About the heaviest thing he lifts is a pencil and paper in the staff's side-by-side trailer office.
"When he started, he asked me what kind of power tools he should buy," Kowski says. "I told him, 'Ones you won't hurt yourself with.'"
Still, it is most definitely a real job in the building industry -- Thomason is nine months into a demanding 12-month course in project management -- that comes with a hard hat and involves a whole lot more than a hammer. There's site acquisition, development, construction, sales and financing, all of which is enough to make the West Coast offense seem simple. If he doesn't screw things up by playing so well that the Eagles sign him for next season, he'll soon be responsible for the profit or loss of a dual housing development with more than 120 homes for a Fortune 600 company.
Then again, he won't have to worry about Richard Seymour charging into his office and ripping up the blueprints.
The folks at Toll Brothers are proud of Thomason, saying that he's just a good, friendly guy who normally doesn't talk about his football days without being prodded first. They'll definitely be rooting for him Sunday but as good fans and construction workers, they also will be sure to bust his chops when he returns to work Tuesday if the Eagles lose.
"Oh, don't worry," warranty manager Barry Goldstein says. "We'll do that whether they win or lose."
Philadelphia fans have a reputation for being the roughest and most demanding in sports, a rep they deflect by saying that they simply want blue-collar guys who don't mind getting dirt under their fingernails and won't tolerate players who give less than their all. Well, sure, but it's not like fans in other cities say that they prefer effete athletes who are chauffeured to games, subscribe to Horse and Hound magazine and give a half-hearted effort.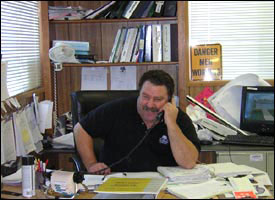 Warranty manager Barry Goldstein is looking forward to Jeff's return.
(OK, maybe Randy Moss fans do, but no one else.)
There was a time when athletes earned so little in sports they had to work in the offseason to make ends meet -- The Sporting News once showed a photo of pitcher Harvey Haddix hauling around the hose from a heating oil truck in snow up to the waist of his overalls, and the caption read: "Harvey is looking forward to spring training" -- but in this day and age of $37 million signing bonuses, there is no such thing as a true blue-collar player. Thomason, who played 11 seasons in the NFL before beginning his construction career, is as close as we get.
If we can't completely identify with a 6-foot-5, 250-pound 11-year NFL vet who lives in a half-million dollar home, competes in triathlons and is about to earn at least $34,000 to play in his third Super Bowl, well, after the past nine months he can certainly identify with us.
"Jeff says this is his first real job," Goldstein says. "He says he didn't realize how good he had it until he came here. He didn't know how special it is to play football or pro sports until he had to come work for a living. He tells all his buddies, 'Hold onto it as long as you can,' because doing this, he sees what it's like. Getting up early in the morning and staying late, doing what we do. Football players have what, a daily practice, a couple hours here, a couple hours there? Here, he's up at 4:30 in the morning coming to work."
On the other hand, he doesn't have Bill Belichick for a boss in either job, so it's not like he has it that rough.
Jim Caple is a senior writer for ESPN.com.