By Jim Caple
Page 2
PHILADELPHIA -- Fight afternoon traffic from Philadelphia, head south on I-95 past the Eagles' $500 million home and continue beyond the airport where US Airways Flight 239 has recently departed for Jacksonville. Drive another five miles, exit onto 322 West, make a couple rights into Aston Township and pull into the parking lot of the Tri State Sports center. Walk past the soccer pitches to the back field and shake hands with Steve Smith, offensive specialist with the Philadelphia Soul of the Arena Football League.
Smith is 30 years old, and except for one notable exception, he has played at just about every level of football there is, including Vince McMahon's late, unlamented XFL. Unfortunately, the NFL hasn't offered employment yet. But when the Soul takes the field Sunday afternoon for its game in Chicago against teh Rush, Smith won't be able to help thinking he has the talent to play in the Super Bowl. And that with a break or two here or there during his career, he could be in Jacksonville on Sunday.
"That's been my main goal since I've been playing football," says the man who was known as Mr. Dangerous when he was Utah State's MVP in the 1997 Humanitarian Bowl. "I'm still waiting on my shot in the NFL. [Not getting one] has been a mystery to me ever since I started this journey ...
"I know the teams all know me. I was ranked in the nation. I must have been on somebody's board."
Smith isn't alone. Counting injured reserve and the practice squad, there are 34 players listed on the Soul roster and most harbor dreams of playing in the NFL. "What's the percentage?" receiver/defensive back Keita Crespina says with a laugh. "I'd say about 90 percent." He looks around. "No," he says, "Make that 99.9 percent." And he laughs again.
I not only wish them all luck, I can't help thinking this is the Philadelphia football team Chuck Bednarik should be rooting for.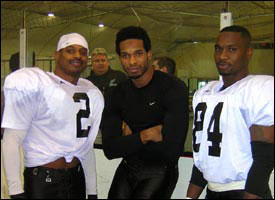 Keita Crespina, Sean Scott and Steve Smith of the Philadelphia Soul.
Bednarik, of course, is the angry old Eagle who played 58 minutes in Philadelphia's last NFL title-winning game in 1960 but is so angry at Eagles owner Jeffrey Lurie that he says he won't root for his former team this Sunday. It's not just the owner, though. He also complains that modern players make too much money and couldn't carry his jockstrap. Which, he adds, he would like to use to strangle Terrell Owens.
"How many plays are they in?" he complained to reporters recently. "They're a bunch of 350- and 360-pound guys sucking for air when they leave the field and making millions of dollars and that's what kills me."
That's certainly not the case here. While the Soul signed quarterback Tony Graziani to a reported AFL-record three-year $750,000 contract, the league's minimum salary is around $1,700 a week for a 16-game season, plus housing. The team says the average salary works out to around $45,000 or $50,000 a season, though several players estimate it's closer to $30,000. Whatever the amount, these players more than earn their paychecks. Arena players play both offense and defense just like Bednarik did, and they have to contend not only with getting jolted by opposing players but also by the NHL-like sideboards that surround the field.
If you play arena football, you're going to get hit. And as the saying goes around here, "The boards are undefeated."
The Arena Football League is 18 years old this year and healthier than ever. NBC televises games, attendance is rising, the NFL has a substantial stake in the league and owners include such marquee names as John Elway, Tim McGraw and Soul majority owner Jon Bon Jovi (he's as involved an owner as Al Davis, but is far less obnoxious, less litigious and has much better hair).
While Crespina can remember playing in front of crowds so small with the New Jersey Red Dogs a couple years back that "the fans could hear the quarterback calling plays in the huddle," AFL attendance was near an all-time high last season (12,019 average). Philadelphia fans played a major part in that attendance total. The Soul averaged a league-high 16,851 fans in its inaugural season, repeatedly packing the Wachovia Center despite a 5-11 record. Part of the appeal is the game, part of it is the price (you can get season tickets for as low as $80) and part of it is the interaction between the fans and players.
"It's still a football game but you get to really connect to the fans in this league," says fullback Chris Ryan. "They're so close to the field that you can lean back on the wall and talk to them. I'll say, 'Wassup?' or 'Man, we're tired.'"
"I grew up on the NFL," says Aaron Coleman, who dresses himself each week as Captain Soul, "but I gotta tell you, this league is fun."
One thing that hasn't changed is that the AFL remains a place where football players can keep their dreams alive of either reaching the NFL (Philly native Sean Scott still remembers his days on the Eagles' practice squads) or returning there (receiver/defensive back Marcus Knight played in the Super Bowl two years ago for the Raiders).
Or of simply playing football somewhere.
Crespina is a Philadelphia native -- "I still root for the Eagles. They cut me twice and I still root for them" -- whose football career has taken him to gridirons in England, Scotland, Germany, Spain, the Netherlands, Japan and Canada. Heck, he's played almost as many world venues as Bon Jovi. "Football has done me well. It's been a blessing. I'd probably have never left the four-block radius of my Philly hood if it hadn't been for football."
He is 34, and acknowledges the window of opportunity has probably closed on his NFL ambitions. Nonetheless, he says he'll play "until the wheels come off," so this Sunday he'll do what he has done for so many weekends. He won't be playing in the Super Bowl, but that's OK. He'll be playing football.
So give these guys their props, wish them well and tell Bednarik to tune in for a Philly team to cheer. As Scott says: "I'll be playing Sunday just like it was the Super Bowl."
Jim Caple is a senior writer for ESPN.com.