By Jim Caple
Page 2
Spring training notes ...
ANAHEIM: In an attempt to broaden its fan base, the team announced Wednesday that it is changing its name again, this time to the Anaheim Angels of the Northern Hemisphere. ...
ATLANTA: Pitching coach Leo Mazzone picked up two hitchhikers on his way to the ballpark one morning, and by noon had taught them how to hit 90 on the radar gun and throw curveballs that roll off the table. They are expected to crack the rotation and win 15 games apiece. ... 47-year-old 1B Julio Franco denied Jose Canseco's charge that he injects himself with prune juice. ...
BALTIMORE: The Orioles held mandatory physicals on Wednesday. OF Sammy Sosa left his physical 20 minutes early. ... Owner Peter Angelos says he'll end his opposition to the Expos' move to Washington as long as they don't play any home games. ...
BOSTON: Wednesday was RHP Bronson Arroyo's day to insult Yankees 3B Alex Rodriguez. Arroyo told reporters that Rodriguez never replaces the toilet paper roll when it runs out, drinks milk right out of the carton without pouring it into a glass and talks on his cell phone while he drives. ... Club president Larry Lucchino announced that fans will have to return all home runs and foul balls from last season so that the Red Sox can display them for everyone to enjoy this year, then place them in a time capsule. ... Today is OF Johnny Damon's scheduled day to insult Rodriguez, and he is expected to say that the Red Sox never considered him a real Texas Ranger, either, not like Rusty Greer and Dean Palmer. ...
CHICAGO CUBS: The team announced that in another attempt to end its World Series drought, it will hold an auction to blow up Sosa's old boom box ...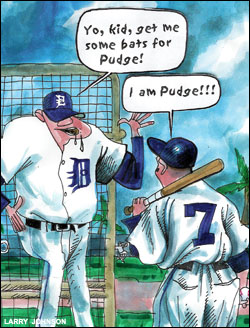 DETROIT: C Ivan Rodriguez reported to camp 22 pounds lighter than last spring, and attributed his weight loss to the Atkins diet and Barry Bonds stealing away his personal chef, Anatole. ...
HOUSTON: In yet another remarkable Hall of Fame performance, RHP Roger Clemens reported to spring training driving three Hummers. ...
KANSAS CITY: In an attempt to boost their anemic offense, the Royals brought Jose Canseco to camp, to inject their players with steroids. ... Country star Garth Brooks is working out with the team again this spring, but this year he is expected to make the regular-season roster. ...
MINNESOTA: In a goodwill gesture, owner Carl Pohlad visited camp on Wednesday and threatened to move the Twins to Montreal. ...
NEW YORK METS: Infield drills were cut unexpectedly short when 1B Doug Mientkiewicz refused to give the balls back. ... RHP Kris Benson's wife, Anna, repeated that she would sleep with all the Mets if her husband cheated on her, but says she's drawing the line at Mr. Met and RHP Pedro Martinez's friend, Nelson de la Rosa. ...
NEW YORK YANKEES: 3B Alex Rodriguez responded to Red Sox charges by saying that despite finishing up his morning five-hour workouts with daily tai-chi exercises, he doubts whether even he is limber enough to perform the specific act the Boston players suggested. He also said that while his mother wears army boots, they're Prada army boots. He finished up by saying that he might disagree with some of the Red Sox opinions, but that he will fight to the death to defend their right to voice them. ... Even though he was the first to mention a powerful and sudden odor in the vicinity of his locker, 1B Jason Giambi refused to admit he cut the cheese, with his lawyers claiming that "just because he smelt it, it does not in any way prove that he in fact dealt it." ... LHP Randy Johnson threw 20 minutes of batting practice, gutted a photographer with a slingblade and got in his running. ...
OAKLAND: Former OF Jose Canseco claimed that former A's 1B Mark McGwire is an alien who was sent to Earth by his father Jor-El just before the planet Krypton exploded. ...
SAN FRANCISCO: OF Barry Bonds will miss the first three weeks of spring training after undergoing minor surgery to remove a second head. ... Bonds is charging teammates $7,500 an inning to sit next to him on the bench. ... Bonds held an impromptu news conference in the dugout to tell reporters that he hates them, then sent a $7,500 bill to each of their editors. ...
SEATTLE: Ichiro reported to camp and now has 12 hits for the season. ...
TEXAS: Former OF Jose Canseco claimed that he helped inject Texas beef cattle with steroids. ...
WASHINGTON: The Nationals announced that President Bush will throw out the first pitch at their home opener. Talon "reporter" Jeff Gannon will toss the first softball question. ...
Jim Caple is a senior writer at ESPN.com. His first book, "The Devil Wears Pinstripes," is being published by Plume and goes on sale March 2. It can be ordered through his Web site, Jimcaple.com.