Single page view
By Jim Caple
Page 2
CHAMPAIGN-URBANA, Ill. – You know the movie "Apollo 13," when Kevin Bacon writes a note to remind himself not to flip a critical switch in case he becomes light-headed from oxygen deprivation? I did the same thing Thursday when I finally met up with the four University of Illinois women who invited me to stay at their apartment, making mental and written notes to constantly remind myself to behave.
"Phone home."
"Remember that you are old enough to be their father."
"Don't let them talk you into a keg stand."
"Do not get your body pierced at New Life Tattoo."
"Phone home."
"Phone home again."
"Don't forget to phone home."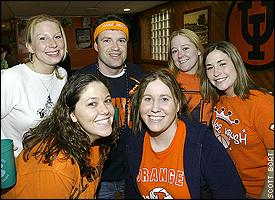 We're sure the girls were impressed with Jim's headband.
And most importantly, "Remember what happened to Larry Eustachy."
How cool are these girls? They're smart. They're good-looking. They're friendly. They can cook. They could drink Keith Richards under the table. They know college basketball so well and care so passionately about the tournament that they were peppering me with questions about UConn's backup point guard. "I'm not gonna to lie to you, that loss really hurt my bracket" and "I'm not gonna lie to you, I didn't pick Washington to make the Sweet 16" were typical comments.
And now consider this: They also subscribe to Maxim.
In fact, Jen Mozwecz, a wicked hot computer engineer who was just accepted to DePaul law school, is submitting photos to Maxim for a feature on "hometown hotties." I saw the photos, and let me suggest that you renew your subscription now.
I'm not gonna lie to you. After Thursday, I don't know what the hell I was thinking when I spent the first three nights of my week on campus living in a fraternity and a dorm instead of hanging with these girls the entire week. I should have known it would be cool when Liz Peterman wrote in her e-mail that I could leave the toilet seat up.
Actually, the four girls are five seniors and juniors. Jen, Liz, Danielle Bartelstein and Lindsay Anderson all live in the apartment and Ashley Wagner is sort of the fifth Beatle of the group. "This is my experience from living with them," joked their friend, Caroline Manley. "They are five crazy bitches."
Trust me, she meant that in a good way. Having these chicks escort me around town Thursday was like being Johnny Depp for a day. And I'm happy to report that I did nothing that would have concerned the most wonderful (and understanding) wife in the world (I miss you, Sweets, and will be home soon).
I still had one of the most interesting days of my career, though.
In addition to being the first day of the tournament (or what they call St. Boozeketball Day around the campus), Thursday was St. Patrick's Day, so everybody was in a festive mood. The students also are very excited that someone from the company that employs Dick Vitale cared enough about their school to spend a week living on campus. All day long, people kept shouting my name and "Hey, ESPN Man!" and coming up to shake my hand. I walked into bars and people kept trying to hand me free drinks. Guys asked for my autograph and invited me to parties. Women asked me to dance and hop on top of the bar. And everyone wanted me to pose with them for photos.