By Jim Caple
Page 2
EAST LANSING, Mich. – Despite what you might judge by the photos from my March Madness tour of NCAA tournament campuses, I am not old enough to have taken part in the peace marches and Vietnam protests during the '60s. I did not join the Yippies or the Weather Underground. I did not burn my draft card. I did not march on Washington. I did not sit in, nor tune in, turn on or drop out.
My loss ... or so I figured. Born at the tail end of the baby boom and arriving on campus at the start of the Reagan era, I always regretted I had missed out on the true collegiate experience of being chased through the streets by riot police and breathing the fumes of tear gas.
As it turns out though, I was not too late at all. All I had to do was root for Michigan State in the Final Four.
Having spent the final week of the tournament on the vast Michigan State campus, I can tell you there are at least six major school traditions. One is painting The Rock. Another is eating the world's greatest ice cream at the Dairy Store. The third, alas, is losing to Michigan in football. The fourth, delightfully, is beating Michigan in basketball. The fifth is reaching the Final Four (four times in the past seven years).
And the sixth is holding a riot after MSU's last game in the Final Four.
There was a significant riot after MSU's loss to Duke in 1999. There was a lesser riot in 2003. And with both the men's and women's teams in the Final Four this year, everyone on campus alternately worried over and prepared for another possible riot this weekend. Keg? Check. Pizza? Check. Face paint? Check. Gas masks? Check.
I was on campus at Texas and Kansas for the Final Four two years ago but the anticipation there for the big game was nothing like it was here. By Saturday, students were standing in long lines outside bars at least six hours before the game began. All day long, everywhere I looked, there were parties on porches and guys walking the streets with six-packs under their arms.
This was like Mardi Gras – without the cross-dressers.
Students sent me a wide range of invitations to watch the game with them – my apologies to all those I could not join, but you can cover only so much ground while staggering. I enjoyed a barbecue at a house of independent students and a beach party at the Delta Chi fraternity, where they covered the floor with a few inches of sand (and I should point out to my wife that those women in the photo are from the MSU chapter of her old sorority, Alpha Chi Omega, which I hope makes it a little better).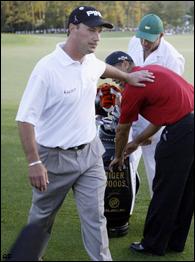 A heartfelt congratulations might be too much to ask under these circumstances.
But when the second half of the MSU-North Carolina game started, there was no choice other than watching it from the Cedar Village apartment complex, the neighborhood that was the epicenter of the earlier riots and which the city recently declared an official "blighted zone."
Obviously, it was a disappointing half. MSU led at halftime, but after the first few minutes of the second half MSU was never again in the game as North Carolina took control and went on to rout the Spartans. Even so, minutes after the 16-point loss ended their season, proud students gathered along the balconies, curbs, sidewalks and lawns of Cedar Village, happily shouting, "GO GREEN!" and "GO WHITE!" and "MSU!"
Riot police and mounted police stood vigil to keep the students out of the streets, but these measures proved less effective than the Spartans' defense in the second half. The students quickly spilled into the streets, swept up in equal parts school spirit and inebriation. Soon there were more than 2,000 students leaping up and down and pointing and body-passing women and men alike. It was an enormous, joyous and seemingly quite peaceful outpouring of pride in what their team had accomplished.
That's when the police started lobbing in tear gas.
As the clouds of tear gas rose over the neighborhood, everyone began fleeing down the street and scrambling into whatever buildings they could. I stayed on the street as long as I could but eventually had to retreat into an apartment as well. When the gas dissipated, I ventured out again with photographer Clint Spaulding. We wandered the neighborhood recording the images – the police continued tear gassing for about two hours, shooting off hundreds and hundreds of canisters, occasionally into almost-empty parking lots and streets – until both of us got an especially strong whiff of some gas in the McDonald's parking lot.
At first it was merely an unpleasant feeling. Then the stinging in my eyes grew worse and worse and soon I was pounding on the door of the McDonald's, coughing and begging for sanctuary while tears ran from my eyes and gobs of snot drained from my nose.
(Getting tear gassed was an awful feeling, but I must say that on the whole it was still a more pleasant experience than staying at The Hole over on M.A.C. Avenue where I spent my first night here. And just to let me know it could have been worse that night, a reader wrote to tell me he remembers when the house was occupied by Goth students who liked to hold naked foosball tournaments.)
The police say that they were being proactive by shooting off the tear gas and dispersing the crowd before it grew out of control. There is some logic to this, I suppose, but it also seemed rather extreme. I mean, it wasn't like they were dealing with Yankees fans.
A much more effective strategy would have been to use the tear-gas launchers in the manner they were originally meant to be used – shooting rolled-up team logo T-shirts into crowds. If the cops had just loaded up and kept firing Final Four T-shirts into the many open doors and windows of the Cedar Village apartments, they could have cleared the streets within minutes.
On the other hand, no one was seriously hurt, there was little apparent property damage and the students all have a great story to tell for decades.
Plus, breathing all that tear gas finally cleared up my cold.
---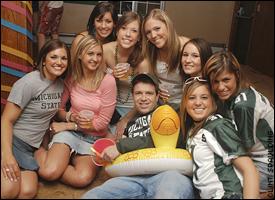 "In the matter of Caple vs. Caple, the plaintiff would like to enter this as Exhibit A."
During the three weeks of my Back to School tour, I received so many e-mails from guys in their 30s, 40s and older, all jealous of my assignment and many begging to join me so they, too, could recapture their youth. I met a recent MSU grad at a bar the other night and there were almost tears in his eyes as he talked about having to go to work while his friends were still hanging around campus.
I know how they all felt.
On the one hand, after living three weeks in frats, sororities, dorms and trashed student housing, I desperately want to get home to my wife, a bed that is not stained with urine, a decent night's sleep and a meal that does not come in a cardboard box. On the other hand, part of me wants to stay in college. As a wise freshman told me at Illinois, work never ends but college does.
My tour officially ended among the gassed students and riot police but I prefer to finish this last installment from slightly earlier in the night, while the game still was being played, when there still was a chance for Michigan State to win.
The Cedar Village apartments are like so many cheap student housing complexes – thin, bare walls, small bedrooms, tiny kitchens, old carpeting and balconies that look out over parking lots. And like so many homes – on or off campus – the people who live there do not always know their neighbors, not even those across the hall.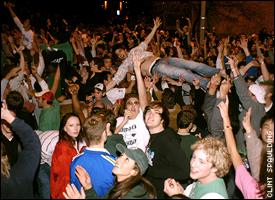 Who says there aren't any places to surf in East Lansing?
And yet, Saturday night, virtually every door was open in the entire complex and students roamed freely from one apartment to the next, watching the game and sharing drinks. Thanks to the basketball team, for one night Cedar Village was a village in more than name, with residents introducing themselves and inviting each other inside their apartments.
One of the villagers was Oli Walker, who shares an apartment with his friends Ryan Lintz and Matt Lombardo. Their apartment was decorated in classic collegiate style. A closet door had been removed to serve as a beer pong board. A keg filled the bathtub. FHM magazines lay by the toilet. A poster for the Beatles 1965 concert tour hung from one wall, John Belushi wearing a "COLLEGE" sweatshirt hung from a second and a LeBron James poster from a third.
And during the game, their apartment was so crammed with old friends and new acquaintances that you couldn't see a square-inch of the stained carpet.
Walker grew up in England and moved to Georgia when he was 12. Now he lives in East Lansing where he's a junior at MSU. He's moved around so much that he no longer even has his English accent. But here, on this enormous campus of nearly 50,000 students, he has found a sense of community, thanks in no small part because of the basketball team.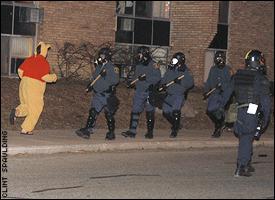 East Lansing police had to deal with potential violence from students, fans ... and Winnie the Pooh.
"I know that I can come back to [Ryan and Matt] years from now and nothing will have changed. It will be just like this. They're the best friends anybody could have," Walker said as we watched the game. "How can you not love this? How can you not love what the seniors on the team have done? How can you not love the Final Four?"
I think that's what I'll take with me from the tour. At some point, we all have to leave campus, but we never truly leave college. The things we learn, the friends we meet, the horrible housing conditions we endure, the players we cheered – we keep all that with us, holding onto the memories more protectively than the diplomas we (or our parents) paid so much to earn.
Even when we're old alumni, tied down first by mortgage, then families and finally arthritis, part of us will always be in school, happily anticipating the weekend's game and whistling the school fight song.
Jim Caple is a senior writer at ESPN.com. His first book, "The Devil Wears Pinstripes," was recently published by Plume. It can be ordered through his Web site, Jimcaple.com.