By Jim Caple
Page 2
Did Lou Gehrig ever have to deal with this?
Concerned about how time on the computer might affect Carlos Zambrano's pitching, the Chicago Cubs have told the starter to reduce his surfing stints.
"I have been on the computer a lot and they say that's the cause of soreness in my elbow," Zambrano told Chicago reporters. "[Cubs trainer Mark O'Neal] told me the other day that a lot of people get sore when they sit at the computer. I spend like four or five hours talking to my brother in Venezuela [on the computer]. Now I have to spend one hour and take it easy."
Four or five hours? I think we all have the same reaction to hearing that Zambrano spends that amount of time in front of a computer screen every day: How does he possibly read everything on ESPN.com that quickly?!
And four or five hours talking to his "brother?" What, does his "brother's" Web site include photos of the Olsen twins and require a credit card and an assurance that the user is 18 years old?
More cynical minds might think the 136 pitches Zambrano threw in a single game a couple weeks ago could've played a bigger role in any soreness.
But it's true. Zambrano does have a serious computer jones. And thanks to Off Base's team of hackers, here are the Top 10 Ways Zambrano Spends Five Hours a Day on the Computer:
10. Donating $10,000 to exiled Princess Khalilia of Nigeria, with the assurance that she will reimburse him 100-fold when she returns to her beleaguered nation, overturns the corrupt government and regains access to the family's $100 million inheritance.
9. Refinancing his home mortgage seven times.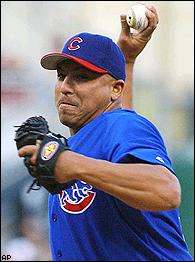 Is Carlos Zambrano headed for 'Bill Gates surgery'?
8. Reselling comp tickets at more than the regular face value on the Cubs' official ticket "exchange" site.
7. Downloading General Grievous, R2-D2, Darth Vader and other "Star Wars" icons for his IM.
6. Sending computer viruses to LaTroy Hawkins.
5. Online poker.
4. "Playing with his mouse."
3. Googling "Dusty Baker" and "pitch counts" and "overworked."
2. Reading Page 2.
1. Minesweeper.
Box score line of the week
Whether it's the weather, the more stringent ban on performance enhancers, better arms or (as it so often is in baseball) just one of those things, the game has seen an enjoyable increase in pitching gems this year. There was Mark Mulder's 10-inning shutout, Mark Buerhle's one-hour, 39-minute complete-game beauty and the Weekly Roger Clemens Masterpiece. Now add Carlos Silva's performance. The Minnesota starter didn't throw a no-hitter. He didn't throw a shutout. And he only struck out three batters. So what was so special? His efficiency. Silva needed just 74 pitches to throw the complete game, the fewest pitches thrown in a complete game in five years. His line:
9 IP, 5 H, 1 R, 1 ER, 0 BB, 3 K, 74 pitches
The 74 pitches Silva needed to complete the game were just six more than Pedro Astacio needed to record four outs the very next day.
Lies, damn lies and statistics
Sunday marked a milestone in the long career of catcher Pat Borders. He singled to extend his major-league hitting streak to 18 seasons.
At 42, Borders is ancient by baseball standards. But like Merlin in the legend of King Arthur, he is living his career backward. He was the World Series MVP in 1992, won a gold medal in the 2000 Olympics and played in the Triple-A All-Star Game in 2003. Borders was playing for his 10th big-league organization at the Milwaukee Triple-A affiliate in Nashville last week when the catching-desperate Mariners traded for him and quickly called him up to the majors. Meanwhile, his old teammate, John Olerud, just signed with the Red Sox and is about to play in the minors for the first time in his career.
"I'd tell [Olerud] to take his kids there with him and enjoy it," Borders said. "Sure, there are negatives, but don't look at those. Look at the positives. It's family-friendly and more relaxed. It's fun." …
In further ancient minor leaguer news, 45-year-old Oil Can Boyd made the roster for the independent league Brockton Rox, giving the former teammate of Carl Yastrzemski an outside chance (make that waaaaaayyyy outside) of returning to the majors for the first time in 14 years. And Rickey Henderson, now of the San Diego Surf Dawgs, told reporters he should be playing in Yankee Stadium. "The Yankees have that guy (Tony) Womack playing left field," Henderson said. "If I can't play that position at least as well as he can, I'll hang up the spikes right now.'' …
There are many factors shouting at players to retire rather than hang around the minors in their 40s. Family. Aching bodies. Long, uncomfortable bus rides. Family. Miserable wakeup calls. Lousy food. Small crowds. Family. But when you consider how precious a baseball career is and how fun it can be -- the question is not why Borders, Oil Can and Rickey keep playing it at whatever level will take them. The question is why so many others don't …
An alert reader, J.B., points out that of the 68 announced players who tested positive for banned substances, 45 percent were pitchers (31 total) and 27 percent of the position players were catchers. This might be an early indication that players who take these substances do it, not to bulk up for home runs, but to recover quicker and better from draining performances …
Win Blake Stein's Money
This week's department: Oddly, They Still Dated Annie Savoy.
Question: If John Olerud plays at Triple-A Pawtucket as expected, who are the only players who will have played their entire professional careers without spending a day in minors since the draft started in 1965?
Answer: Dave Winfield and Bob Horner (though Horner did play in Japan).
Infield chatter
"I'll go to Pawtucket for a couple hours, and then let's go get the Yankees."
-- Oil Can Boyd on his career plans after the independent league Brockton Rox
Jim Caple is a senior writer at ESPN.com. His first book, "The Devil Wears Pinstripes," is on sale now at bookstores nationwide. It can also be ordered through his Web site, Jimcaple.com.