Single page view
By Jim Caple
Page 2
The two most famous Texan cyclists rode together last weekend when Lance Armstrong joined President Bush for some mountain biking. Had they raced, it would have been an interesting competition. Lance is the stronger cyclist but Bush has the better-armed peloton.
Some people criticize Bush for riding his bike too much these days -- he rode for two hours one day last weekend -- but I'm not one of them. I applaud his bike riding, as well as his position that it's a good exercise and a healthy alternative to running.
I just wish the President would take this golden opportunity to go much, much further. Rather than simply encourage Americans to take up the bike as a method of recreation and exercise, he should actively promote it as an alternative form of transportation. This shouldn't be some throwaway quote he says in response to a reporter's question while on vacation. This should be official national policy.
What better way for Bush to salute his fellow Texan's accomplishments at the Tour de France than by encouraging Americans to reduce our dependence on foreign oil by biking more and driving less?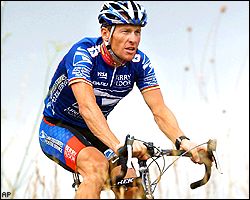 You don't have to ride as much as Lance -- try 10 miles per week.
This is not an attack on Bush or Republicans because the Democrats certainly aren't any better in this regard, either -- as best I can recall, President Clinton never used Armstrong's Tour de France victories in 1999 or 2000 to advocate increased cycling. But unless someone -- Republican, Democrat or Whig -- takes the lead, we're going to miss a tremendous opportunity to improve our country and ourselves.
This is a very, very modest proposal. I'm not talking about a dramatic change in lifestyle. I'm not suggesting that people sell their cars and ride their bikes 15 miles to work. I'm just saying that people who are capable of riding a bike on short errands should occasionally do so instead of driving their cars and perhaps -- perhaps -- commute one day a week to work on their bikes if that's safe and within reason. Sure, it might take a little longer getting to and from work that one day, but on the other hand, you not only wouldn't have to spend an hour working out at the club, you wouldn't have to spend 10 minutes driving around in the parking lot looking for a space 20 steps from the front entrance.
Think about it this way. The average American drives 12,000 or so miles per year. If we rode our bikes just 10 miles per week -- for most of us, that's a couple of trips to the grocery store for milk and a couple others to the video store for "Sin City" and "Kung Fu Hustle" -- that would cut use by 500 miles, or around 4 percent. Because cars and SUVs account for 40 percent of U.S. oil use, that could reduce the country's oil consumption by 1.6 percent. That doesn't sound like much, but it's roughly the equivalent to 100 million barrels. That's not going to end our reliance on foreign oil but at least it would be a start in that direction.
Better, it would be an easy start. No one would lose under this policy, except perhaps the oil companies, which surely could afford to see their profits drop a little -- Exxon reported a $7.6 billion profit last quarter , or $3.5 million of pure profit every hour of the day and night. Because we're talking about using bikes for only a few miles a week, the auto companies would still sell just as many cars. Bike manufacturers would see dramatic rises in profits and job creation. People would lose weight and feel healthier. Heck, if this caught on, lycra manufacturers would see double-digit profits just from David Wells' buying a couple pairs of biking shorts.