By Jim Caple
Page 2
Baseball is running a Hometown Heroes promotion in which fans are asked to vote for their favorite player associated with their favorite team. It's an interesting idea but not nearly as interesting as the Page 2 counterpart.
Hometown Bums.
You know who we're talking about. The disappointments, stiffs, losers, meatheads, choke artists, bad apples, whiff kings, overpaid oafs and clubhouse cancers who infect your favorite team and ruin season after season. The $15 million-a-year free agents who strike out again and again with the bases loaded and your team down by a run. The $10 million-a-year closers who generate more ulcers than saves. The first basemen who let routine grounders bounce between their legs when your team is this close to winning it all. The general managers who first traded away all the good players and the owners who followed that up by threatening to move the rest of the team to Las Vegas. In short, all the players, managers, fans and owners who should be held personally responsible for the TV screens they made you kick in during moments of anguish.
Some fans will look at our ballot and ask, "Why do you have to be so negative?" The rest of you will look at our ballot and ask, "How come there are only five candidates per team?" and "How come Jose Mesa is listed for only three teams?"
Because there are usually just too many bums to choose from, that's why. Even the Yankees have had so many stiffs that we would tear our collective labrum throwing batteries at them all. And if the team that has played in 39 World Series has too many losers to sort out, what hope do the rest of the teams have?
Consider the Mariners, who have had so many bums they should have renamed the Kingdome Hooverville. We came up with Maury Wills, Richie Zisk, Steve Yeager, Glenn Wilson, Del Crandall, Chuck Cottier, Bill Plummer, Mike Hargrove, Scott Spiezio, Pete O'Brien, Steve Trout, Bob Kearney, Rey Quinones, Heathcliff Slocumb, Al Martin, Woody Woodward, Jeff Smulyan and the Moose without breaking a sweat. Unfortunately, we did break out into hives.
After receiving medical and psychiatric care, we eventually narrowed the Mariners list to these five bums.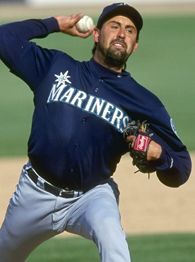 Tom Hauck /Getty Images
Mention the name Bobby Ayala to Mariners and you're likely to get a punch in the gut.
Reliever Bobby Ayala. On August 23, 1995, the Mariners were a game under .500, 11½ games out of first place and facing yet another ownership threat to move out of town. They won 25 of their remaining 36 games, beat the Angels in a one-game playoff for the division title, then rallied from a two-game deficit in the Division Series with the Yankees when Edgar Martinez drove in nine runs in the final two games. When Edgar doubled home Joey Cora and Ken Griffey Jr. in the bottom of the 11th inning, the resulting celebration would have shaken off the Kingdome's ceiling tiles had they not fallen of their own accord the previous season.
Of course, a main reason the Mariners vaulted into first place was manager Lou Piniella replacing Ayala as the team's closer with Norm Charlton. Mariners fans got lucky the next year -- Ayala punched his hand through a hotel window and had to go on the disabled list, thereby keeping him off the mound for two months. But the nadir for Mariners came in 1998, when Ayala went 1-10 with 7.29 ERA and more blown saves (9) than saves (8).
Reliever Jose Mesa. At least Ayala had the decency to get hurt.
Third baseman Jim Presley. Edgar hit .353, .329, .363 and .345 at Triple-A Calgary but did that earn him the third base job in Seattle? No, because we had to watch this stiff strike out 150 times a year! Arrggghhh!!
Third baseman Jeff Cirillo. This bum hit .317 and averaged 14 home runs and 87 RBIs the six seasons before the Mariners traded for him. He was supposed to take the Mariners over the top in 2002. Instead, he hit .249 and .205, took home $13 million in salary and started taking anxiety medicine -- pills that should have been prescribed for the fans forced to sit and watch him.
Owner George Argyros. Mariners fans know President Bush's first foreign policy mistake was naming this bum ambassador to Spain. Based on his history as Mariners owner, it's a wonder we're not at war there right now.
Anyway, that's the Mariners Gang of Five. We've got the Names That Must Not Be Spoken for the rest of the major league teams as well, and they're just as ugly. Look over the ballot and you'll see the usual suspects, heavily populated with closers (their tenures with a team almost always end badly) and overpriced free agents. You will also notice that several players make multiple teams (Mesa and Hideki Irabu are three-time bums).
So go ahead and let us know who you think is your Hometown Bum by clicking here. Or, if we left off a deserving stiff, we want to know that as well. Because Page 2 recognizes that in a game in which the measure of success is failing only seven times out of 10, bums often play a bigger role than heroes. Or at least a more frequent role.
And we apologize in advance if reading any of these names makes you break out like Chris Elliott in "There's Something About Mary."
Jim Caple is a senior writer for ESPN.com. You can reach Jim at jimcaple.com. Sound off to Page 2 here.