News item: Hank Aaron turned 73 this week.

The Hammer got the idea while watching "Rocky Balboa."
"Sylvester Stallone is 60 years old," he told his friends. "If Rocky can fight the world heavyweight champ when he's 60, why shouldn't I still be able to play baseball?"
"But Hank," his friends told him, "that's a movie and this is real life."
"These days, what's the difference?" the Hammer replied.
Yes, he was 73. Big deal. Luke Appling hit a home run in an old-timers game when he was 75. And Appling hit only 45 home runs his entire career. Just think what the greatest home run hitter of all time could do! Sure, Hank hadn't played since 1976 but what with expansion, the reduced strike zone, smaller ballparks and Eric Milton, that wouldn't be too much of a problem. Plus, the way the Hammer saw it, he didn't need to be anywhere close to his old self. He figured that Barry Bonds could hit only 20-25 home runs, 28 tops. That meant Hank needed to hit only six, maybe eight to secure his all-time home run record. That wasn't much. He usually hit that many in a month when he was younger. And with a few nutritional supplements? Hell, he already felt 10 years younger after adding creatine to his prune juice.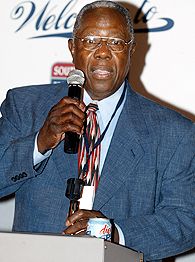 WireImage.com
Aaron's announcement that he was signing with Seattle caught many by surprise.
"No way I'm letting that guy take away my record," Hank vowed.
So the Hammer got in the batting cage and started swinging. The first day he pulled three muscles he didn't even know he had anymore and couldn't get out of bed the next morning. But he also made solid contact six times, and when he did, the ball soared off his bat with a mighty CRACK!!! just like the old days. It was encouraging enough to get him back into the cage between watching "Golden Girls" reruns. This time he hit the ball right on the screws a dozen times. Oh, he was sore, no doubt about it. But he still had the eyes and the wrists. That's all that mattered.
"Just wait until we file for free agency," Scott Boras told him.
At first everyone thought it was a joke, even after the Mariners signed Hank for $4.2 million to DH. A publicity gimmick, sports writers complained. A disgrace, talk-show hosts howled. "A youth movement," Mariners general manager Bill Bavasi said.
Still, people were interested. There were 450 writers on hand his first day at spring training, including 72 of the 2,387 Japanese reporters assigned full-time to Daisuke Matsuzaka.
Things didn't go well at the start. No one wanted to hit a 73-year-old legend with a pitch, so Hank never got anything close to the strike zone. He managed an occasional foul pop or slow roller to first, but otherwise he struck out or walked. He didn't have a hit in April and missed 13 games in May with rheumatism, six games due to a bad hip and another game when he couldn't find his car keys. "Bad Henry!" ESPN.com screamed. "Bag It, Hank!" Sports Illustrated admonished. "Do you think we can sign him to a six-year deal?" Cubs general manager Jim Hendry wondered.
Hank was ready to give it up in late May -- and manager Mike Hargrove was about to consider dropping him out of the cleanup spot -- when Aaron caught a fastball from Kansas City's Gil Meche on the fat part of the bat and sent it just over the right-field fence for his first home in 31 years and 10 months. There wasn't a dry eye in the stadium as two college students ran onto the field and helped Hank walk around the bases.
He homered again on Father's Day, the same day Bonds went in to have his knees drained and his testicles enlarged.
The Hammer hit his third home run the last week of June, the same day Bonds was indicted for jaywalking. While Bonds shuttled between courthouse appearances and the ballpark, the Hammer hit two more in July, giving him a solid 760-745 lead at the All-Star break. He was voted onto the All-Star team and would have won the Home Run Derby if he hadn't fallen asleep during the final round.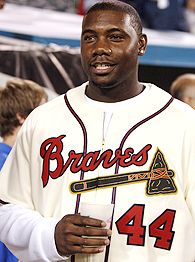 WireImage.com
Aaron-mania got so crazy by summer that big leaguers like Ryan Howard donned old-school Aaron jerseys.
Shamed by a player 30 years his elder, bothered by his bad knees and fighting the American legal system (the latest indictment was for not rewinding a tape before returning it to the video store in 1998), Bonds announced he would retire at the end of the season. "This is it," he said. "If I can't out-homer Fred Sanford, I don't deserve the record. Besides, I still haven't signed my contract for this season."
Now it was a true race and it made coverage of the McGwire-Sosa chase of 1998 seem like a warmup act. So many media started following the two players that there weren't any photographers available to shoot Paris Hilton, Lindsay Lohan and Britney Spears when they showed up at a nightclub without underwear or skirts. Al-Jazeera broke into broadcasts to show Hank's at-bats. Pedro Gomez's family told him to write when he got a chance.
"Hammer Time!" read the cover of Time magazine. "The Old Man and the Cream!" declared the cover of Newsweek. "Cocoon III" screamed the cover of Entertainment Weekly.
The applause and support Hank had been denied chasing Ruth now came cascading his way. Everyone outside of San Francisco was rooting for Hank, who weighed offers from dozens of companies -- Apple, Cadillac, Pepsi, McDonald's, Advil, Viagra, Depends -- before signing a deal with Nike to endorse a new line of white loafers.
While opponents pitched around Bonds -- he saw exactly 10 strikes in August and hit nine of them over the fence -- Hank wore down. He hit a home run the last week of July, but went homerless in August. He needed more and more days off and longer naps between innings when he did play, while Bonds crept closer and closer. Finally, in front of a record crowd at Yankee Stadium on Labor Day, the Hammer broke the drought with a shot into the upper deck. Respectful Yankees fans responded by standing in salute, shouting Hank's name and throwing batteries at A-Rod.
But Hank went homerless the next three weeks and he and Bonds entered the season's final day tied at 762. Who would finish the day as baseball's all-time home run champ? The nation all but shut down to watch. Hank's final game was the highest-rated sporting event in history, even though millions of fans couldn't see it because they didn't have DirectTV. Seattle scalpers were asking for so much money that Bill Gates had to settle for a bleacher seat.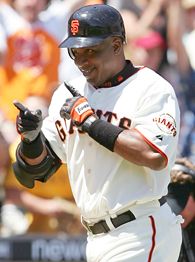 Jed Jacobsohn/Getty Images
Bonds was all smiles when he caught Aaron late in the season.
Despite facing the Rangers' pitching staff Hank struck out his first three at-bats, not managing so much as a foul ball. The situation appeared bleak indeed as he limped to the plate with the Mariners trailing 8-2 in the ninth, looking every bit his 73 years. He barely could get his bat on his shoulder. He swung and missed at the first pitch. He swung and missed at the second. But as reliever Frank Francisco rocked and fired, Hank summoned up all his decades of experience, all the anger brought on by the old Ruth hate mail and all the frustration at missing out on free agency. And the Hammer put all of that into one last, powerful swing, the final one of his career.
No one knows where the first ball hit out of Safeco Field landed exactly but Alex Popov and Patrick Hayashi went to court over it anyway. The stadium lights exploded into fireworks, old ballplayers walked out of cornfields, sailors kissed nurses in Times Square and Todd McFarlane took out a second mortgage. Hank took a long, triumphant trot around the bases, leaped onto home plate with both feet and hugged the Maris kids.
Of course, the question was which was the day's bigger story: Hank's clinching the home run record at age 73 or Sandy Koufax coming out of retirement for the Dodgers at age 71 to no-hit Bonds and the Giants?
BOX SCORE LINE OF THE WEEK
The Caribbean Series gave baseball-starved fans more than a mid-winter appetizer. It also gave them the longest game in series history, an 18-inning, six-hour and 14-minute contest between Venezuela and the Dominican Republic. Friday's series-opening game featured 38 players -- including Jose Lima, Luis Polonia (who turns 40 in April) and Randall Simon -- and finally ended with a 4-3 victory for the Dominican Republic. The best line, however, belonged to Venezuela pitcher (and Twins farmhand) Yohan Pino. His line:
5 IP, 1 H, 0 R, 0 ER, 1 BB, 8 K
By the way, after the 18-inning game, they cleared the field, shot off fireworks and played the second game on the schedule, starting it, as Derek Jacques details at baseballprospectus.com, just before midnight. You gotta love the Caribbean Series.
TELL YOUR STATISTICS TO SHUT UP
Is it a stretch to think Hank Aaron could come out of retirement and hit a home run? Then consider the upset Jackie Earle Haley pulled off recently when he was nominated for a Best Supporting Actor award for his performance in "Little Children." Like Hank, it's been 31 years since he was the home run-hitting slugger Kelly Leak in "The Bad News Bears" -- a long enough span that he now plays a pedophile with a performance both sympathetic and chilling. Suffice to say, you definitely wouldn't want his latest character managing your child's Little League team. In true Bears fashion, Haley is a 14-1 underdog for the Oscar with the British oddsmakers but we're pulling for him to either win or toss beer cans at Eddie Murphy and tell the Academy to stick its statue where the sun don't shine. …
Spring training starts next week and the cost of catching your team in March isn't getting any cheaper. Box seats for the Giants go for $26 on weekends (lawn seating in the outfield is $12). The cheapest ticket at Legends Field for the Yankees is $17 and almost all are $21 to $25. Box seats for the Red Sox range from $24 to $44 in Fort Myers, Fla. Even the Twins have $35 dugout seats. The only $5 tickets remaining are for outfield grass seating (always the preferred way to go) for the Angels and Cleveland (the Orioles also offer $5 seating for kids 14-under). If you're looking for a bargain, though, head to Hi Corbett Field in Tucson, Ariz., which may be the best spring ballpark outside Vero Beach, Fla. The Rockies charge $7-$14 for seats, with $2 tickets in the sandpile down the left-field line. …
Jim Caple is a senior writer for ESPN.com. He can be reached here. His Web site is back up at a slightly different address, jimcaple.net, with more installments of 24 College Avenue. His new book with Steve Buckley, "The Best Boston Sports Arguments: The 100 Most Controversial, Debatable Questions for Die-Hard Boston Fans" is on sale now.