It's your time, Ichiro.

This is your seventh season in the majors. You're in the walk year of your contract. You're still regarded as a star, but you've finished in the top 10 in the MVP voting only once since winning the award your rookie year. You've been overshadowed by another Japanese outfielder, and now by a Japanese pitcher.
It's time to step up your game and become a leader.
You're the logical person. You're the best player on the Mariners. You're the only full-timer continuously on the roster since Lou Piniella was the manager, the club's last link to the 116-win 2001 team (not counting Arthur Rhodes, who's back after three seasons elsewhere). You're the only regular who knows what it's like to win in Seattle.
It's your time.
The Mariners have lacked a leader since the day Edgar Martinez took off his uniform for the last time. Walking into the Seattle clubhouse the past couple of seasons has been like walking into a dentist's office. You can change that.
You were the leader on the Japanese team that won the World Baseball Classic last year, and Seattle fans hoped that leadership would spill over to the regular season with the Mariners. Unfortunately, it did not. When Jeremy Reed broke his wrist and the Mariners needed a center fielder, a leader would have immediately stepped up and said, "I'll move to center." Instead you made the Mariners dance around the issue for weeks, auditioning players who didn't belong there yet until you finally agreed to the position switch.
You've been talking more this month, and that's a good sign, because it's been easier to get Karl Rove to testify under oath than it has been to get you to talk the past two seasons. You need to be a voice on this team. You've been in America longer than the iPod. You know English. It's time to stop hiding behind an interpreter, stand up and take charge.
You need to encourage your teammates to approach the game as religiously as you do. You are such a perfectionist, you keep your bats in a humidor and treat your glove as if it were the Shroud of Turin. You need to spread this famed dedication throughout the clubhouse.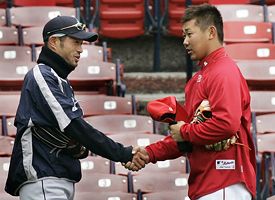 AP Photo/Elise Amendola
A few camera bulbs will pop when these two face each other Wednesday night.
It's great that you've hit .300 each season, with at least 200 hits. But as you've noticed in recent years, that is no longer enough. You had a record 262 hits in 2004, yet because the lineup around you was so weak, you scored barely 100 runs. Of course, you don't need to be told this. You know it yourself from all the times you've rotted at third base, 90 feet away from home.
You need to make scoring 120 runs a year your goal, not getting 200 hits. You need to run when the team needs a stolen base, not when you think you can keep your streak alive. You need to bunt when the team needs it, not when you want to add to your hit total. You need to swing for the fences when the situation calls for it, the way you show you can in batting practice. You need to crash into those fences a little more often, too, and dive for some balls.
Yes, playing in Seattle has been frustrating and wearing the past three seasons. You won 116 games your first year and 90-plus the next two years, but the last three seasons have been wretched. Ownership has frequently been inept, surrounding you with high-priced free swingers who strike out far too often and strand you on the bases. And manager Mike Hargrove appears clueless at times.
But you can decide after the season whether you want to apply your talents elsewhere. Right now, you need to elevate your game and show people again that you're more than a singles hitter. All those reporters here to cover Daisuke Matsuzaka this season, all those fans here and across the Pacific watching your at-bats against him Wednesday night -- remind them all who Japan's true superstar is.
You challenged yourself when you came over to America and proved Japanese position players can excel here. It's time to challenge yourself again.
It's your time to lead, Ichiro.
BOX SCORE LINE OF THE WEEK
That was some weekend in Cleveland, aka Ice Station Zebra.
Cleveland's home-opening, four-game series with the Mariners was snowed out, though not for lack of trying. Despite an official Cleveland daytime high of 29 degrees (not counting the windchill) and falling snow, they tried to play on Friday. And despite two hours and 53 minutes worth of weather-delay interruptions -- Raul Ibanez had one at-bat interrupted twice by snow delays for a total of 40 minutes -- they almost got the game in. Cleveland's Paul Byrd had a no-hitter going with two out in the top of the fifth and two strikes on Jose Lopez. All he needed was one more strike for an official game, a 4-0 win and a no-hitter (or at least a non-Fay Vincent no-hitter). And then Seattle manager Mike Hargrove turned into the Human Snow Delay, arguing that the snow was falling too heavily to see the pitches. The umpires agreed and they halted the game, which eventually was postponed.
That wiped out Byrd's possible no-hitter and this line:
4 2/3 IP, 0 H, 0 R, 0 ER, 3 BB, 0 K
On the other hand, it also wiped out Adrian Beltre's three errors.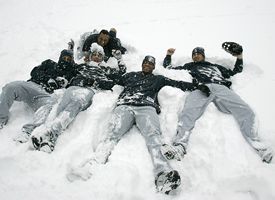 AP Photo/Tony Dejak
At least the Mariners had a little fun in the snow in Cleveland.
TELL YOUR STATISTICS TO SHUT UP
• Now, weather is often cold and unpredictable in April, especially in the Midwest and East. So early-season games should be scheduled as much as reasonable in the West, South and domed stadiums. But as anyone who has spent much time in Minnesota knows, snowstorms can happen anyway. The real difficulty here is the unbalanced schedule. The Mariners and Indians have four games to make up, but they play only one more series this season -- and that's the last week of the season in Seattle. If they were still playing the balanced schedule, the two teams would meet at least once more in Cleveland and twice in Seattle. But Lord knows how they're going to fit all those games in now. If one of those games winds up cancelled for good, Seattle would end up playing the National League's Padres as many times (six) as Cleveland, a team it might be fighting for a wild-card spot. The overriding problem, however, is that putting together a 2,430 game schedule is very, very difficult. The needs of one team often conflict with the desires of another. Everyone wants to play the Yankees at home (preferably on a weekend), three-division leagues and five-team divisions plus interleague matchups create new complications, every team must have 13 home weekends, no one wants too many games in April, the NFL schedule must also be taken into account, no one can predict the weather and … well, it's a bit like putting together a Rubik's Cube blindfolded. Except, as Katy Feeney, the MLB senior VP for scheduling says, when baseball gets the scheduling cube together, "It never makes anybody happy."
• If you're like me, you already have a stack of books taller than Randy Johnson waiting on your bed stand, but do yourself a favor and buy Joe Posnanski's "The Soul of Baseball: A Road Trip Through Buck O'Neil's America." Don't worry, it won't add to your pile -- you'll read this delightful book in a couple of days and immediately forward it to a friend. It's that good. Posnanski, the Kansas City Star's superb columnist, spent a year traveling with O'Neil, and this book lovingly recounts those trips. The book is about Buck, of course, but it is also about baseball and how important, powerful and enriching it is in our lives. Posnanski's writing is as light as cotton candy, and he not only brings Buck alive but also makes us realize how much emptier our world is without him. Highly, highly recommended.
• It looks like it will be a long summer in D.C. Entering Wednesday, the Nationals have yet to have a lead during an at-bat (their lone victory was on a walk-off single). They've been outscored 13-0 in the first inning and have trailed in five of their eight games before their first at-bat. … In between Carl Pavano's last two wins, Johan Santana won 31 games. … Cleveland's hastily rescheduled series with the Angels in Milwaukee drew 19,031 fans Tuesday night, which is only 5,000 fans fewer than the Indians averaged last year at Jacobs Field. One lesson? If you lower ticket prices, they will come (all seats went for $10). … The Red Sox are in a stretch when they will play seven home games that start at 2:05 p.m, 7:05 p.m., 4:05 p.m., 7:05 p.m., 3:55 p.m., 1:05 p.m. and 10:05 a.m. … It's great to see A-Rod get off to an outstanding start (six home runs and 15 RBIs in his first seven games), which hopefully will get Yankees fans off his back for awhile. Or at least until October. … According to MLB.com's Bill Arnold, Marcus and Brian Giles became the first brothers to bat 1-2 in an opening day lineup since Matty and Jesus Alou in 1965.
BASEBALL JEOPARDY
This week's category: Players With Less Facial Hair Than Danny Almonte.
Question: Who was the youngest Opening Day starter in major league history?
Answer: Catfish Hunter, who was 20 years and four days old when he started for the Athletics on April 12, 1966. He gave up two runs in eight innings and lost 2-1 to Minnesota's Mudcat Grant.
INFIELD CHATTER
"Cold for spring, isn't it? It was so cold up there at Yankee Stadium, the beer was cold."
-- David Letterman
Jim Caple is a senior writer for ESPN.com. He can be reached here. His Web site is at jimcaple.net, with more installments of "24 College Avenue." His new book with Steve Buckley, "The Best Boston Sports Arguments: The 100 Most Controversial, Debatable Questions for Die-Hard Boston Fans" is on sale now.