A hot day in July. Long afterward, after the many tomes on American culture and the Super Bowl fly-fishing story for Page 2, the young reporter would remember with great clarity the older journalist's grace, his good manners, his capacity to put a writer at ease. The journalist was already a legend in the business by then, a winner of the Pulitzer Prize for his reporting from the Vietnam War as well as an iconic author on the greatest issues in American Cold War history, including the twin quagmires that were Vietnam and the 1979-80 Portland Trail Blazers. Yet, on this hot July afternoon in a Seattle shopping mall, David Halberstam found himself in that most uncomfortable of positions for an author -- alone at a book signing, utterly alone, painfully alone, so alone he could hear himself think, "I am all alone."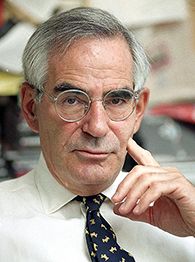 AP Photo/Mark Lennihan
David Halberstam, a giant in our industry, will be greatly missed.
Well, not completely alone, as it turned out. I was there. I had just finished up as editor of the University of Washington student paper ("The Daily: Where Accuracy Is a Slogan"), and Halberstam was my hero. My earliest writing shamelessly copied his style, and I definitely wasn't alone in that. His lengthy paragraphs, his familiar use of pronouns to begin a passage, and the way he would break off the first word or so of a quote with the attribution are styles still copied by writers around the nation.
"It," Ricky Williams said, "was the best and brightest bong hit I ever took."
Halberstam was an exceptional and relentless journalist -- had more reporters been as questioning early in the Iraq War as Halberstam was in Vietnam, we might not be in our current quagmire -- but his strength and beauty, what really set him apart, was that he wrote about everything, absolutely everything. Because everything interested him. He wrote about the Vietnam War, Bobby Kennedy, the Blazers, the media, the Japanese car industry, the 1949 pennant race, Bill Walton, the 1960s civil rights movement, Michael Jordan, 1950s popular culture, Bobby Knight, the 9/11 firefighters, the Korean War, the 1964 World Series … about the only thing he missed was Madonna.
As Halberstam grew older, sports became an even more popular topic for him. He was among the original contributors to Page 2 (seeing my byline next to my hero's in those early months of the page was one of the greatest thrills of my career). He wrote many books on sports, including very popular volumes on the Red Sox and Yankees of the late '40s and early '50s, but "The Breaks of the Game" is his true masterpiece. This profile on the 1979-80 Trail Blazers is essential reading for any fan of sports, culture, race relations and good reporting. The book is so good that even the dedication page is stirring.
"In memory of Dr. Michael Halberstam," it reads, "who in the last year of his life was fond of sneaking onto Washington, D.C. playgrounds and attaching brand new nets, which he had just bought, so that he and other playground players could hear their jumpshots swish …"
(Michael, David's brother, was murdered in 1980 by an escaped convict in a burglary.)
Paging through "The Breaks of the Game" right now, I found that an idea I proudly suggested last week -- placing an asterisk next to every record in baseball that was set before Jackie Robinson -- was proposed by Halberstam more than a quarter-century earlier. He was that type of writer, seeing things well ahead of everyone else.
Journalism, already under attack from the government, is much the lesser with Halberstam's passing Monday morning in an auto accident. So is our country. His insight and often courageous reporting made him a powerful, important voice in America. And, sadly, an irreplaceable one.
David Halberstam was truly among our best and brightest.
Jim Caple is a senior writer for ESPN.com. He can be reached here. His Web site is at jimcaple.net, with more installments of "24 College Avenue." His new book with Steve Buckley, "The Best Boston Sports Arguments: The 100 Most Controversial, Debatable Questions for Die-Hard Boston Fans" is on sale now.

Also See
ESPN Top Headlines