The folks at Team Marketing Report released their annual Fan Cost Index recently. And not surprisingly, the estimated average price of taking a family of four to a game rose again, this time to $176.24.

Of course, the Fan Cost Index would be a better service if it actually bore some relation to reality. No real fan ever spends anywhere close to the amount of money or buys anywhere near all the crap the FCI uses in its estimates.
For instance, the FCI assumes a family will buy two official programs. Two programs? Why would anyone need two copies of articles about a player's pet Rottweiler or the wives' charity drive? Two adult caps? Good lord. If you don't already have a complete set of home/road/alternate Sunday/turn back the clock/1995 AL West champion/spring training/batting practice caps, then you clearly don't care enough about the team to go see them play in the first place. And two beers? C'mon, who drinks only two beers at a game? Especially if Jeff Weaver is pitching?
For crying out loud, if the Fan Cost Index is going to include such unnecessary extra expenses as caps and programs, it might as well include a full set of replica jerseys and pants, a personal message on the revolving billboard behind home plate and a working bullpen cart.
I wrote about this subject many years ago, back when the Internet still relied on tin cans and rubber tubing, but clearly it's time for an updated version. So here we go -- the New Cheapskate's Guide to Baseball Games.
PARKING
Chumps pay $25 for parking. Cheapskates take public transportation, which provides valuable life lessons for the children:
"Daddy, why is that man talking to himself, picking at his sores and not wearing any pants?"
"Because he roots for the Cubs, son."
Or we drive our cars around and around and around until we finally find an open spot 17 blocks away. Then we walk four blocks and take the bus the rest of the way, getting to the stadium in plenty of time for the seventh-inning stretch.
TICKETS
The Fan Cost Index expects fans to buy box-seat tickets that require a second mortgage. Cheapskates never buy those ones. We sit in the bleachers, where the tickets are a fraction of the price. Not that we ever pay the full price for these tickets, either. Nor do we ever pay a Ticketmaster "convenience" charge. We avoid both by buying our tickets from the hardworking scalpers outside the stadium. And we always negotiate a good price by appearing penniless, because we wear our oldest clothes to the park and don't shower for three days beforehand. We also hold out until the fourth inning, when the scalpers drop their prices.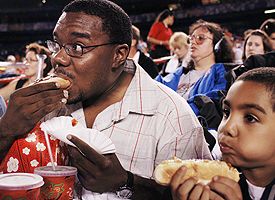 AP Photo/Ed Betz
How much did you spend on those hot dogs guys?
And, we don't actually
sit
in the bleachers, mind you. We simply sneak down to the best empty seats we can find, which are usually those expensive box seats left vacant by the corporate suits who went home early, if they bothered to show up at all.
CONCESSIONS
Cheapskates never buy food at the concession stand! We sneak it in. We hide kettle corn in our pockets, hot dogs inside our underwear, red licorice under our arms, peanuts in our shoes and vodka bottles up our pants legs. If any of that sounds unappetizing, well, it still adheres more closely to the health code than do the hot dogs at Yankee or Shea Stadium.
SOUVENIRS
Cheapskates wouldn't think of paying ballpark prices for a souvenir cap, bat, T-shirt or jersey. We get them free by only attending giveaway games. And we prefer Barry Bonds Replica Cap Day, when even the kiddie-size caps fit adults.
PROGRAMS
Again, no one pays $5 for the propaganda that makes up the typical team program. Cheapskates know there are cheaper ways to provide better memories that will last our kids the rest of their lives. For instance, cheapskates bring their own scorebooks and teach the kids how to keep score. "Put down another K for Beltre's at-bat, Josh." And we also teach them valuable social skills such as shouting "You suck, Adrian!" at Beltre after he strikes out AGAIN with runners on second and third and two out.
I'm proud to say that the Cheapskates Cost Index is $34, and it hasn't risen in a decade. Although that depends on whether you include the cost of your car being towed after you leave it in a No Parking zone.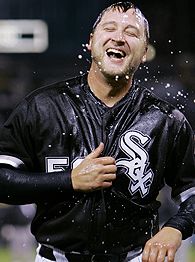 AP Photo/Nam Y. Huh
Buehrle was all smiles after pitching this season's first no-no.
BOX SCORE LINE OF THE WEEK
Not much doubt about this week's award -- it has to go to White Sox starter Mark Buehrle for his no-hitter and near-perfect game against the Rangers. Buehrle missed a perfect game only by a walk to Sammy Sosa on a 3-1 pitch in the fifth inning. But because he immediately picked him off, Buehrle still faced the minimum 27 batters. His line:
9 IP, 0 H, 0 R, 0 ER, 1 BB, 8 K
All in all, it was a little more impressive than Yankees starter Chase Wright, who allowed four consecutive home runs in a 10-pitch span against the Red Sox on Sunday.
TELL YOUR STATISTICS TO SHUT UP
• I spent much of Monday night and Tuesday paging through the many David Halberstam tomes on my bookshelf and feeling a tremendous sense of loss. As I wrote elsewhere, this country lost a true hero and an irreplaceable voice when he died in a car accident Monday. Halberstam wrote about everything, but baseball was an increasing theme in the past two decades. First there was "1949," his history of the Yankees-Red Sox pennant race that summer. Then "October 1964" on the Yankees-Cardinals World Series. And "The Teammates'' on Ted Williams, Johnny Pesky and Dom DiMaggio. Many of Halberstam's talents have been rightfully eulogized this week, but a couple readers wrote in to say that the one thing missing from these tributes was how Halberstam's actual voice was as powerful as his voice on the page. That is so true. His voice was a deep, smooth mix of Garrison Keillor and Bob Sheppard. It was both wonderfully captivating ("Let me tell you a story") and also powerfully authoritative ("This is exactly the way it happened and WHY!!!"). He will be greatly missed.
• A great new book is "The SABR Baseball List & Record Book" by -- who else? -- the dedicated folks at SABR. Want a list of the managers who have been ejected the most? It's in this book (as well as below in From Left Field). The qualified batters who finished last in all three Triple Crown categories? Ditto (Detroit's Ramon Santiago was the last of 13 to manage it, with .225, 2 HR and 29 RBIs in 2003). The pitchers who threw at least 300 innings in a season without giving up a home run (Babe Ruth was one of them)? Pitchers who won 20 games the same season they were traded? The last Negro Leaguer to appear in the majors? It's all there. This is the perfect book to keep handy for dipping into between innings.
• How can "Major League" have made it to the finals of the Tribeca Film Festival competition for best baseball movie ever made? "Major League" is a silly movie filled with clichéd characters and sophomoric jokes, and it is far inferior to "The Natural," "A League of Their Own" or any other movie it beat out in the bracket. Fortunately, there is time to correct this injustice by voting for the best baseball movie of all, "Bull Durham" in the final round.
• Think Mother Nature has been rough on your team? The Mariners have been rained or snowed out six times already, even though half their games have been in a stadium with a roof. … At last glance, Alex Rodriguez had more home runs (14) than eight teams (Diamondbacks, Rockies, Dodgers, Angels, Twins, Athletics, Giants and Nationals). … Here's something you don't see every day -- Ronny Cedeno was thrown out trying to steal second base on ball four last Friday when he overslid the bag and was tagged out. Any further questions on why the Cubs have gone 99 years without a world championship?
FROM LEFT FIELD
We're nearly four weeks into the season and, despite the Cubs' troubles, Lou Piniella still hasn't been ejected from a game -- which is quite an impressive run by him. Here are the managers who have been ejected the most, with Sweet Lou taking the 10th spot:
Bobby Cox (123)
John McGraw (117)
Earl Weaver (97)
Leo Durocher (95)
Frankie Frisch (82)
Paul Richards (80)
Tony La Russa (73)
Clark Griffith (62)
Joe Torre (58)
Lou Piniella (57)
Source: "The SABR Baseball List & Record Book"
Jim Caple is a senior writer for ESPN.com. He can be reached here. His Web site is at jimcaple.net, with more installments of "24 College Avenue." His new book with Steve Buckley, "The Best Boston Sports Arguments: The 100 Most Controversial, Debatable Questions for Die-Hard Boston Fans" is on sale now.

Also See
ESPN Top Headlines