Summer officially began Thursday, but it unofficially began with the true sign of summer's arrival: the first pitch of the College World Series.
The CWS is just one of "The 101 Things Every Fan Must Experience Before They Die," a worldwide list of sporting events ranging from the Olympics to the Coney Island hot dog eating contest. The big (the World Cup) and the small (Minnesota town ball) are here, as well as the familiar (the World Series) and the obscure (the veterans wheelchair games), the expensive (the Masters) and the free (a Little League game).
I've attended many of these events while friends and fellow writers swear by the ones I haven't. The rankings are based on the total experience, including the event itself, the participants, the setting and the atmosphere for the fans. Personally, I could fill the list up with nothing but baseball and college football games, but to keep things manageable and varied, I've limited the repetitions within any one sport as much as possible. That's why only two college football rivalries make the list (Ohio State-Michigan and Alabama-Auburn), though many more certainly could have been included. Same with big soccer rivalries.
This is by no means a comprehensive list -- there are just too many games in too many sports for that -- but it does include a full range of national and international competitions well worth camping overnight on the sidewalk for a ticket. In fact, camping out is No. 63 on the list.
The 101 Things Sports Fans Must Experience Before They Die:
1. Summer Olympics (every four years in a different city). With 10,000-plus athletes from 200 nations, this is the world's biggest party (did I mention the 130,000 condoms they give to the athletes?). The host city is almost always worth the trip itself (well, maybe not Atlanta) but the 17 days of exhilarating sporting performances will provide memories that will last long after the $24 souvenir T-shirt has faded. Guaranteed, you will see something that makes you proud to be human and call yourself a citizen not of one specific country but a citizen of the world.
TEN EVENTS TO AVOID
1. The Super Bowl. The cost-to-enjoyment ratio is the highest in American sports for this overhyped, outrageously expensive event. You'll enjoy the game more on TV while saving your money for a far more rewarding experience.

2. NFL exhibition games. Why would anyone willingly buy tickets at full price for meaningless games in which the main objective is to play the starters only long enough not to get them hurt? The answer: No one. Which is why teams require that their season-ticket holders buy tickets for these miserable games.

3. NBA draft lottery. Drafts are bad enough, but at least players are actually picked there.

4. Baseball old-timers game. The desire to see your favorite player on the field again is understandable, but don't give in to the temptation. There is nothing worse than seeing a former hero so fat and out of shape that he can't bend over, let alone bend over to scoop up a grounder.

5. Pro Bowl. If you want to go to Hawaii, just go. No need to mix in your vacation with a game that not even the players chosen to play want to attend.

6. World Series of Poker. Poker is not a sport. It's gambling. And your money isn't on the line, so why would you care?

7. WWE. Real sports don't need scripts.

8. Rhythmic gymnastics. Is an explanation really necessary?

9. The Wing Bowl. The contestants may not feel like throwing up at this annual Philadelphia eating competition, but you will.

10. Dogfight night at Michael Vick's house.
2. World Cup (every four years in a different country). Look, Americans shouldn't feel guilty about not liking soccer any more than we should for not using the metric system. But whether you're a fanatic about the sport (a lot of the world) or are bored by it (the U.S and Canada, Down Under, and the Coalition of the Unwilling), we can all appreciate a huge international party filled with fans so passionate they set themselves on fire to inspire their team before the game (as opposed, say, to Detroit fans, who set others on fire after the game). Look at it this way: The World Cup was such a spectacle last summer that Germany was actually afraid it would run out of beer. And if a team actually scores, so much the better!
3. Winter Olympics (every four years in a different city). Definitely smaller and obviously colder than their summer counterparts, the Winter Games are in some ways more appealing. Because they are smaller, they are also more manageable, relaxed and intimate. Plus, it's hard to beat finishing up a day with a mug of mulled wine or hot chocolate mit schuss at a world-class ski resort overlooking snow-capped peaks. Or, in the case of Bode Miller, beginning the day there.
4. The World Series (every October, various cities). No championship can match the dramatic moments regularly produced each October (and occasionally November). Willie Mays racing with his back to the plate. Bill Mazeroski waving his cap as he comes home. Carlton Fisk waving his home run fair. Kirk Gibson limping up to pinch hit against Dennis Eckersley. Jack Morris stomping to the mound for the 10th inning of Game 7. Derek Jeter lining a drive into the bleachers. There's a reason they call this the Fall Classic, and it's not because of all the Fox B-list celebs.
5. NCAA subregional (March, various sites). The only problem with March Madness is that the championship game too seldom lives up to the previous two weeks of cuticle-devouring excitement. For the best experience, steer clear of the actual Final Four and go to a subregional instead. You get more games (four the first day), more upsets, more spirit and enough excitement to leave even Dick Vitale hoarse.
6. Spring training (February-March, Florida and Arizona). Even in this cynical, jaded world, all of us are officially allowed to be naive and optimistic about the coming year when the crack of the bat mixes with the smell of sunscreen. If there is a more enjoyable way to pass a spring afternoon than at a Cactus or Grapefruit league game, man has yet to find it. Heck, even Royals and Pirates fans feel good here.
7. NFL conference championship (January in various NFL cities). You may have noticed that the Super Bowl is not on this list. How can the most-watched American sporting event not make the list? Easy. The Super Bowl is a bloated, overhyped, outrageously expensive, often dull and drawn-out event best watched at home, where you can discuss the telecast's most interesting aspects -- the commercials -- with friends. Unlike the other major championships, there is not a passionate crowd rooting for the home team at the Super Bowl because the stands are filled with CEOs who couldn't care less about who wins or loses. Fortunately, the conference championships are much, much different. This is the NFL at its finest. The games are better and the atmosphere is more rabid than a pack of Michael Vick's dogs.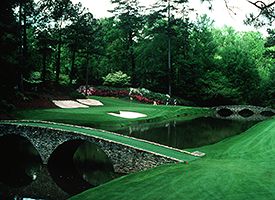 Getty Images
This is about as close as you'll ever get to Amen Corner.
8. The Masters (April, Augusta, Ga.). You should get down on your knees at Amen Corner if you're able to get the toughest ticket in American sports. Then get behind Tiger or Phil and follow him all 18 holes -- it won't be difficult, the day will feel so sublime you'll practically float above the azaleas and dogwoods.
9. Wimbledon (late June-early July, London). Like Augusta and the Masters, Wimbledon is not so much a sporting event as a destination. It's a place where you don't really care who is playing so long as you're there to see them. It's such a marvelous, timeless place that you want to preserve it in shrink wrap. Not that you need to, because it's already literally bombproof -- Nazi bombs fell on Centre Court in 1940 but did not destroy it. What with the setting, the tennis and Maria Sharapova, you won't even mind the price of the strawberries and cream.
10. Tour de France mountain stage (July in various rotating cities in France). Can you trot around the bases with Barry Bonds? Dive into the end zone with LaDainian Tomlinson? Go to the hoop with LeBron? Of course not. But you can run alongside the best cyclists in the world as they struggle up the remaining agonizing kilometers of a mountain stage. It's an all-day party (and frequently all-night as well) set among spectacular Alps and Pyrenees scenery, and best of all, you can fill your water bottle with a great French wine or Belgian beer (or, if you're competing, something stronger).
11. Premier League Soccer game (fall-spring, England). Imagine what Yankees or Red Sox fans would be like if there weren't football, basketball and hockey teams to distract them. That might give you some idea of how passionately the English take their soccer, but to really understand it, attend a Chelsea-Arsenal match. Just be sure to wear your Kevlar replica jerseys. (Or, if you really want a taste of bitter rivalry, go up to the Scottish Premier League for a Rangers-Celtic clash.)
12. Rose Bowl (New Year's Day, or thereabouts, Pasadena, Calif.). There were 32 bowl games last year, ranging from the San Diego County Credit Union Poinsettia to the Tostitos BCS Championship, but the best one remains the Granddaddy of Them All. No matter what teams are playing, crowding into the grand Rose Bowl with 90,000 other fans on a New Year's afternoon with the sky as blue as a UCLA jersey is college football's finest outside of the USC cheerleaders.
13. NBA Finals (June, various cities). Ratings, schmatings -- the NBA Finals remain one of the world's great athletic showcases, providing more of a visual smorgasbord than an entire NBA roster of tattoos.
14. College World Series (June, Omaha, Neb.). There is always talk of moving the CWS away from Omaha's Rosenblatt Stadium, but that would be like moving the Golden Gate Bridge out of San Francisco. Omaha has been holding the big roundup since before Roger Clemens' voice changed, and it's hard to imagine a better host. With massive tailgating, passionate and friendly fans, gorgeous coeds, warm summer weather and oh, yes, great baseball, you don't feel like just a fan, you feel like part of a family.
15. Red Sox-Yankees game (April-October, Boston or New York). Stories about this rivalry already run 24/7 at ESPN.com, so there's nothing more to add other than this warning to be sure and wear the proper "[NAME THE OPPONENT] SUCKS" T-shirt.
16. Hall of Fame induction (July, Cooperstown, N.Y.). Two things make baseball's Hall of Fame superior to the others: the sport's sense of history and the museum's location (let's just say that Cooperstown is slightly more picturesque than Canton). Anytime is a good time to visit Cooperstown, but if you can find a hotel room, it's hard to top induction weekend, when baseball's legends return so heroically, it's as if they're walking in from the cornfields.
17. Michigan-Ohio State football (November, Columbus, Ohio, or Ann Arbor, Mich.). Few rivalries can match the intensity of this one. Fewer can match the huge crowds at these historic stadiums. Fewer still can match the national stakes on the line virtually every year. In fact, why are you still reading? You should be looking for a parking spot to tailgate right now.
18. The F.A. Cup (fall-spring, England). You think your NCAA office pool is over the top? England's F.A. Cup, which was first held in 1871-72 -- eight decades before the first Xerox was released -- had 687 teams competing last season. And better yet -- Billy Packer didn't call a single one of the matches.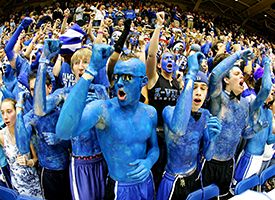 Getty Images
There's college hoops ... then there's Duke-UNC.
19. Duke-North Carolina basketball game (winter, Chapel Hill or Durham, N.C.). There are college basketball rivalries and then there is Duke-Carolina, which makes that Yankees/Red Sox thing seem like a simple misunderstanding. Cramming into old Cameron Indoor Stadium or marveling at the banners for all the Tar Heels greats in the Dean Dome is a college basketball experience not to be missed -- even if you have to camp out in K-Ville for a couple of weeks to get a ticket. (Just check with a doctor first to make sure you have all your shots.)
20. The Stanley Cup playoffs (late spring, various NHL cities). So what if the ratings keep sinking like the mercury in Quebec in January? This is hockey at its absolute best. And if a Canadian team can ever win again, you might get the added benefit of watching Don Cherry explode.
21. British Open (July, Great Britain). Ah, The Open, where the tradition is as thick as the rough at Royal Lytham & St. Anne's, the history as deep as the Hell Bunker at St. Andrew's and the weather occasionally as pleasant as St. Louis … in late February.
22. Cubs game in the Wrigley bleachers (April-September, Chicago). If a foreign tourist flew into the U.S. and asked for the quintessential American experience, the first choice would be Disneyland. The next would be a day game in the Wrigley bleachers with the sun shining, a breeze blowing out, the ivy crawling up the outfield wall, a cold beer in one hand and a hot dog in the other. Just plan your trip before October.
23. A football game at Notre Dame (fall, South Bend, Ind.). The College Football Hall of Fame is in South Bend, but there isn't much point to going there. Better to just walk around the Notre Dame campus, taking in all the traditional sites (Touchdown Jesus, No. 1 Moses and Fair Catch Corby) and then crowding into the stadium to see the golden-helmeted players run onto the field while the band plays the most inspiring fight song of all.
24. ACC basketball tournament (March, various sites). The best way to tune up for your office NCAA pool is at this classic tournament, especially when it's on Tobacco Road and so lively it should come with a surgeon general's warning advising pregnant women and people with high blood pressure to stay away.
25. A soccer game at Maracana Stadium (various dates, Rio de Janeiro, Brazil). Think Michigan's Big House is something when the Wolverines host Ohio State? Then imagine what this place was like when it held 200,000 fans. Capacity has since been reduced to a mere 100,000, but when those Brazilian fans start cheering, you'll swear there are 500,000.
26. Little 500 (late April at Indiana University). IU likes to call the Little 500 "The World's Greatest College Weekend" and the school might be right. The Little 500 has just about everything you could want in a college weekend. Exciting races between true student-athletes competing for little more than the thrill of sport. Alumni returning to campus for traditions that make them feel 19 again. Parties spilling out of houses, hormone-stirring bands and copper-skinned sorority girls in biker shorts. And, of course, lots of beer.
27. Tailgating in the SEC (fall, SEC campuses). It's hard to mess up tailgating -- all you need is some good food, friends and a game -- but SEC fans turn it into a true art form. Whether it's the Grove at Ole Miss, the boats tied up along the river at Tennessee, the Cajun gourmets serving their specialties all day before a night game at LSU's Tiger Stadium or any of the other campus traditions in the conference, you'll enjoy yourself so much you may not want to go in the stadium. Which is convenient, since you may be too drunk to find your seat, anyway.
28. U.S. Open golf (mid-June, various courses). The beauty of the Open is that it's open. If you qualify, you get an invite. So you're not just watching Tiger (which is good enough), you're also rooting for Rich Barcelo, Kyle Dobbs and Frank Bensel. The Open is so open that it's even been played at a muni.
29. A game at Rucker Park (anytime, Harlem). Can't afford an NBA game? Don't worry. You can watch the next best thing for free at Rucker Park -- and some would claim the ball is even better at Rucker. Among the Rucker alumni are Stephon Marbury, Kenny Anderson, Tracy McGrady, Jamal Mashburn, Vince Carter, Ron Artest and many others -- enough to stock a couple of NBA teams.
30. U.S. Open tennis (late August, New York). The Open is an annual mix of spectacular tennis (think Andre Agassi last year), outrageous fashion and rabid fans. For the best experience be sure to see a night match on a side court when they have to play well past midnight.
31. Bayou Classic (November, New Orleans). It may not have the high-ranked teams of other rivalries, but the Classic matches two legendary football powers (Grambling and Southern), adds the Battle of the Bands and crams it all into one weekend in New Orleans. It certainly beats a Saturday afternoon in Norman, Okla.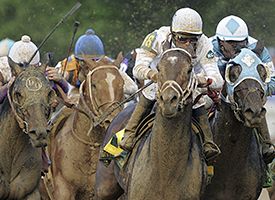 Getty images
Come for the hats and the mint juleps, stay for the race.
32. Kentucky Derby (May, Churchill Downs, Ky.). How much a part of Americana is this race? Meriwether Lewis Clark Jr., grandson of explorer William Clark, was among those who started it. And each year, the discarded mint julep cups and other beverages would probably extend the length of the Lewis and Clark Trail.
33. The Indy 500 (Memorial Day weekend, Indianapolis). The 500 not only predates postgame stadium traffic, it predates most stadiums (the first race was the year before Fenway opened). Crowd estimates range up to 1,000 fans per every mile of the race, though that's only because so many in the infield require designated drivers.
34. The All-Africa Amputee Football Tournament (Sierra Leone). The first tournament featured African war victims, six one-legged players and a single one-armed goalkeeper to a side. If you need any more information than that to pique your interest, you might as well hand in your human race membership card.
35. MLB Opening Day (April, various cities). The emphasis here is on "Day," meaning everyone should at least once call in sick or make some transparent excuse to leave work and recapture the joys of playing hooky by sitting in the stands, drinking beer, eating garlic fries, cheering on your team and earnestly believing, "This is the year!"
36. Boston Marathon (April, Boston). The oldest marathon and still the best. You may not be able to qualify to run in it, but you can certainly join the thousands lining the route to cheer on all the runners with the traditional words that have become synonymous with the race: "Yankees Suck!"
37. Frozen Four (April, various cities). Former Sports Illustrated writer Steve Rushin once described the NCAA hockey championships -- played the weekend after the NCAA basketball Final Four and the weekend of the Masters -- as "the greatest event you've never seen." There's a lot of competition for that distinction on this list, but it's certainly among the contenders.
38. Canadiens-Leafs game (winter, Montreal or Toronto). Canada's biggest rivalry is kind of like the Red Sox-Yankees rivalry, only half the fans chant "You Suck" in French.
38. Auburn-Alabama football game (November, Tuscaloosa or Auburn, Ala.). Many rivalries could easily make this list, but this one is hard to top. There is certainly no fiercer in-state rivalry than the one between this football-mad state's biggest universities. They call this the Iron Bowl, possibly because of the armor plating needed if your tickets are in the opposing school's section.
40. Town ball in Minnesota (summer, towns throughout Minnesota). Town ball (baseball played by amateurs for their local town teams) is the last pure sport in America. You know the diamond in "Field of Dreams"? There are at least a dozen such fields in Minnesota where the local teams play a couple of nights a week each summer. Many of them have a cornfield on one side and a cemetery on the other, which is a fitting arrangement: life and death with baseball in between.
41. The Iditarod (February, Anchorage to Nome, Alaska). Think it's tough playing football in Green Bay in December? Try this 1,150-mile race, held each year to commemorate a dogsled run to bring diphtheria medicine to a snowbound village. Temperatures have plunged to 130 degrees below zero (with the wind chill) and the dogs frequently need coats and booties. Before it's done, you'll need the diphtheria medicine.
42. An NBA game from courtside (winter-spring, any NBA city). You'll never again say they don't hustle.
43. Baseball All-Star Game (July, rotating cities). The first of our nation's All-Star games has lost some luster in our star-laden, 24/7 sports network culture, but it's still the one that works best. Baseball isolates each player and places the spotlight on him long enough for us to really enjoy their appearance in the midsummer classic.
44. Il Palio horse race (July and August, Siena, Italy). Picture what the Kentucky Derby would look like if it were held at Mardi Gras during the Renaissance and you get a small idea of what this race is like. Just be sure to bring sunscreen and plenty of liquids.
45. Play Pebble Beach (year-round, Pebble Beach, Calif.). Playing the world's most beautiful golf course is expensive: $475, plus the cart. But so what if it costs a week's pay? You'll forget hundreds of weeks of work in your lifetime but you'll always remember playing Pebble. Plus, at least they will take your money and let you play. If you're holding out hope for Augusta National, just bear in mind that Bill Gates had to wait years for an invitation.
46. Daytona 500 (February, Daytona, Fla.). Because it's the Mother of All Races for NASCAR Daddies.
47. Running of the Bulls (July, Pamplona, Spain). Made world famous by Hemingway, Michener and the boys from "City Slickers," the morning runs are not so much a test of courage as of stamina. The festival is a nine-day drunkfest, but don't worry. Even if you spend the night drinking, you'll sober up very quickly as soon as those bulls are released.
48. Triple Crown Surfing (November-December North Shore, Oahu). Incredible athletes braving 25-foot waves, sun and sand, gorgeous, tanned people in swimsuits, vans selling shrimp lunches … geez, why isn't this event higher on the list?
49. Lady Vols game (winter, Knoxville, Tenn.). Anyone who thinks men won't get excited about women's sports needs to take in a Lady Vols game. When Pat Summitt takes command, the Vols go on a run and the band starts playing "Rocky Top," there is no better atmosphere for basketball -- men's or women's.
50. Caribbean World Series (January, various sites). Need a winter break? Dying for a baseball fix? Then head down for some hot weather and some of the most passionate baseball (and fans) you'll ever see.
51. Heavyweight championship bout in Vegas (sporadic). Because there aren't going to be anymore "Rocky" movies (we hope).
52. Indiana high school basketball tournament (March, Indiana). You won't find any David-beats-Goliath stories since the state broke the tournament into separate classes, but you can still get enough taste of "Hoosiers" by watching real-life Jimmy Chitwoods draining jumpers (and fortunately, wearing baggier shorts).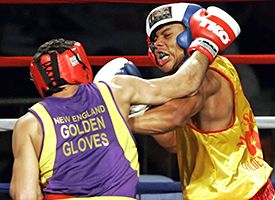 Getty images
Remember when boxing mattered? The Golden Gloves tournament never forgot.
53. Golden Gloves tournament (regional). Forget the bright lights of Vegas and pay-per-view bouts. The truest boxing experience comes at the lower levels and in the smallest gyms, where the focus is on the people inside the ring, not outside.
54. Green Bay Packers game in the snow (December, Green Bay). Lambeau Field is one of the few NFL stadiums with history and character, and the best time to enjoy the stadium's true flavor is in the depth of winter when the snow is falling, the mercury has plunged to single digits and your body is so numb it feels like you were blindsided by Reggie White.
55. Koshien baseball tournament (spring and summer, Nishinomiya, Japan ). For fans who think we don't place nearly enough emphasis on high school sports and the performances of teenagers. The Koshien high school baseball tournament is Japan's version of the NCAA basketball tournament. Performances here -- such as Daisuke Matsuzaka's legendary 250-pitch, 17-inning complete game followed by a no-hitter two days later in the final -- turn high school players into national heroes.
56. All Blacks rugby game (various dates, New Zealand). The world's most famous rugby team is a national treasure in New Zealand (imagine if everyone in the U.S. loved the Yankees and you get an idea). Just be sure to show up early -- as exciting as their games are to watch, their pregame performance of the Haka is not to be missed.
57. World Figure Skating Championships (annual, around the world). Think of it as the best part of the Olympics, only without curling.
58. Dubai World Cup (late March in Dubai). The world's richest horse race ($6 million top prize and total purse of more than $20 million in a place where gambling is illegal) is a big draw, as are the well-lubricated ex-pats competing for the best-dressed prize. And if that isn't enough in a country attempting to become the Middle East's sports mecca, you can always go skiing on the indoor snow slopes at the Mall of the Emirates.
59. Calgary Stampede (July, Calgary, Alberta). No need for directions to the world's most famous rodeo -- just follow the reflections off the belt buckles.
60. National Veterans Wheelchair Games (summer, Milwaukee). Tired of athletes who are insulted by $30 million contracts? Then get inspired by these veterans still competing despite their paralyzing wounds.
61. Maui Invitational (November, Maui, Hawaii). Sand, surf and the greatest gathering of basketball teams in any month other than March.
62. Midnight Madness (October, all over the country). An annual late-night party at campuses across the country. (Say hi to Larry Eustachy if you see him.)
63. A Big 5 Game at the Palestra (winter, Philadelphia). The site of the first Final Four, this 80-year-old gym is the Wrigley Field of college hoops. Only their teams sometimes win it all.
64. Camp out for tickets (any event). If a game isn't worth investing a cold, wet night in a tent with hundreds of other rabid fans and sharing your love for a common goal, then maybe you should reassess your priorities in life.
65. Wife Carrying World Championships (June in Sonkajarvi, Finland). The hardest thing about the WCWC is telling your wife she needs to go on a diet. The best part is watching the Estonians virtually sprint over the hurdles and through the wading pool on this 253-meter course with a WOMAN ON THEIR BACKS in less than a minute. Goofy? Yes. Amazing? Yes. A hell of a lot of fun? Definitely.
66. U.S. Pond Hockey Championships (January, Minneapolis). How cool is this tournament, played the way hockey is meant to be played (on a frozen lake shoveled off by the players themselves)? Brian Bellows played in it after his 10-year NHL career.
67. World Armwrestling Championships (annual, Uncasville, Conn.). Your testosterone count will test off the charts just pulling into the parking lot.
68. Sumo championship (various cities, Japan). How dedicated are sumo wrestlers? They occasionally rip their groins -- on purpose -- as part of their training. Feel free to wince, and then enjoy this compelling blend of sport, ritual and culture.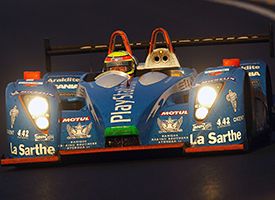 Getty Images
And you thought you had a long drive ahead of you?
69. 24 Hours of Le Mans (May, Le Mans, France). Because 24 hours is barely enough for this 84-year-old race's action.
70. Prefontaine Classic (June, Eugene, Ore.). Held in American track's version of Fenway Park, the Pre is a delicious honor to the legendary runner and Eugene much deserves its distinction as Track Town, USA.
71. The USTA boys tennis championship (August, Kalamazoo, Mich.). This seven-decade-old tournament is where John McEnroe and Jimmy Connors behaved like brats when they literally were still brats. Other participants include Rod Laver, Arthur Ashe, Andre Agassi and Pete Sampras.
72. Sturgis Motorcycle Rally (August in Sturgis, S.D.). I could tell you that an estimated 500,000 bikers attend this annual nine-day rally. I could tell you that Buffalo Chip campground has room for 25,000 bikers and its own Taco Bell, A&W and Subway restaurants, plus a soundstage -- and that it's just one of several such campgrounds. I could tell you there is football field-sized bar with women dancing on the tables and booths selling knives and animal skins. But to really get a feel for the rally, just know that I sat down at a table and within five minutes had two women in thong bikinis ask me to walk outside with them.
73. The Beanpot hockey tournament (first two Mondays in February, Boston). Because you'll never see athletes competing this hard for a beanpot anywhere else.
74. Field of Dreams Ghost Sundays (select days in summer, Dyersville, Iowa). If they hold it, you should come, because the only thing missing from these games at the "Field of Dreams" site is Kevin Costner's hair. (Although, that's true of anywhere, right?)
75. Racing at Saratoga (late July-August, Saratoga Springs, N.Y.). They began racing here during the Civil War, when riding a horse was often the fastest mode of transportation. And visiting Saratoga during race season still has the relaxing feel of a slower century -- especially when you're among the 70,000 bettors stuck in postrace traffic.
76. Beach volleyball (summer, various cities). As friend Mary Buckheit writes of beach volleyball, "Hey guys, here's a tip for you. Quit hoarding $1 bills and slinking off to shady, neon-signed strip clubs. Instead, why don't you check out an attraction you can feel good about?" Why not, indeed?
77. Swimming championships in Australia (various dates, Australia). Swimmers are like rock stars in Australia, where the sport is almost a national pastime. And if you think Cubs fans have fun in the bleachers, just wait until you experience thousands of Australians singing Men at Work's "Down Under."
78. The Dakar Rally (January, southern Europe and North Africa). You know those ridiculous SUV commercials that show people driving their vehicles under ridiculous scenarios? Well, those vehicles actually make sense in this race over thousands of miles under the harshest desert conditions.
79. Rickwood Classic (summer, Birmingham, Ala.). Birmingham proved that if you save it, they will come as well. When the minor league Barons moved out, the city carefully preserved the historic field where Willie Mays got his start in the Negro Leagues. The Barons play once a year here in the annual Rickwood Classic, and if you squint, you can practically see Mays running down a fly ball.
80. Junior league hockey in small-town Canada (winter throughout Canada). To appreciate hockey, you need to see it in Canada. And to really appreciate hockey, you need to see it at the Juniors level in the smaller cities, where families take in the players and thousands crowd the arenas on cold winter nights for their national pastime.
81. Henley Regatta (July, Oxfordshire, England). You want history? They've been holding this crew race since 1839, when Queen Victoria had been on the throne less than two years and readers were eagerly awaiting the next chapter in Charles Dickens' "Oliver Twist."
82. Minnesota high school hockey tournament (March, Minnesota). As with Indiana basketball, this tournament isn't what it once was when all high schools competed together regardless of size (Roseau, with an enrollment of about 400, won the last single-class tournament). But it remains as much a part of state culture as Prince, tater tot hot dish and "Fargo."
83. Little Brown Jug race (September, Delaware, Ohio). You owe it to yourself to see this harness racing classic before the sport all but disappears.
84. Bay to Breakers (May, San Francisco). There are many public runs across the world, but none matches this nearly century-old 12K through one of the world's most beautiful cities for sheer spectacle. As many as 80,000 runners compete in all manner of costume -- and sometimes, no clothes at all. This is San Francisco, after all.
85. A Raiders game in the Black Hole (fall, Oakland, Calif.). Just be sure your insurance premiums are paid up and your living will is filled out properly.
86. Iowa-Iowa State wrestling match (winter, Iowa). There aren't any masks, folding chairs, cages, turnbuckle smashes or soap opera story lines. When a state cares this much about wrestling and the programs are this good, you don't need Vince McMahon to make it compelling.
87. The Ironman (June, Hawaii). A 2.4-mile swim, a 112-mile bike ride and a 26.2-mile run? Just thinking about it makes you tired. Fortunately, you don't have to run it and you can always relax on a beautiful beach with a mai tai afterward.
88. "Monday Night Football" (September-December, various NFL cities). To take in the full spectacle of the NFL, stay away from the sports bar one Monday to see this national ritual come to town in person.
89. Women's College World Series (June, Oklahoma City). Like the men's CWS, only with better legs and fastballs that actually do rise.
90. Show-Me State Games (July, Columbia, Mo.). You can watch sports on TV or you can get off your couch and participate. And that's what about 30,000 Missourians do every summer, ranging from age 3 to 83.
91. Little League game (spring, early summer, everywhere). The Little League World Series always seems a bit much, what with the national cameras and all. Better to see the game at the local level, where all the joys, pressures and obnoxious parents can be seen for the price of a snow cone.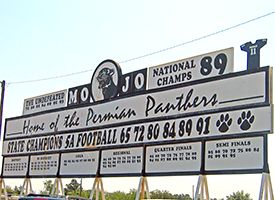 AP Photo
You haven't seen football until you've seen the real "Friday Night Lights."
92. A Permian High School football game (fall, Odessa, Texas). You've seen the TV series and movie and hopefully you've read the fabulous book. Now see the real "Friday Night Lights."
93. Pakistan-India cricket (occasional meetings). You know the old line of consolation used whenever a team loses an important match: "A billion people in India don't care"? Well, they can't say that after one of these games between the occasionally warring neighbors. A billion people in Indian do care, and passionately so.
94. Hot dog eating championship (July 4, Coney Island). Is it a sport? Maybe not. Is it a "Can't Turn Away" competition? Absolutely. Just be sure to stay out of hurling range.
95. Tough Guy (January, outside Wolverhampton, England). Imagine the sort of obstacle course a really pissed-off Marine drill sergeant would devise for the recruits he hates the most. Then make that course several miles long. And hold it in the middle of winter. And then add 5,000 adventurous/insane people braving the cold, the ice, the mud, the pits of fire, the underwater tunnels, the electrical charges and the hypothermia just for the honor of saying they did it. Trust us, you've never seen anything like it.
96. Ultimate Fighting Championship bout (various dates, Vegas). Because you can't buy tickets for dogfighting at Michael Vick's house.
97. NCAA women's volleyball championships (December, rotating sites). OK, there's no sand. And no bikinis. And no beer. But this volleyball tournament makes up for all that with the skills, college spirit and championship pressure.
98. Calaveras Frog Jumping Jubilee (May, Calaveras County in California). A backstory by Mark Twain, a county fair, wine-tasting and 2,000 frogs. Some things are almost too good to be true.
99. The Baja 500 (June, Baja Peninsula). This race is so tough, half the starters sometimes fail to finish.
100. A Harlem Globetrotters game (many dates, many cities). Forget the trick plays and the Gilligan's Island movie -- this is an extremely talented, very entertaining team. And admit it. You can't hear "Sweet Georgia Brown" without feeling good, can you?
101. Driving the Ring (daily, western Germany). There is no speed limit on Germany's autobahn and there is nothing quite like doing 100 mph only to have a family in a station wagon honking at you to pull over and let them pass. But if the autobahn isn't fast enough for you, try out the 14-mile, 170-turn Nurburgring. The former Grand Prix course was closed to Formula One racing for decades before returning this year (too dangerous) but it's open to the public to drive at speeds of up to 150 miles per hour. Just promise one thing: That you won't attempt this until you've accomplished the previous 100.
Jim Caple is a senior writer for ESPN.com. He can be reached here. His Web site is at jimcaple.net, with more installments of "24 College Avenue." His new book with Steve Buckley, "The Best Boston Sports Arguments: The 100 Most Controversial, Debatable Questions for Die-Hard Boston Fans" is on sale now.