With a week left before Independence Day, it's time for every fan to come to the aid of his/her country by actively supporting America's Team -- the New York Yankees can no longer be expected to carry the nation's hopes and dreams on their shoulders all by themselves.

More than anything else, America loves an underdog, and the perennially challenged Yankees are such an underdog this season they could be a helium balloon in the Macy's Thanksgiving Day parade. America's Team is not only 11 games behind the rich bullies from Boston, it's two games below .500 and has a worse record than 16 other major league teams, including the Colorado Rockies. Much to the dismay of fans across the nation and around the world, the Yankees are far closer to last place than first.
Is it any wonder though, given owner George Steinbrenner's massive charity donations that keep the rest of baseball afloat? America's Team had a revenue-sharing bill of $75 million last year, plus millions more in luxury taxes -- money that could have gone to signing a much-needed No. 7 starter but instead went directly into the secret Swiss bank accounts of the welfare cheats who are the Yankees' competitors. The "small market" Florida Marlins, who beat the Yankees in the 2003 World Series, made $43 million last year -- thanks in large part to Steinbrenner's legendary generosity -- but didn't even send so much as a thank-you card. The Toronto Blue Jays, who are also ahead of the Yankees in the standings this season, received $31 million in revenue sharing last year -- some of which undoubtedly wound up in that city's notorious strip club industry that preys on unsuspecting tourists who think they are merely visiting an art gallery or museum but instead find themselves exposed to a pole-dancing bimbo looking for her 15 seconds of fame.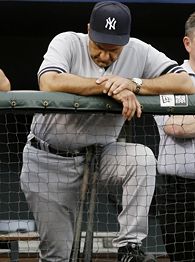 AP Photo/David Zalubowski
If things don't turn around, this will likely be Joe Torre's last season at the helm.
It's a miracle the Yankees are as close to .500 as they are, given their many disadvantages and the advantages of other teams. While the Pittsburgh Pirates and Cincinnati Reds bathe in fat revenue streams fed by lavish new stadiums built for them by their enabling, culturally starved communities, America's Team makes do with an 86-year-old stadium in a bad neighborhood with no parking and not enough luxury suites. The blue-collar Yankees could force taxpayers to subsidize a new ballpark, as so many other teams do, but accepting corporate welfare isn't Steinbrenner's way. Thus, the team is building its own ballpark at an estimated cost of $800 million -- and the price would be even higher if the Yankees players themselves weren't working on the stadium after games.
That's really how Jason Giambi developed his plantar fasciitis -- by operating a jackhammer without proper work boots. You wouldn't know that though, because America's Team plays in a rabid media market that ignores its inspiring on-the-field performances to follow and hound players on their way home from the ballpark. How can the Yankees compete when competitors such as the Kansas City Royals play in a one-newspaper city at the very center of a Midwest Media Bias dedicated to spreading the myth that "small market" teams are at a disadvantage even though the current "world champions" are from the very same state?
Does Steinbrenner complain at all the obstacles his team must overcome? Not at all. He draws as much satisfaction from the success of others as he does from his own. It is a source of pride that Forbes reported the Yankees were the only major league team that lost money last season. His charity is so well known that even though he was already responsible for the $40 million owed the valiant but snakebit Carl Pavano, he also added a 44-year-old $28 million middle reliever to the payroll.
America's Team, as always, will overcome these challenges on its own. But there is something you fans can do. It isn't much, but it would be a help with the trade deadline coming up for the budget-conscious Yankees. Could you please get your down payments in now for postseason tickets?
BOX SCORE LINE OF THE WEEK
Yes, that was Roger Clemens pitching out of the bullpen on Sunday, his first regular-season relief appearance since July 18, 1984, when he pitched two innings and faced Dave Kingman, Carney Lansford and Bruce Bochte (among others). Other relievers who pitched that day 23 years ago were Burt Hooton, Bob Welch, Rollie Fingers and Bruce Sutter.
The most expensive middle reliever in history faced Barry Bonds on Sunday, but it was a disappointing matchup. Just as so many pitchers have done before him, Clemens walked Bonds. His line:
1 IP, 1 H, 1 R, 1 ER, 1 BB, 1 K
The bad news: He gave up a run. The good news: It wasn't that much shorter an outing than his previous start.
TELL YOUR STATISTICS TO SHUT UP
• Seattle fans know their baseball history. When Australian reliever Ryan Rowland-Smith became the first player in major league history with a hyphenated last name on Friday, they recorded the moment for posterity with a flurry of camera flashbulbs lighting up the night. Well, maybe -- just maybe -- those cameras were focused on the batter, who just happened to be Ken Griffey Jr. making his first return to Seattle since his trade to the Reds after the 1999 season. "I guarantee you I'm not in any of those pictures," Rowland-Smith said with a smile. Griffey actually was a fortuitous first batter for Rowland-Smith to face. That's because Griffey is the only major league name his friends back home in Australia would have recognized. "And the only reason they would know him is because he was on 'The Simpsons' years ago," Rowland-Smith said. "If I gave them the name of any other superstar they wouldn't know him. But Griffey and Babe Ruth they would recognize." And Off Base can just imagine the follow-up question: "Is Junior's head really that big from taking Mr. Burns' nerve tonic?"
• It's little wonder Junior said he wanted to end his career back in Seattle. The Northwest is baseball's new epicenter with the Oregon State Beavers winning their second consecutive College World Series.
• Speaking of Junior-palooza, several readers e-mailed me about the huge ovation Mike Piazza received when he returned to Shea Stadium last year. I definitely should have mentioned it in last week's list of most beloved players. I intentionally kept the list to a dozen players, but after reading the many passionate responses I received, it's clear I could have expanded the list by several names. The ones I feel worst about leaving off are Tim Salmon and Barry Larkin. You Angels fans are right -- you never get your full due. Although in my case, it's not East Coast Bias (I live on the West Coast), it's because you guys beat my Giants in the 2002 World Series. As for those complaining that I went with Don Mattingly over Derek Jeter, Mariano Rivera, Bernie Williams, Challenger the Eagle, etc. -- yeah, those are all good names, too.
• There are seven 40-year-old pitchers among Wednesday's scheduled starters, which, according to Elias, breaks the record set way back last Friday. Meanwhile, back in 1977, there were only four 40+ players in the majors all season.
• Rest in peace, Shooter.
INFIELD CHATTER
"I wish I could quit you Griffey."
-- Sign held by a fan during Ken Griffey Jr.'s return to Seattle
Jim Caple is a senior writer for ESPN.com. He can be reached here. His Web site is at jimcaple.net, with more installments of "24 College Avenue." His new book with Steve Buckley, "The Best Boston Sports Arguments: The 100 Most Controversial, Debatable Questions for Die-Hard Boston Fans" is on sale now.