Random thoughts on the Tour de France as it enters the final week and I try to break away from the peloton …
What makes the Tour special are the mountain stages when the cyclists climb insanely steep roads while surrounded by spectacular scenery and suffocating hordes of drunk, flag-waving, costumed fans racing alongside their bikes. My favorite shot in Sunday's gripping Stage 14 through the Pyrenees was the one showing race leader Michael Rasmussen and Discovery Channel's Alberto Contador battling their way up Plateau de Beille, the two gasping riders clearly bickering about whose turn it was to shoulder the work … and then out of nowhere a man in a bright yellow chicken costume comes running up behind them. Yes, a man in a chicken costume. Which was not to be confused with the guy wearing the enormous pair of antlers on his head who was running alongside them earlier. You certainly don't see that when LaDainian Tomlinson breaks loose toward the end zone.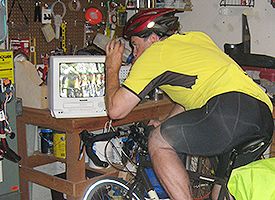 Vicki Schuman
Jim takes a drink of his special "vitamin" water as he attempts to keep up during the mountain stage.
(By the way, Rasmussen bears an uncanny resemblance to Lance Armstrong except the resemblance is to when the seven-time champ was in the hospital undergoing brain surgery for cancer. With his shaved head and sunken eye sockets, Rasmussen looks so gaunt even Mary-Kate Olsen would tell him to grab an extra power food bar in the feed zone.)
My favorite shot of the Tour, meanwhile, is this one from Stage 9 when a dog wandered onto the road right in front of a T-Mobile rider. Amazingly, the dog not only walked away from the collision but just signed a three-year deal with Michael Vick.
Prerace favorite Alexandre Vinokourov was dropped on the second climb of Stage 14 and, despite rallying to win Monday's stage, is now so far back he would have to test positive for plutonium to get back into it. But he still deserves loud applause. Vinokourov is 33, which is like 237 in dog years for cyclists, and he's running out of time to win the Tour. Forced out of last year's Tour when his teammates were involved in the Operacion Puerto scandal, he came back determined to win this year but crashed badly in Stage 4, tearing open flesh on his rear, his knees and his fingertips.
He needed stitches to close the knee wounds, and he had those knees sutured in a bent position so they wouldn't rip open while pedaling. He was in such pain the next day that he made a throat-slashing gesture at the end of the stage to give the impression that he was ready to throw in the towel. But he did not. He pressed on, healed slowly and regained strength. Announcers Phil Liggett and Paul Sherwen were so excited when he attacked near the end of Stage 12 that their voices were only one octave below Suzyn Waldman's when Roger Clemens re-signed. He then blew everyone away to win the Stage 13 time trial, only to lose a half hour to Rasmussen on Sunday.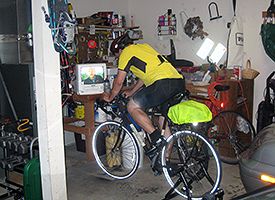 Vicki Schuman
The truth is in -- Jim was unable to keep up with the peloton on this stage.
Vinokourov won't get the yellow jersey, but the shot of trainers changing his bloodied dressings from the team car while he was still on the bike racing immediately put him in the league of Curt Schilling and his bloody sock.
Versus announcer Bob Roll continues to be the most entertaining analyst in sports. I enjoyed his humor and strong opinions ("Yes, there will be a Tour of America race … just as soon as we run out of gasoline."), but he jumped to a new level when Al Trautwig asked him to name his favorite Van Gogh painting and he immediately replied, "The Potato Eaters." He then proceeded to educate viewers that Van Gogh painted "The Potato Eaters" (a truly gloomy, depressing painting) when he still lived in the Netherlands and had yet to develop the colorful style which would bring him lasting fame. I'm sorry, but you just don't get this kind of information from Joe Morgan.
Finally, when I wrote my piece about my ride with Floyd Landis two weeks ago, I forgot to thank Ernie at Redmond Cycle for providing a bike worthy of the 2006 Tour winner. The bike is an all-carbon Orbea Orca and is so light you literally can lift it with two fingers. When I asked Ernie how much the bike was worth, he said $8,500. It only hit me after I put the bike on the rear rack and drove off that the bike was worth more than my car.
And now, if you'll excuse me, I need to root for Levi Leipheimer while pretending to climb the "beyond category" mountain beside my garage workbench.
Jim Caple is a senior writer for ESPN.com. He can be reached here. His Web site is at jimcaple.net, with more installments of "24 College Avenue." His new book with Steve Buckley, "The Best Boston Sports Arguments: The 100 Most Controversial, Debatable Questions for Die-Hard Boston Fans" is on sale now.