FARMERSVILLE, Pa. -- A year later, the lettering has faded enough that I initially missed the words while cycling through the intersection of North Farmersville Road and East Farmersville Road. Look closely, though, and you can still read the message Paul Landis and some neighboring boys spray-painted across the pavement with so much pride and joy that memorable weekend last July:
FLOYD LANDIS
WINNER TOUR DE FRANCE 2006
-10:00 to +.59, USA
Those numbers refer to the huge time gap Landis overcame in the final stages to win last year's Tour by 59 seconds -- one of the most uplifting sports stories in recent memory. At least, it was uplifting for a couple days.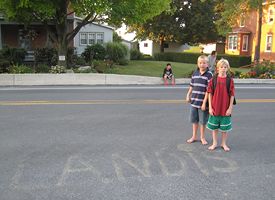 Jim Caple/ESPN.com
Floyd's accomplishments are far from forgotten in Farmersville.
"Floyd's grandfather on his mother's side, Melvin Sensenig, is a quiet man. Extremely quiet. He's just a very shy man. He wouldn't talk to you unless you went up and talked to him first," Jane Pierce told me during Farmersville's weekly auction Tuesday night, two lots from Landis' boyhood home. "But when Floyd won, [Sensenig] was so excited he came up to me in the grocery store and said, 'Floyd is my grandson.' Just seeing him so excited like that made me thrilled. Then when everything came down, his grandfather looked so forlorn. His face was so heavy. He was so hurt by the news.
"Do I believe Floyd? Oh yes, I do. I don't believe anybody would fight that hard if he was guilty."
My sports tour down the Susquehanna River brought me to Farmersville, Landis' tiny hometown in the heart of Pennsylvania Dutch country, on Tuesday -- where bicycles are first a means of transportation, then a method of competition. The roads along and through these scenic rolling hills, lush cornfields and covered bridges eventually took Landis all the way to the Champs-Elysées -- and to the center of the sports world's steroid storm.
Wanting to trace Landis' old routes, I rented a bike from Green Mountain Cyclery in nearby Ephrata, where he bought his first mountain bike. When I asked for directions to his parents' home, I was told it's the white house with the Bible verse in the front yard and "Landis" on the mailbox -- "Of course, you'll see a lot of mailboxes with Landis on them around here." No kidding. The Landis name is everywhere. There is Landis Lane, Landis Rent-A-Car, Landis Computer, Landis Enterprises, Jake Landis Road, Landis Valley Road, Landis Valley Museum and, of course, Landisville. And that's just what I saw driving down one road and scanning the map.
It's not surprising, then, that there's a lot of support for Floyd here. In spite of the urine tests.
"I think he's innocent. I just do," said Adam Zimmerman, who remembers watching Landis biking up the road on his back wheel. "I think the French don't want him to have the money. I think his attorneys will get his money in the end. They're bleeding him now."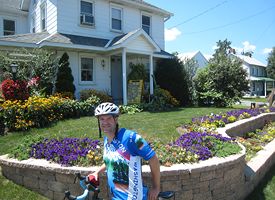 ESPN.com
Jim loves to rock the biking gear.
Everyone I spoke to asked for updates on Landis' doping arbitration case. Almost three months after the hearings, there has been no decision. Landis made several compelling challenges to the test results -- that samples were mishandled in several instances, that different standards at other labs would not have concluded he had a "positive" doping result, that the lab operated the equipment incorrectly. But the U.S. Anti-Doping Agency has attacked Landis' credibility and insisted the test results are reliable proof that he cheated.
As I wrote in an earlier story, I was impressed by Landis and want to believe him. But all those positive doping tests during this year's Tour don't make it easy.
"I was watching the Tour de France this year and they were giving a list or whatever of the up-and-coming riders and there was not a mention of him," Earl Moats said at the auction. "Like he never existed. Like it never happened."
Landis' parents, Paul and Arlene, had just returned from their own evening ride when I pulled into their driveway Tuesday night. They are Mennonites and deeply religious. Paul regularly posts Bible verses on a board in front of his house -- "Gen: 2/23 "Therefore the Lord God sent them forth from the garden to till" is the current one -- and there is a large, frequently used Bible on a bookstand in the living room. At the end of my visit, Paul also handed me "The Everyday Guide to the Bible" just in case I found an opportunity to read through it. When I asked whether he wanted to keep it for his own use, he said not to worry, he would get another. "They only cost a dollar at the store. I'm going to get a lot of them."
I arrived at their house completely unannounced, but the two welcomed me warmly. Arlene blended me a milk shake, and as the evening sky darkened, we sat around a backyard table with fireflies flashing around us and crickets chirping in the background.
"It was a year ago, and people are still sending us letters," Arlene said as Paul spread out letters of support from as far away as the Netherlands and France. "Every day, we get a letter from someone telling us that they're praying for us."
When the news of Floyd's positive test broke, microphone-armed reporters descended on the Landis house. Arlene said she tried to answer questions at first but didn't know what to say. Eventually, she stopped answering the phone. Both parents said the past year hasn't been that difficult for them, however.
"In my heart, I know he's clean," Arlene said, "and if he knows in his heart that he's innocent, then it isn't a burden."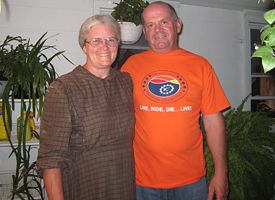 Jim Caple/ESPN.com
Paul and Arlene Landis are extremely proud of their son.
We had a pleasant conversation, with the subjects ranging from Floyd's training schedule as a teenager, to the overwhelming support of the community, to the latest scandals surrounding the Tour, to how Floyd's Stage 17 ride inspired me to ride faster that day on my own cycling route. Floyd would train at night after he finished working at a grocery store, occasionally riding as late as 1 a.m. One night Paul wasn't able to sleep so he drove out to make sure Floyd was all right. He eased up to him in the car while Floyd was racing up the steep hill he repeatedly trained on. "I didn't have my lights on but when I got to him, Floyd said, "I knew you were there.'"
Floyd's parents initially were unenthusiastic about their son pursuing a cycling career. But they grew to accept it and support him. The pride they feel for Floyd is evident in their voices, in the old videotapes Paul took at his many races (he must be the last man in American with Betamax) and in the faded paint at Farmersville Road and Farmersville Road (that Tour de France victory must have really been something for a town so small it couldn't even manage different names for the two roads at its main intersection). Still, given all that has happened in the past year, I asked whether they wished Floyd had gone into something other than cycling.
They were silent for a moment. Then Arlene said, "All this proves to me is that worldly fame is worthless."
Jim Caple is a senior writer for ESPN.com. He can be reached here. His Web site is at jimcaple.net, with more installments of "24 College Avenue." His new book with Steve Buckley, "The Best Boston Sports Arguments: The 100 Most Controversial, Debatable Questions for Die-Hard Boston Fans" is on sale now.
Also See
ESPN Top Headlines