After Game 7 of the 2003 American League championship series between the Red Sox and Yankees, I walked out of Yankee Stadium with a colleague. Just 48 hours earlier it had seemed very possible that the Red Sox and Cubs would meet in the World Series. Instead, we were getting the Yankees versus the Marlins.

"Damn," I said. "I was really looking forward to a Cubs-Red Sox World Series."
"No, we didn't want that," he said. "Because right now we have one group of totally obnoxious fans we have to deal with. And if the Cubs or the Red Sox were to win, then we would have two."
If only we had that sort of foresight before invading Iraq.
It's true. While Yankees fans momentarily are neutralized by their recent embarrassing autumns and their current spot in the standings, Red Sox fans, sadly, have taken over the mantle as the most obnoxious fans in sports.
I say this as a former Red Sox fan. I spent a good chunk of my teens and early adulthood hating the Yankees and rooting for the Red Sox. I wandered into the rainy streets in stunned silence after the Bill Buckner play in Game 6 of the 1986 World Series. I went into my room, closed the door, and fell weeping onto my bed during Game 7 that year. (Mind you, I was 24 at the time and I was crying while there still were two innings left to play.) But Boston fans were different then. They were the tragically loyal fans who always went home disappointed in the end. You might have gotten tired of our whining, but at least we weren't constantly in your face with it.
No longer. As soon as the Red Sox won the 2004 World Series, Boston fans took on a swaggering, entitled persona, acting as if they alone invented sports fandom and behaving as if nothing else in baseball mattered but them.
It's like in "Can't Buy Me Love" when geeky Patrick Dempsey (in his pre-McDreamy youth) pays popular cheerleader Amanda Peterson to be his girlfriend for a month, and then he starts acting like an ass. (By the way, for some reason there is no photo of the amazing Ms. Peterson at the IMDb Web site. Meanwhile, Corey Haim and Corey Feldman have a reality show. And people are wasting their anger on Michael Vick?)
No one can stand to be around Red Sox fans anymore. And they're everywhere -- a recent USA Today article labeled the Red Sox baseball's new biggest attraction. Forget a fence between the U.S. and Mexico. What we really need is a wall, a moat and a minefield around New England to keep the spoiled citizens of Red Sox Nation from sneaking into the rest of the country and taking over seats in major league ballparks that should go to hard-working local fans. Everywhere the Red Sox play these days turns into a road version of Fenway Park, with Boston fans occasionally drowning out the hometown fans with their "Let's Go Red Sox!" chants. They were so over the top at a recent game in Seattle, I was surprised the Mariners didn't play "Sweet Caroline."
SportsNation
Have fan rivalries gotten out of control? Give us your take, come vote in our polls.
Whether this is an inspiring show of team pride by passionate fans or an annoying lack of manners depends on how close you have to actually sit to these people.
They call themselves Red Sox Nation, the same arrogant way the Cowboys call themselves America's Team. And the whole thing is getting a little old. Could I get a little help here from Miss Teen South Carolina? Where the hell is Red Sox Nation anyway? It seems to me Red Sox Nation only exists when the team is winning, like a country that only shows up on U.S. State Department radar when oil is discovered. Wherever Red Sox Nation is, I just wish Bush would invade it.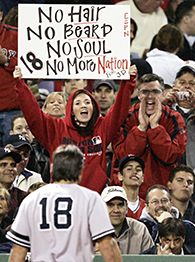 AP Photo/Elise Amendola
Have Red Sox fans gotten too big for their britches? Jim Caple thinks so.
I would say that Red Sox fans need a humbling collapse -- say, blowing a 14½-game lead in the standings or a 3-0 lead in the ALCS -- but then we would just have to listen to them moan about
that
for another couple decades. Even now, we have to suffer through stories about how their once enormous lead was whittled down to four games last week. Good lord. Sorry, but the Red Sox days as a tragic, put-upon team are over. That died the instant the final out from the 2004 World Series landed in Doug Mientkiewicz's glove. This means no one wants to read any more stories about how a shriveling first-place lead or a Yankees pennant drive inspires "dread" in Boston fans. Hearing fans of a team with a $143 million payroll and a recent World Series ring worry about a seven-game lead is like listening to Bill Gates worry that Social Security might run out when he's 67.
Enough already. Get over yourselves, Red Sox fans. Better yet, follow the lead of White Sox fans. Their team went 88 years without winning a World Series. They went 46 years without even playing in one. Yet when they finally won in 2005, they had the decency to keep their celebration to themselves.
And if their fine example isn't enough, then maybe this will be enough to sober you up:
You're acting like Yankees fans.
BOXSCORE LINE OF THE WEEK
This week's award goes to Texas reliever Wes Littleton for this little line:
3 IP, 2 H, 0 R, 0 ER, 1 BB, 1K
What's so significant about such a line? Well, it came in the Rangers' 30-3 victory over the Orioles last week, and he received a save for it. That's right. Littleton received a save for protecting a 27-run lead. And people wonder why Off Base thinks the save rule needs overhauling?
But the save stat is precise and reasonable compared to the hold. This ludicrous statistic rewards relievers for "holding" the lead no matter how ineffectual they are. The game after Littleton got the save for protecting a 27-run lead, teammate Frank Francisco got a hold despite walking three of the four batters he faced and loading the bases before getting the hook. By the time the inning was over, two of the runners Francisco was responsible for had scored, turning a 6-5 Texas lead into a 7-6 deficit. His line was 1/3 IP, 0 H, 2 R, 2 ER, 3 BB, 0 K and yet he got a hold!
And then Joaquin Benoit relieved Francisco and allowed two of the three inherited runners to score -- thereby blowing the lead -- but nonetheless wound up with the win when Texas scored three runs in the next half-inning.
So yeah, you can get a W by fluke as well. But if the stats are called the "save" and the "hold," shouldn't you actually be "saving" a victory or "holding" onto a lead?
Jim Caple is a senior writer for ESPN.com. He can be reached here. His Web site is at jimcaple.net, with more installments of "24 College Avenue." His new book with Steve Buckley, "The Best Boston Sports Arguments: The 100 Most Controversial, Debatable Questions for Die-Hard Boston Fans," is on sale now.