Baseball's postseason begins this week.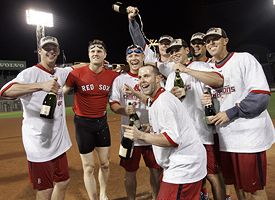 AP Photo/Elise Amendola
The Red Sox will have plenty of time to get over their hangovers, thanks to all the off days.
Prepare to wait.
What little attention that's been paid to baseball's new postseason schedule has generally focused on the possible Nov. 1 date for Game 7 of the World Series. November baseball is nobody's first choice, but of far greater concern is the extended schedule itself. The playoffs begin this Wednesday and may not end until 32 days after the regular season ended, or roughly around when the one millionth Mets fan phones into WFAN to moan about the way the team's year ended.
MLB's goal in making the change is understandable. It no longer wants to begin the World Series on a weekend, when TV ratings are generally lower. Therefore, the World Series will begin on a Wednesday, and Games 6 and 7 would likewise be played on a Wednesday and Thursday. Of course, going up against "Grey's Anatomy" isn't necessarily attractive, either.
The problem is, to arrange the schedule this way, baseball chose to lengthen the postseason by several days. This means there are a couple unnecessary off days. For instance, there will be a travel day before the fifth game of any division series, as well as an off day between Games 4 and 5 of each LCS even though the teams won't be traveling. The latter will seem particularly awkward, but that isn't as troublesome as a worse possibility. If the NLCS ends in a sweep, the National League champion will have eight days off before the World Series. The American League champ would have seven days off if there is a sweep. And if both LCS end in five games or fewer, there will be almost an entire week without any postseason games whatsoever.
This could be the first postseason where players need to go to the Arizona Fall League to get back in shape.
Worse still, consider this possible schedule for Boston or Anaheim if either team plays four games in the division series and six in the ALCS.
Today: Off
Tuesday: Off
Wednesday: Game 1, ALDS
Thursday: Off
Friday: Game 2
Saturday: Off
Sunday: Game 3
Monday, Oct. 8: Game 4
Oct. 9: Off
Oct. 10: Off
Oct. 11: Off
Oct. 12: Game 1, ALCS
Oct. 13: Game 2
Oct. 14: Off
Monday, Oct. 15: Game 3
Oct. 16: Game 4
Oct. 17: Off
Oct. 18: Game 5
Oct. 19: Off
Oct. 20: Game 6
Oct. 21: Off
Monday, Oct. 22: Off
Oct. 23: Off
Oct. 24: Game 1, World Series
That's only 10 games, with 13 days off before the World Series. Teams would play games on back-to-back days just three times. And no team will play three games in a row -- the most common series during the regular season -- until Games 3-5 in the World Series.
Not only would this challenge the attention of the casual fan (the very fans baseball is trying so hard to attract), but it deviates from the entire nature of the game. Baseball is all about playing every day. The 162-game season mercilessly weeds out teams that lack pitching depth. (See the Mariners' September collapse.) But the new postseason format rewards them.
The old adage for the Braves was "Spahn and Sain, then pray for rain." The new one for the Angels could be "Lackey and Escobar, then 'Dancing With the Stars.'"
And it's not as if those additional days off help position players stay crisp. Hitting is about feel and rhythm, playing every other day makes that much more difficult to maintain. Players who go into a slump won't play often enough to get themselves out of it.
That's right. Alex Rodriguez may never get a hit, even without runners in scoring position.
Jim Caple is a senior writer for ESPN.com. He can be reached here. His Web site is at jimcaple.net, with more installments of "24 College Avenue." His new book with Steve Buckley, "The Best Boston Sports Arguments: The 100 Most Controversial, Debatable Questions for Die-Hard Boston Fans," is on sale now.