Fenway Holding On To Its History
BOSTON -- Yankee Stadium probably is the most important athletic facility in America. The House That Ruth Built is where Notre Dame won one for the Gipper, the NFL Giants won one for the ages, and the New York Yankees just won and won and won; where Joe Louis, Muhammad Ali and Billy Martin all fought; where Roger Clemens and George W. Bush both pitched; and where the religious faithful listened to the voice of the Pope and the voice of God (otherwise known as Bob Sheppard).
And, after next season, the Yankees will give history a Bronx cheer and move into a new stadium.
Meanwhile, the Boston Red Sox will go on playing in the same beloved ballpark that has been their home for almost a century. And despite its 95 years, Fenway Park is better than ever.
Page 2 toured and ranked all the major league stadiums four summers ago, and the top ratings went to the newer retro-parks. (I'm still ticked that history was not a category but bathrooms were.) Of the older ballparks, Fenway finished second to Wrigley Field. And, at the time, Wrigley was my favorite park (which is different than being the best).
But, in the years since, the Red Sox have improved Fenway to the point where it is better than Wrigley, and Fenway has replaced Wrigley as my favorite.
For years, both the Yankees and the Red Sox complained about their old stadiums -- whining that they were falling apart, could not be renovated and needed to be replaced. I remember the news conference before the 1999 All-Star Game, during which the Red Sox described their proposed new park as if it were a done deal -- behaving the way developers always do when talking about how a new freeway, parking ramp or shopping mall will revitalize an existing neighborhood. (I think the next phase of the Red Sox plan was to convert the Old North Church into a Starbucks.)
Unlike in New York, people came to their senses in Boston, and the Red Sox decided to take advantage of what they had: a precious jewel of a ballpark that draws fans from all over the country and around the world, no matter how high the team raises ticket prices. And then the Red Sox went ahead and spruced up the park.
The changes aren't that big or dramatic. They've added some seats on the roof and on top of the Green Monster, expanded the concessions areas in the right- and left-field corners, and turned Yawkey Way into a game-day street fair. But, like the addition of Dave Roberts to the 2004 roster, those little changes have made a big difference. Space always has been at a premium at Fenway, and the new concessions areas really open up some extra space for the fans (and open up their wallets even further).
And it wasn't like the Red Sox were splitting the atom, either. I mean, who hadn't looked at the Green Monster and thought: "Wouldn't it be cool if they could put some seats there?" The Red Sox simply utilized areas that previously went to waste under lazy prior ownership.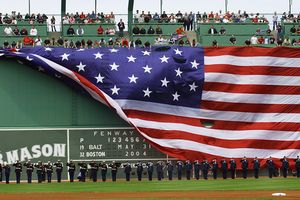 AP Photo/Elise Amendola
It doesn't get much better than those Green Monster seats.
The best part of the additions is that it's difficult to tell what's new and what's old. Every improvement and addition has been made carefully, in order to preserve the integrity of the existing park -- so that it all looks like it's been there since Ted Williams' head still was warm and connected to the greatest hitter in the league.
"The biggest compliment I can pay to it is that I haven't noticed the changes at all,'" Red Sox general manager Theo Epstein says. "The impressive thing is that everything looks like it's been part of the place for 90 years. You don't have a lot of mixed sections. A lot of it has changed, but it all is done in keeping with the history of the park."
It isn't just the added seats and concessions, though. Boston's varied and inspired selection of music -- from "Sgt. Pepper's Lonely Hearts Club Band" to Celtic punk -- is a welcome change from the usual ballpark fare and much better than yet another rendition of "YMCA." The music helps create an infectious and festive energy, no more so than when fans stand and sing along to that most patriotic, most traditional and most sacred of ballpark songs: "Sweet Caroline."
The best part of Fenway Park, however, remains its history.
I know a new stadium would have all the typical modern amenities, as well as seats wide enough that sitting through an extra-inning game wouldn't be like being trapped on a cross-country flight in a middle seat between Oprah and Hurley from "Lost." Fans wouldn't be stuck with the occasional expensive seat behind a steel beam that blocks their view so much they can't even see Manny Ramirez's dreadlocks flopping as he jogs out a ground ball. And perhaps there would even be enough additional seats that you wouldn't need to be related to John Henry or Larry Lucchino to get a ticket. But so much history would have been lost here -- just as it will be when Yankee Stadium is replaced.
Fenway Park is where Babe Ruth pitched, Ted Williams hit and Carlton Fisk danced down the first-base line. It's where drunk fans have mercilessly heckled everyone from Ty Cobb to Barry Bonds. It's where -- like Kevin Costner and James Earl Jones in "Field of Dreams" -- you can sit in the stands and feel connected to nearly a century of baseball. The history is so rich here, you can practically smell the Babe's beer breath.
(Or maybe that's just the fan about to throw up in the seat next to you.)
You just can't replace that type of history, no matter how much money you squeeze out of the taxpayers and tourists renting cars. It's just a shame the Yankees didn't realize that. Frankly, any stadium in which the Babe hit a home run should be protected by federal statute.
The Red Sox did the right thing by preserving Fenway. And they did an even better thing by improving it.
Jim Caple is a senior writer for ESPN.com. He can be reached here. His Web site is jimcaple.net, with more installments of "24 College Avenue." His new book with Steve Buckley, "The Best Boston Sports Arguments: The 100 Most Controversial, Debatable Questions for Die-Hard Boston Fans," is on sale now.