Usually, I feel good when someone reaches the Hall of Fame. This week, I feel sick.

Two years ago, the Hall of Fame didn't have room for Negro League legend and baseball ambassador Buck O'Neil. This week, the Hall voted in Barney Dreyfuss, who owned the Pirates while the major leagues banned blacks and other minorities.
This week, the Hall didn't have room for Marvin Miller, who led the players in their fight for a powerful union, free agency and the salaries they so clearly deserved. The Hall did, however, find room for Bowie Kuhn and Walter O'Malley, establishment gnomes who actively resisted granting such basic rights to players.
"When you see something like that vote, it proves how necessary Marvin Miller was," says Jim Bouton, author of "Ball Four." "When you see the mind-set of these people and the way they are still thinking now, imagine what they were like in the 1960s. You wonder what century they're operating in."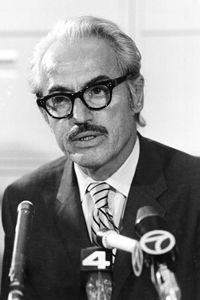 AP Photo
The impact Marvin Miller had on baseball is far greater than that
of Bowie Kuhn.
He's right. It's absolutely revolting. But the major problem is voting executives into Cooperstown. That's because most owners (the late, great and very much missed Bill Veeck is a notable exception) whose innovations had a positive effect on the game also were guilty of actions that should have warranted lifetime bans.
O'Malley brought the major leagues to the West Coast and opened a huge new market. But he also moved the Dodgers out of Brooklyn and crushed so many hearts there that the rest of us still have to read about their agony (we can only hope no one ever moves the Red Sox -- imagine the endless agonizing that would result). And come to think of it, what was so incredible about moving a baseball team to the second-largest market in the country?
"They act as if Walter O'Malley discovered California," Bouton says. "''Hey, there's a state out here and it takes up a good chunk of the coastline. And there are people LIVING here! Maybe they could play baseball!'
"It's as if they think no one played baseball there, even though people had been playing baseball there since the 1800s. And Walter O'Malley could have just started up a team in California; he could have left the Dodgers in Brooklyn."
Dreyfuss helped start the World Series, but he also was part of the despicable color barrier as well as the reserve clause. And frankly, starting the World Series wasn't that amazing, either. In fact, having the champion of one baseball league play the champion of another, with the owners sharing in the profits, seems like it would have been a pretty damn obvious idea. "Genius-type thinking," Bouton says sarcastically.
Kuhn oversaw the start of divisional play, expanded playoffs, the implementation of the designated hitter, night World Series games and the start of an enormous and virtually continuous explosion in revenue and popularity. But he also fought against free agency, banned Willie Mays and Mickey Mantle from baseball, and could be so petty and closed-minded he once tried to make Bouton apologize for writing "Ball Four."
"He was 0-for-39 against Marvin," Bouton says, likening honoring Kuhn over Miller to picking the St. Louis Browns over the Yankees as baseball's best team.
"To pick out these bogus, questionable 'achievements' and give credence to them, and to deny Marvin's overwhelming and positive impact? It just shows you how badly [Miller] was needed."
Many old owners helped perpetrate the color barrier and the reserve clause, cheating minority players out of careers and white players out of the salaries they deserved (had it not been for Hall of Famer Charles Comiskey being such a cheap, cold-hearted bastard, his White Sox might never have been tempted to throw the 1919 World Series). Most new owners took part in indefensible stadium blackmail to fill their wallets.
There often are spirited disagreements over whether some players' careers warrant a plaque in Cooperstown, but almost all of those who warrant even consideration are beloved by fans. That's not the case with owners, who often are hated by as many fans (and rightly so) as they are loved by others.
Look at it this way. Should George Steinbrenner be enshrined in the Hall of Fame for resurrecting the Yankees, overseeing six world championships and helping baseball generate colossal new revenues? Or should he never be allowed admission to the museum even as a paying guest because he is a mean-spirited, obnoxious, ego-maniacal SOB who drives everyone nuts?
Executives so polarizing shouldn't be enshrined with the likes of Babe Ruth, Bob Gibson and Kirby Puckett. We want to smile when we look at the plaques, not curse, gag and turn purple with rage. If the Hall of Fame wants to set aside a special section for prominent executives just as it does for writers and broadcasters, that's great. Informing fans of an owner's contributions -- both positive and negative -- is wholly appropriate. But to grant often-greedy, self-interested businessmen the same honor the players receive is just insulting.
After all, we go to the Hall of Fame to be reminded of the people who provided so much joy and so many memories through their performance on the field. We sure as hell don't go to see the men who simply paid the payers their salaries, especially when they quite frequently were miserable tightwads who underpaid those players. Or forbid them from playing at all.
Jim Caple is a senior writer for ESPN.com. He can be reached here. His Web site is jimcaple.net, with more installments of "24 College Avenue." His new book with Steve Buckley, "The Best Boston Sports Arguments: The 100 Most Controversial, Debatable Questions for Die-Hard Boston Fans," is on sale now.
Also See
ESPN Top Headlines