I'm delighted that Dave Niehaus was named this year's recipient of the Ford C. Frick Award, because this is as close as I'll come to having a close relative enter the Hall of Fame. Like everyone in the Northwest, I consider Niehaus a member of the family. He's been in my parents' home so many nights, he should pay rent, and he rides with me in my car so often, I should be able to use the carpool lane.

"In this business, if you're lucky to do a job long enough and be in one place long enough, you get a chance to become a member of a family," said Niehaus, who was clearly overwhelmed by the honor. "There are now three generations of people up here who have listened to me. Those are the people I really owe for this honor. I feel like melted butter."
Given that Niehaus has spent the past 31 years broadcasting Mariners games in the Pacific Northwest -- the equivalent of shouting into a tin can if you want national attention -- many people may not be familiar with his soothing, smoky voice or smooth style. But most everyone knows what a beloved broadcaster means to a fan base. You invite a guy into your home for so many evenings during so many summers that, come November, you wonder why he isn't at the Thanksgiving table. The best broadcasters often mean more to the fans than the actual players. That's certainly true of Niehaus, who is among the very best to ever sit in front of a microphone. He can make a foul pop sound exciting, which was a good skill to have in the early days of the Mariners.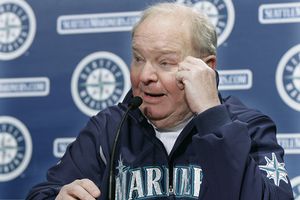 AP Photo/Ted S. Warren
Longtime Seattle Mariners broadcaster Dave Niehaus is headed to the Baseball Hall of Fame.
This is not to say Niehaus is loud, ridiculously hyperbolic or otherwise over-the-top. He can shout when something exciting happens, such as when a Mariner hits a home run or Ichiro throws someone out or Adrian Beltre hits a fly ball that is caught in front of the warning track. But usually he is relaxed, conversational and wonderfully vivid. And he is always genuine. He loves baseball and finds it endlessly compelling. Which, again, were handy qualities when he was broadcasting the exploits of a team that had a Moose for a mascot, and worse, Bob Kearney for a catcher.
"I've always looked at every game as exactly what it is: one-162nd of the season. Every game tells a different story and I love telling it," Niehaus said. "It's never been a downer to me to do losing baseball. Because every night you think this is going to be the start of a winning streak."
Mariners fans have been through a lot -- 15 years before the first winning season, still no World Series after 31 years -- but we've always had Niehaus. His voice is as reassuring as a parent reading bedtime stories. His trademark line is "My, oh my," but with the enchanting way he calls a game, it could just as easily be "Once upon a time." Ken Griffey Jr., Randy Johnson, Alex Rodriguez, Edgar Martinez and Ichiro performed brilliantly, but it was Niehaus who provided their images. He once received an award from the Washington State Society for the Blind because, they told him, he allowed the blind to see the games through his eyes and his descriptions. That's a pretty great honor for a broadcaster, but the Frick award is even better.
DAVE NIEHAUS AUDIO
Want to hear some examples of Dave Niehaus' work? Here are a few highlights:
And to think, Niehaus went to Indiana University with the goal of becoming a dentist. Yes, a dentist. And then one day he woke up and "I decided I couldn't wake up every morning and look down into other peoples' mouths the rest of my life."
Perhaps not, but I bet he would have made even a root canal a more pleasant experience.
My, oh my, what beautiful teeth you have! But going back, back, BACK in your rear molars, I'm seeing a little recession, low and outside, on your gum line. … That reminds me of the time Gorman Thomas came in for a cleaning. Took all day getting the tobacco stains off the enamel, but he never complained once, not so much as a whimper. … There's a cavity, high and tight, on your right premolar. … Gorman was a tough, gritty patient, boy, let me tell you, the sort of patient who would have flossed with barbed wire, not that he ever flossed. I once removed all four of his wisdom teeth without painkillers. No Novocain, no gas. He just drank a half-dozen shots of whiskey and said, "Let's do it." … I'll get my drill and that cavity will fly, fly away. … And his breath? Let me tell you -- you'd lean in to examine his teeth, get right in there close enough to practically kiss him, so close you could almost feel the stubble from the week-old growth of beard and … could you open just a shade wider? This won't hurt a bit … and then Gorman would open his mouth and absolutely overpower you with the smell from all the beer and pizza and whatever else he had for breakfast … all right, I'm done. It's grand salami time. Spit.
After giving up dentistry, Niehaus walked into the IU student radio station, where one of his first broadcasts was a game between Indiana and Ohio State with Frank Howard at first base for the Buckeyes. More than a half-century later, he'll walk into Cooperstown as a Hall of Famer. Congratulations, Dave. Dentistry's loss was our gain.
TELL YOUR STATISTICS TO SHUT UP
• The new Sports Illustrated swimsuit issue is on newsstands, which means two things. One, a woman is on the cover of SI for the first time in 12 months. (the Hanson brothers from "Slap Shot" have appeared on the cover of Sports Illustrated in the past two years as often as a female athlete.) Two, HGH appears to be having a pleasing effect on the bodies of swimsuit models. While Debbie Clemens is nowhere to be seen, Johnny Damon's wife, Michelle, got a page this year. While Off Base hopes to never hear her name brought up at a congressional hearing, here's the breakdown on the rest of the issue:
Pages: 229 (including cover).
Photos of models/cheerleaders/wives/race car drivers: 156.
Topless photos: 33.
Breasts hidden by: hands/arms, 20; paint, 6; beads/hair, 3; surfboard, 1; curtain, 1; mud, 1; pillow 1.
Bottomless photos: 7.
Privates hidden by: paint, 5; pulled-down shirt, 1; coconut, 1.
Models with finger suggestively tucked inside bikini bottom strap, as if about to take it off: 11.
Nipples visible: 8.
Models photographed with legs, feet wrapped around Will Ferrell's head: 3.
Will Ferrell biting model's bottom: 1.
Swimsuit photos of Danica Patrick: 5.
Topless photos of Danica Patrick: 2 (we think -- it appears she is wearing nothing in the final shot, but she's hidden by a pillow).
Photos of Danica Patrick in bed: 1.
Full-page ads with Danica Patrick: 3.
Total pages devoted to Danica Patrick: 8.
Articles that are not an interview with Danica Patrick or Will Ferrell promoting a movie, or description of hotel with rooms starting at $500 a night: 0.
• Fans need spring training, too, and a good book with which to tune up is Cait Murphy's "Crazy '08," a riveting account of the 1908 season. That season was already well-documented in "The Unforgettable Season," in which G.H. Fleming entertainingly traced the National League pennant race from beginning to end by reprinting selections from the daily newspaper accounts. Murphy takes a different approach by placing the season in the context of the times (occasionally mixing in stories from outside baseball) and making a good case that baseball came of age in 1908. She certainly has a point. In addition to great races in both leagues, the Merkle blunder and the last Cubs world championship, 1908 saw a 40-game winner, a 37-game winner, a perfect game with the pennant on the line, and the penning of "Take Me Out to the Ballgame." Murphy also has a nice style that has fun with the idiom of the era but doesn't go overboard. A favorite line: "On October 2, the Sox and Naps have played a combined 296 games, and they are separated by a sneeze." (While Murphy does devote a 26-page chapter to the American League pennant race, that epic but too often ignored chase -- in which four teams were within 2.5 games on Sept. 1, and Detroit, Chicago and Cleveland were separated by 1.5 games with only three games to go in the season -- demands an account of its very own.). "Crazy '08" is highly recommended.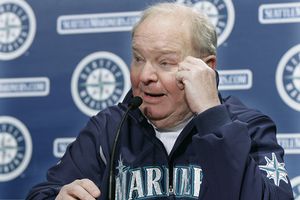 AP Photo/Ted S. Warren
Longtime Seattle Mariners broadcaster Dave Niehaus is headed to the Baseball Hall of Fame.
• Rereading "Ball Four" every spring, meanwhile, is an annual requirement -- sort of like pitchers' fundamental drills, only a lot more fun. And no one has ever written a better line about baseball than Jim Bouton's final line of the book: "You see, you spend a good piece of your life gripping a baseball and in the end it turns out that it was the other way around the whole time." Latest case in point: Bret Boone. The most likable cocky player you'll ever meet, or the cockiest likable player (take your pick), Boone just signed a minor league deal with the Nationals. He hasn't played since "retiring" in spring training 2006 with the Mets, and his last big league game was three years ago, when he hit .170 for the Twins and lost his job to the immortal Nick Punto. Few players have lost it quicker than Boone, but he's trying to recapture his game. He is just the latest veteran to decide playing ball is better than watching it. Brian Anderson is back after pitching in six games and finishing with a 6.75 ERA three seasons ago and broadcasting the past two years (remember, he's left-handed). Juan Gonzalez, who played exactly one game with Cleveland in 2005 (and cashed a $600,000 paycheck), is with the Cardinals after three years in retirement. Hideo Nomo is back with the Royals, after posting a 7.24 ERA in his previous big league season three years ago (and an 8.25 ERA the season before that). Nomo, who started the whole Japanese player movement, is with his 11th organization and has been released (or "granted free agency") nine times. Sometimes that baseball is so hard to put down it might as well be coated in pine tar.
• At the risk of partially violating last week's "No steroids stories" oath, and worse, also saying something nice about the Yankees, a hearty slap on the back is due Hank Steinbrenner for complaining about baseball being singled out for steroids when the NFL problem is probably much worse but ignored. "Everybody that knows sports knows football is tailor-made for performance-enhancing drugs," Steinbrenner told The Associated Press. "I don't know how they managed to skate by. It irritates me. Don't tell me it's not more prevalent. The number in football is at least twice as many. Look at the speed and size of those players. … A lot of baseball people thought that baseball would be the last sport that it would be a problem in and probably just ignored it too long. But the fact is it's been in football a long time and it's been in basketball, I'm sure. Why baseball is being singled out, I don't know. I don't know. I know all the excuses -- 'Well, it's America's game and it's the statistics.' That's not an excuse. If a sport is riddled with it, it's riddled with it. Why aren't they looking at the NFL?" Naturally, the NFL reflexively responded by emphasizing its "strict" testing policy that has been in place since 1990, which isn't the same thing as denying Steinbrenner's charge that PED use is rampant in the sport.
• Speaking of the Yankees, why is it that Andy Pettitte is considered a reliable source and all-around good guy even though he issued a very public apology in which he insisted he only took HGH twice -- "This is it, two days out of my life; two days out of my entire career, when I was injured and on the disabled list" -- but then revealed in his deposition that, oh yeah, he took it at least one other time (while bringing his father into the whole mess)? And then conveniently he didn't attend last week's hearings to fully explain what he meant when he ratted out his old friend? Not that Off Base condemns Pettitte for looking for an edge -- just saying that his versions may not be all that reliable, either. Going back to "Ball Four" and another line that bears repeating nearly 40 years later: "If there was a pill that would guarantee a pitcher 20 wins but might take five years off your life," Bouton wrote, "players would take it."
FROM LEFT FIELD
This is the 61st and final spring in Vero Beach, Fla., for the Dodgers, who are moving to Arizona next year. (Actually, they will train there this year after the team returns from its exhibition series in China in the middle of March.) Here are the longest current spring training tenures for teams in a specific city:
Tigers: Lakeland, Fla. (72 years*)
Phillies: Clearwater, Fla. (62)
Dodgers: Vero Beach, Fla. (61)
Pirates: Bradenton, Fla. (40)
Blue Jays: Dunedin, Fla. (32)
Cubs: Mesa, Ariz. (30)
Athletics: Phoenix, Ariz. (30)
Giants: Scottsdale, Ariz. (25)
Astros: Kissimmee, Fla. (24)
Mets: Port St. Lucie, Fla. (21)
* The Tigers have trained in Lakeland since 1934, but trained in Evansville from 1943-45 due to World War II restrictions
Jim Caple is a senior writer for ESPN.com. He can be reached here. His Web site, jimcaple.net, has more installments of "24 College Avenue." His book with Steve Buckley, "The Best Boston Sports Arguments: The 100 Most Controversial, Debatable Questions for Die-Hard Boston Fans," is on sale now.