The Mariners should sign Barry Bonds.

No, I'm not panicking at Seattle's 2-4 record, and I didn't decide this while watching Richie Sexson strike out eight times or designated hitter Jose Vidro bat .130 the first week of the season -- though all certainly strengthened my view. I thought this after watching the Mariners steadily improve their pitching this winter while leaving glaring offensive needs. This isn't panic. This is good, sound thinking. Bonds could help. He hit 28 home runs last season (more than anyone with Seattle hit last year -- and, I dare say, more than anyone on the team will hit this year) with a 1.045 OPS. He not only would give them a home run threat from the left side, he also would give them a batter who actually has the plate discipline to take a walk.
What would happen that would be so horrible if the Mariners (or any other team) signed Bonds?
Yes, Seattle fans would be appalled. At first. They like their players to smile and say nice things and visit sick kids in hospitals and establish charitable foundations. They like Dan Wilson. Who doesn't? But they're also pretty sick and tired of never reaching the World Series, and never ever acquiring the player who is so obviously needed. The Mariners have some very good pitching, but they also need a big bat in the lineup, preferably from the left side. Bonds would give them that. And as soon as he started slamming fastballs into the Hit It Here Café, fans would very quickly forget about his considerable baggage.
After all, why should fans be more outraged by a team signing Bonds than by the Tigers acquiring Gary Sheffield, the Yankees re-signing Andy Pettitte (and New York fans giving him a big ovation after a written "apology" that included a lie) and playing Jason Giambi, the Astros signing Miguel Tejada, or any of the other teams who employ players named in the Mitchell report or the BALCO investigation? If those guys still can be cheered without their fans feeling guilty, why can't fans cheer Bonds?
Would there be a distraction in the clubhouse? Sure. For a week or so. Then all the stories would have been reported, all the outraged opinions would have been expressed, all the phone calls would have been taken on talk radio. And what would be left? Just a guy who keeps to himself off the field but can still hit when he's in the lineup. Bonds doesn't cause trouble with his teammates because he rarely talks to them. And there won't be hordes of reporters tailing him either. The home run chase is over. No one is going to send reporters to follow Bonds around on a daily basis. Hell, newspapers are cutting back so much these days, they barely even send reporters to follow their teams around anymore.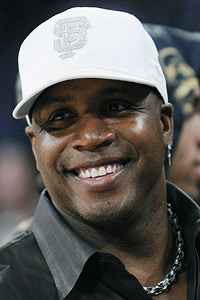 AP Photo/Kevork Djansezian
Barry's just sitting around, waiting for someone to sign him. How about Seattle?
Plus, this is Seattle. The national media don't care about us anyway. Half the country thinks we're still wearing grunge, and the other half thinks we share our coffee breaks with Bigfoot. Bonds could play with the Mariners and most fans would think he was retired or in jail.
Bonds also will be on his best behavior. He doesn't have many employment opportunities at the moment, which means a team will be able to tell him to play by its rules. It won't be a problem. Bonds may like playing by his own rules, but what he mostly likes is playing. Remember, Ken Griffey Jr. had a leather recliner at his locker in the Kingdome. It didn't keep him from being Seattle's best and most popular player.
Sure, Bonds may be ordered to stand trial later this season. And David Ortiz might tear an ACL. Jim Thome might tear a hamstring. If Bonds has to miss games for some reason, you'd deal with it then, just as you would any injury. Reports make it sound like a trial is unlikely until after the season, anyway.
And if doesn't work? Big deal. A lot of moves don't work out in baseball. The Mariners will move on. At least they would have tried. Plus, the season tickets have already been paid for.
Besides, if it doesn't work, they always could sign Roger Clemens to beef up their pitching.
Box score line of the week
The opening game to the 100th anniversary of the Cubs' last world championship season was a fitting one for fans who have endured just about everything during the past century. There were 90 minutes of rain delays. Ace Carlos Zambrano left the game with a cramp in his arm. The Cubs and the Brewers were scoreless through the first eight innings. Former ace Kerry Wood allowed three runs in the top of the ninth. Rookie and former Japanese batting champ Kosuke Fukudome tied the game in the bottom of the ninth with a three-run homer off Eric Gagne. And naturally, the Cubs lost in 10 innings.
Fukudome had a nice line in his debut -- 3 AB, 1 R, 3 H, 3 RBI -- but the first box score award of the season goes to teammate Carlos Marmol for his performance. Marmol's line:
1 1/3 IP, 0 H, 0 R, 0 ER, 0 BB, 3 K, nine pitches, eight strikes
Yes, Marmol somehow struck out three batters and recorded four outs while throwing only eight strikes. Not an easy thing to do. But Marmol pulled it off, thanks to relieving Zambrano with a two-strike count on Corey Hart in the seventh inning.
(Thanks to Cory Hallahan for pointing out this one.)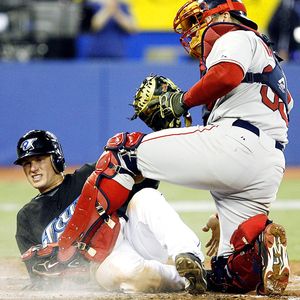 AP Photo/The Canadian Press, J.P. Moczulski
Don't forget, David Eckstein and the Blue Jays are a pretty decent team, too.
Tell your statistics to shut up
• Don't even start blaming the Red Sox's poor weekend on their trip to Japan. They had been home for more than a week before they went to Toronto and got swept. Their flight from Tokyo to the West Coast was roughly nine hours, about as long as it takes most people to fly from the East Coast to the West Coast (counting connections), and they flew first class. If anything, the problem is that the Red Sox were given too much time to recover (six days). International travel just isn't that tough, folks. Business people and workers in the flight industry make that trip all the time without needing a week to recover. The Red Sox lost in Toronto because the Blue Jays are a pretty good team, Josh Beckett (who didn't even make the trip to Japan) was coming back from an injury, and well, these things happen all the time in baseball. Quit looking for excuses and move on. Detroit is 0-6 -- is that because the Tigers were worn out from the flight home from Lakeland?
• Call it a hunch, but given that Randy Winn is batting third for San Francisco, it's going to be a very quiet summer in McCovey Cove for the Bonds-less Giants. San Francisco's opening day lineup combined for 78 major league home runs last year, barely more than Bonds hit all by himself in 2001. Then again, there might be some action in the Cove from opposing players -- Barry Zito's fastball barely reached the low 80s on opening day. (And cross your fingers that sending Tim Lincecum back to the mound after a 72-minute rain delay doesn't wind up hurting their best young pitcher.)
• The Team Marketing Report recently released its annual Fan Cost Index for attending major league games and, surprise surprise, Red Sox games are the most expensive, with an average ticket price of $48.80. The FCI provides a lot of good information -- average ticket prices, price increases from last year, and the price of beverages and other concessions. Beer (per ounce), is most expensive at -- where else? -- Fenway Park, where it is 60 cents per ounce. And beer is cheapest in Pittsburgh, where it is 21 cents per ounce. The Red Sox also have the highest parking ($27) and souvenir cap ($20) prices.
But now it's time for the third annual Off Base screed about the FCI's estimate of the cost of taking a family of four to a game. That price includes four average-priced tickets (even though you can't actually buy an "average-priced ticket"), parking, two beers, four sodas, four hot dogs and two adult-sized souvenir caps. Maybe the Gates family spends that much money at a game, but not the families we know. Real families buy bleacher tickets and sneak in their food. (And some clubs, such as the Mariners, don't even prohibit you from bringing in your own food, unless it's in a can, bottle or keg.) And the only souvenirs you bring home are the free giveaways. (So what if you look like a dork wearing an adjustable cap with "Boeing Employees Credit Union" on the back? A cap is a cap.) With apologies to the hard-working and well-meaning but disposable-income-wielding and obviously children-spoiling "Yes Dear, You Can Have Home And Road Replica Jerseys" folks at Team Marketing, here is a more accurate FCI for the real person going to see my local team, the Mariners:
Parking: Free on the street after the meters stop.
Extra gas burned while driving around searching for free parking: $5.40.
Four center-field bleacher tickets: $7 each, $28 total
Bag of Kettle Corn purchased from street vendor: $5.
Loaf of bread, pound of turkey, fixings and jar of peanut butter: $14.
Two-liter jug of soda and Red Hooks sneaked in under the mother's coat while she pretends she is pregnant: $6.
Garlic fries: OK, they got us on this one. Can't resist the aroma. $5.50.
Souvenir caps: Already purchased from Manny's Baseball Land with money saved from mowing Mrs. Dietz's lawn.
Giveaway Richie Sexson T-shirt: Free, but turned down at the gate anyway. Sexson? Get real. We'll wait until Ichiro Bobblehead Night.
Total: $63.90.
This is far cheaper than the FCI estimate of $191.16 for Seattle, even if you add the $90 towing charge for accidentally parking next to a fire hydrant. And it's a far more accurate estimate of what it actually costs real fans to attend a game.
• The Dodgers drew 115,300 fans for their exhibition game against the Red Sox at the L.A. Coliseum. That is not only believed to be the largest crowd to ever watch a baseball game, it's more than the St. Louis Browns drew in six entire seasons during the Great Depression. Speaking of attendance, the Brooklyn Dodgers had a reputation for passionate fans, but it's worth noting that the Dodgers' attendance essentially doubled when they moved to Los Angeles 50 years ago. And not everyone was sad to leave Brooklyn. "I wanted to move because I was going through a divorce in New Jersey," former Dodgers pitcher Don Newcombe said before Monday's opener. "I was glad to get out of there, but they caught me anyway."
Jim Caple is a senior writer for ESPN.com. He can be reached here. His Web site is at jimcaple.net.