OK. No more synchronized swimming jokes.
Synchronized swimming has long been the butt of Olympic jokes, surpassed only by rhythmic gymnastics for total punch lines and likely subject of a Will Ferrell movie. But after spending some pool time with U.S. Olympians Kate Hooven and Kim Probst, I can confidently assure you, synchronized swimming is one mother of a sport.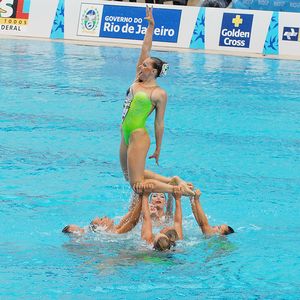 Jeff Nott
Remember, their feet aren't touching the bottom of the pool.
Frankly, I don't how they do it. Michael Phelps and crew get all the chlorine cred for their staggering swimming performances. But I'd like to see Phelps swim and kick and spin and flip around the water for four solid minutes and do it all with the persistent smile of a Miss Congeniality winner on his face the entire time.
"It gets frustrating at times," Hooven said of the lack of respect synchronized swimmers receive. "Maybe we make it look too easy."
This is true. We don't like athletes smiling during competition. It makes it look less like a sport and too much like a Broadway show. Synchronized swimmers need to get rid of the smiles and instead snarl and scowl and wince in pain and occasionally spit tobacco juice. They also need to perform their routines to songs like "Enter Sandman" and "Thunderstruck."
Or maybe they should throw in an occasional drowning to add drama. I know I could oblige in that regard. And I'm sure Hooven, 23, and Probst, 27, would agree after they gamely attempted to teach me some moves.
The problem began with securing a pool. The hotel where the U.S. Olympic Committee recently held its media summit was remodeling its fitness center, so the pool was closed. The hotel staff said it would be fine to use the pool at a sister property a couple of blocks away, but when that hotel's upper management learned about the plan, I was told that I needed to sign a waiver and provide an insurance certificate for ESPN. I assured them that there was no reason to worry.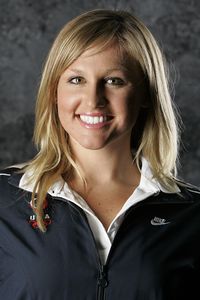 AP Photo/Charles Rex Arbogast
You try and do what Kate Hooven does before you mock her sport.
"They're Olympic swimmers," I stressed. "They're not going to drown in your pool."
Yes, the woman said, but rules are rules.
In other words, they weren't so much worried about them drowning. But I was another story. Eventually, though, someone gave us approval and the lesson began.
Because competitors are not allowed to touch the bottom of the pool during their routines, the most basic move in synchronized swimming is the eggbeater leg kick, which aids the swimmers in treading water. It's called the eggbeater because your leg kicks mimic the movement of an eggbeater. This sounds simple enough but it also is pretty much the opposite of the scissors kick I was taught to use when treading water. So mostly I kicked in an awkward combination of the two and then quickly sank under the water.
(Fortunately, Hooven and Probst had told me they were certified in lifesaving.)
After I surfaced, they taught me the ballet leg -- an unfortunate word choice if you're trying draw ultimate fighting fans to the sport. In this move, you float on your back and lift one leg straight up until it is perpendicular to the water. The floating-on-my-back part was relatively simple, but each time I attempted to lift my leg, I immediately sank to the bottom.
"That one was much better," Probst lied after I sank for the fourth time.
Next up was a move that involved flipping upside down and having several gallons of water forced through my nostrils. Then came the jump, the split rocket (a good name to appeal to NASCAR fans) and the open spin. The only one I accomplished with any degree of skill whatsoever was the split rocket, and that was only because I attempted it while touching the bottom of the pool, which of course would be an instant disqualification in actual competition.
I was so pathetic that at one point I kicked my own ankle and nearly broke it (see, the hotel bean-counters had reason for concern). Probst and Hooven tried to make me feel better by saying that contact isn't that uncommon. When you're kicking and stroking in such close proximity to your partner, there can be some painful contact and occasional injury.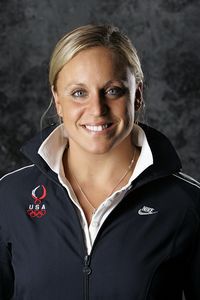 AP Photo/Charles Rex Arbogast
Probst is a co-captain, along with Hooven, of the 2008 Olympic team.
"People don't realize what's going on under the water during our routines," Hooven said.
I'm a decent swimmer but I couldn't get the hang of any of the moves. I simply can't imagine coming up with more difficult things to do in the pool. And I thought the butterfly stroke was difficult.
"Sometimes we train with weights," Hooven said. "We wear 2½ pounds on each ankle and a 10-pound waist belt. It feels like you're swimming in peanut butter."
Weights? Good Lord. I didn't need weights to train. I needed an inflatable Ariel, The Little Mermaid to float on.
Endurance training is obviously a key aspect of the sport. In addition to many, many hours in the pool, the swimmers also run, bike and do yoga and pilates, plus train in harnesses with acrobats. Some become so accomplished they go on to perform with Cirque du Soleil. They train about six to eight hours a day.
I tried performing a very short, very simple synchronized routine with Probst and Hooven, but for some reason the two swimmers had trouble matching my impeccable moves and timing. I think the problem was there wasn't any music playing. ("Welcome to the Jungle" would have helped.)
I thanked the two for the lesson, wished them the best of luck in Beijing and promised that I would never again mock synchronized swimming.
"I like to perform and I like to swim and it includes everything about that," Hooven said "It's the best sport and shape you can be in."
No argument here. But rhythmic gymnastics? Sorry, that's still just plain messed up.
Jim Caple is a senior writer for ESPN.com. He can be reached here. His Web site is at jimcaple.net.