Fifty years ago, the Dodgers and Giants moved from New York to the West Coast, transforming the senior circuit into a truly national league, making Walter O'Malley a very hated man and, most importantly, paving the way for the Famous Chicken. A half century later, with 15 Japanese players in America this season and more following, with U.S. teams playing regular season games in Tokyo and with David Stern talking about the NBA expanding to Europe, it's time for Major League Baseball to likewise consider expanding across the Pacific to Asia.

There is no timetable for expansion overseas, but it makes enough financial sense to be a good possibility before Evan Longoria calls it a career. Hell, we might see it before Eva Longoria calls it a marriage with Tony Parker.
Obviously, the biggest issue is the distance, which was also true before baseball expanded to the west coast. Commercial aviation made MLB's move to California possible by cutting travel time between America's coasts. As Paul Archey, the head of MLB International, put it: "You wouldn't have been able to expand to the West Coast if you were still taking trains."
Actually, travel times aren't that bad now -- you can already fly from Japan to Seattle in eight and a half hours (flying the opposite direction takes about 10 hours). That's less than it took me to fly from DC to Seattle this week (counting the connection in Chicago). Traveling between the West Coast and Japan just isn't that difficult, and frankly, lots of people in all sorts of fields do it all the time.
You don't need a lot of recovery time, either. A day would suffice, two at the most. As every experienced traveler knows, jet leg can often be a matter of expectations. If you expect to feel awful after a 4,500 mile flight, you surely will. If you think jet lag won't be that bad, it becomes pretty manageable -- if not downright pleasurable if you're a big leaguer flying first class with someone else carrying your bags and arranging your tickets and doing everything else short of feeding you peeled grapes.
The difficulty is convincing pampered players who already spend 120 nights on the road that it isn't that big a deal to add a trans-Pacific trip to the schedule. Heck, I once listened to a player complain about traveling to Canada. But if 60-year-old flight attendants can not only manage the trip but can also pour coffee and wheel food carts up and down the aisles for much of the flight, athletes in their prime should be able to manage sitting, sleeping and watching movies during the same trip. Especially when they get a $40,000 bonus for doing so (as the Red Sox and Athletics did this spring).
When O'Malley wanted to move the Dodgers to Los Angeles, he got his arch-rival Giants to go with him to California because there had to be at least two teams on the West Coast to make the move work. Similarly, to appease the players by limiting trips overseas to once or at most twice a season, U.S. teams would need to be able to play multiple opponents over the course of two weeks in Japan. Who would own these teams and how they would be incorporated into the existing leagues also is a major and tricky issue, although Boston manager Terry Francona said, "I'm confident they wouldn't be in the same division as us."
"I don't know logistically how it would work," Francona said when the Red Sox and Athletics opened the season in Japan. "I think there's obvious passion and interest in Japan baseball and Major League Baseball, but how that would work, I don't know. The fun thing for me would be having a series here when the season is over, but I don't know how it would work. Saying it would be fun and making it work are two different things."
True, but there are all sorts of workable scenarios. Existing Japanese teams could join our major leagues as out-right expansion teams. Or MLB could start its own teams. Or Japan's current leagues could play their own schedule -- including interleague games against North American teams -- with the top team advancing into the playoff system. Or select teams from Japan, China and Korea could form their own Asia division. Or there could be a system that incorporates aspects of all those options. Or another system entirely that makes sense.
The point is, it's possible. More than that, it could also help stem the problem of Japan losing its best players by allowing them to test major league waters while staying in their homeland. Bobby Valentine, currently managing the Chiba Lotte Marines, said MLB needs to see Japan as more than a source of players for harvest and follow Stern's goal of expansion across the oceans.
"MLB should understand, the game of baseball is too important here in Asia to just take the talent away," Valentine says. "What the MLB has to do is think of baseball as being the primary goal and the growth of baseball in the world, not just the growth of individual franchises in the states."
Expansion to Japan but it's the next logical step in baseball's global vision. As long as there is money to be made, the owners will find a way to overcome the hurdles.
BOXSCORE LINE OF THE WEEK
Do Red Sox fans feel the least bit guilty about their sudden embarrassment of riches? I mean, I know they SUFFERED MORE THAN ANY BASEBALL FANS EVER HAVE OR EVER WILL, but do even they now feel a teeny bit spoiled? After all, they've won two of the past four World Series, have the best record in baseball and are now throwing no-hitters so regularly they can almost list them on their pocket schedule. Hideo Nomo pitched one in 2001. Derek Lowe pitched one in 2003. Clay Buchholz pitched one last September. And Jon Lester, who won the clinching game of last year's World Series, pitched one Monday night. His line:
9 IP, 0 H, 0 R, 0 ER, 2 BB, 9 K, 130 pitches
The interesting number in that line is the last one. With a 7-0 lead and Lester just outs from a no-hitter, there was no way that the Red Sox were going to yank him if they could at all avoid it. And it's not like 130 is THAT many pitches. But it is 18 pitches more than Lester's previous high this season, 36 more than he had been averaging and 17 more than he had ever thrown in a major league game. And yes, we would have kept him in the game, too.
But still, it will be interesting to see if there is any effect or whether -- we hope -- it won't have any aftereffect whatsoever.
TELL YOUR STATISTICS TO SHUT UP
• Umpires unintentionally increased the odds of instant replay by blowing several home run calls recently, and that's good news. As long as baseball restricts replay to boundary disputes -- was the ball fair or foul? Over or off the fence? -- instant replay makes sense. And although umpires usually consider any change to the system an assault on their manhood, they have good reason to go along with this one. One, baseball might hire additional umps to handle the reviews. Two, when they do make the occasional wrong call on a home run ball, the umpires are the only ones in the stadium who don't know it because virtually everyone else has access to a replay on a TV monitor. This only makes them look bad. There are still some things to be worked out -- do teams get to challenge a call? -- but instant replay only makes sense to give umps the same opportunity to review their calls as the drunken-most fan by a concession stand already has.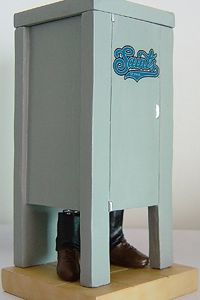 St. Paul Saints
Will Sen. Larry Craig be at the game? Mmmm … probably not.
• The best promo of the year so far, and likely all season, is courtesy of -- who else? -- the St. Paul Saints. This Sunday, the Saints are giving away Bobble-Foots, which depict a bathroom stall with a tapping foot visible under the stall. Officially, the bobblefoot honors National Tap Dancing Day, but it's clear the Saints have an incident in mind that took place just a few miles away from Midway Stadium at the Minneapolis-St. Paul Airport last summer involving Sen. Larry Craig (R-ID). "While many people tap their foot because they are impatient, others may do it because they are nervous," the Saints press release reads. "It doesn't matter if your tapping style is done with a 'wide stance' or is used as some sort of code, the Saints are asking all fans to tap to their heart's content on May 25." Sean Aronson, the Saints director of media relations, said the idea was a group effort by the team's staff and that the bobblefoot was actually a simple figure to have made. "Because most bobbleheads use a face and need the person's likeness, this was a piece of cake because none of that was needed," he said. "All we asked for was a bathroom stall and feet that poke out of the bottom, so it was very simple."
• Was there a more predictable free-agent bust than Eric Gagne, who abdicated his closer role two weekends ago and now has been shut down due to a sore shoulder? Did the Brewers not watch any of his games with Boston last year? Did they have no radar gun readings? And more to the point, when will teams learn not to heavily invest in a closer, the most overpriced and most fungible role on the roster? The Brewers are paying Gagne $10 million this season, or about one-eighth of the team payroll.
• If you watched a baseball game recently, you've probably seen a commercial for Chrysler's "Let's Refuel America" plan, which allows customers buying select new cars to buy gas at $2.99 per gallon for the next three years. "Prices for fuel continue to rise at a seemingly alarming rate," the company's Web site reads. "However, the Let's Refuel America Program helps provide stability to that problem with a simple solution." And what a great solution that is. Rather than address the problem of soaring oil prices by, you know, selling cars that get good mileage, their solution is to subsidize America's gasoline addiction so they can keep selling Jeep Grand Cherokees that get 15 miles to the gallon.
Jim Caple is a senior writer for ESPN.com. He can be reached here. His Web site is jimcaple.net, with more installments of "24 College Avenue." His book with Steve Buckley, "The Best Boston Sports Arguments: The 100 Most Controversial, Debatable Questions for Die-Hard Boston Fans," is on sale now.