Because a player never knows when a career might end, especially once he's turned 40 years old,
Omar Vizquel
decided over the winter to hold a farewell tour. Only this tour wasn't of the major leagues, but of winter ball in his native Venezuela, where he hoped to play in each stadium and against every team in the league in which he started his career in 1984. Playing there -- the first time he played in the league in a decade or so -- provided Vizquel with frequent reminders of just how long a career he has enjoyed in baseball.
"Things have changed a lot in 24 years," he said. "All those kids who saw me play when I was there [starting out], they're all married and have kids of their own."
Fans, meanwhile, received a reminder this weekend of just how long a career Vizquel has had when he played his 2,584th career game at shortstop, the most at that position in major league history. And just to prove he hasn't slowed down much, he broke the record held by Luis Aparicio by playing in both games of a doubleheader.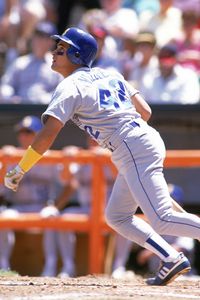 Bernstein Associates/Getty Images
Who would have predicted the little rookie who hit .220 for the Mariners in 1989 would become a Hall of Fame shortstop?
Vizquel says he didn't think about the record until it became a realistic possibility, but once he got close it became very important and an "awesome" thing. "Especially when you think about this guy who doesn't hit for power, it's crazy -- I'll have played more games at shortstop than Cal Ripken, and probably have more hits, too. And people don't really say anything about that."
No, they don't. Vizquel has played his entire career in the shadow of others, beginning with his major league debut on Opening Day 1989 when the media focused somewhat more attention on teammate Ken Griffey Jr.'s debut (Omar, by the way, currently has more career hits than Junior). And just when Vizquel was fully developing into the next Ozzie Smith, a new standard of shortstop began with the careers of Alex Rodriguez, Derek Jeter, Nomar Garciaparra and Miguel Tejada. Overnight, it seemed, shortstops were supposed to hit 30 home runs and bat .300 in addition to their day jobs of fielding the position.
Well, Omar couldn't match that. But like a certain great fielding shortstop named Ozzie, Vizquel worked hard and turned himself into a pretty decent hitter. He batted .333 in 1999 and hit 14 home runs in 2002. He's scored 1,344 runs and stolen 381 bases. He tied an American League record with six hits in a game. He is second to Aparicio for most hits by a shortstop in major league history.
MOST GAMES AT SS
Players with 2,000 games played at shortstop in the major leagues:

1. Omar Vizquel: 2,585
2. Luis Aparicio*: 2,583
3. Ozzie Smith*: 2,511
4. Cal Ripken*: 2,302
5. Larry Bowa: 2,222
6. Luke Appling*: 2,218
7. Dave Concepcion: 2,178
8. Rabbit Maranville*: 2,153
9. Alan Trammell: 2,139
10. Bill Dahlen: 2,132
11. Bert Campaneris: 2,097
12. Barry Larkin: 2,085
13. Tommy Corcoran: 2,073
14. Royce Clayton: 2,053
15. Roy McMillan: 2,028
16. Pee Wee Reese*: 2,014

* Hall of Famer
And all the while he's played the sort of dazzling defense seldom seen outside a video game or Bugs Bunny cartoon. He's won 11 Gold Gloves -- more than any shortstop except Ozzie -- and has the best fielding percentage in big league history for a shortstop. I know some stat guys will say his range numbers aren't as impressive as they should be, but those arguments aren't as convincing as the ones my eyes have provided over the past two decades. As reliable as the tides, he is the best fielding shortstop of his era, with the surest hands, and he belongs in the Hall of Fame. He'll get my vote the first time his name is on the ballot, and a poll of 10 other voters found overwhelming support for him, as well.
The interesting thing is that if Vizquel came up today, a team might not be interested in giving a young shortstop with no power enough time to develop his bat in this offense-obsessed era.
"It would have depended on what type of team you were on," he said. "I was with the Mariners and we weren't picked to win our division in those years, so they saw a guy who had enthusiasm, who had motivation, who had the passion to play every day, who had good hands. And they gave me time to develop as a hitter. I only switch-hit for a year before I got to the majors. The very next year I'm in the majors facing major league pitching after only six months of switch-hitting. I was like, you've got to be s----ing me, this is going to be really hard.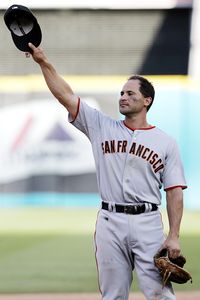 AP Photo/Lynne Sladky
Vizquel acknowledges the crowd after passing Luis Aparicio for most games played at shortstop.
"But I did my job defensively and they gave me the opportunity to play every day. I listened to the coaches, I had a good attitude. There are more things to staying in the big leagues than hitting home runs."
When all the talk was about the shortstop Holy Trinity of Jeter, Nomar and A-Rod, few ever thought to make it a Fab Four by including Omar. Hell, what did fielding your position brilliantly mean compared to hitting home runs or leading the league in batting? But the funny thing about the Holy Trinity is that while Nomar and A-Rod don't play the position anymore, Omar still does, at age 41.
"I feel great about myself," Omar said in answer to a question about retirement during spring training. "I'm in great shape. I'm doing everything I can to compete with these young guys. It just depends on what kind of year I have -- if I have a down year, I don't know if I'll keep playing."
At last glance, he was hitting .216, which is way below his career average, so we'll have to see how he finishes the season. In the meantime, do yourself a favor. Just in case this is Omar's farewell season, go treat yourself by watching the best fielding shortstop that you'll ever see who doesn't do backflips.
BOX SCORE LINE OF THE WEEK
Here at Off Base, we've always wondered why more pitchers don't put more effort into batting. Most pitchers were good or great hitters in high school but lost the ability once they went to college or the pros and rarely batted anymore. Some, however, know they can help themselves out by keeping up on the batting practice. Carlos Zambrano certainly realizes this, and with 13 career home runs, he has provided himself some extra run support. Big Z had a big game Friday when he had a career-high four hits against the Pirates while improving his record to 7-1. The four hits lifted his average to .343, which was higher than anyone else in the starting lineup for either team. His line:
5 AB, 1 R, 4 H, 2 RBIs
The last pitcher with four hits in a game was Arizona's Micah Owings, who did it twice last year, while Cincinnati's Bobby Livingston also had a four-hit game in 2007. According to BaseballReference.com, Livan Hernandez is the only other pitcher with four hits in a game this century (he did it in 2001), and only 14 pitchers have had four-hit games since divisional play began in 1969 (not counting position player Shane Halter, who had four hits in a game in which he also pitched).
TELL YOUR STATISTICS TO SHUT UP
• Jeffrey Maier said he was wondering when someone would call for his view on the use of instant replay to review disputed home run calls. The Yankees fan who became an instant celebrity when he caught (and also dropped) Derek Jeter's controversial home run in the 1996 playoff game between the Yankees and Orioles knows that Jeter's homer wouldn't have held up to instant replay. "I'm sure that what got plastered across the news would have been there for the umpires to see, as well," Maier said. "And I'm sure they would have said it was not a home run, but there is no way they could have been able to say for sure he would have caught it. I think the most reasonable thing would be for them to say it was a double." Not surprisingly, he says he doesn't like the proposed change to use replay. "Having played and been around the game, I think it's one of those things that are best left the way they are," he said. "I guess I'm from that old school. If you bring in instant replay, if you do it for one thing, it just opens the door to other changes, and the next thing you know we'll be talking about six-inning games. Plus, I think it's the sort of thing that evens out -- although I know some people won't agree with that." Maier is 24 and living in Boston where he is working toward an MBA at UMass and is engaged to a Red Sox fan. If there had been replay in 1996, he doesn't think his life would be much different now, other than reporters wouldn't be calling him for comments. "I would have done all the same things, I would still be who I am now. I've definitely made it a point in my life to never be defined by that one moment or let it have too much of a bearing on what I have done. My name would be a lot less recognizable in public life, but my goal has always been to be known for something much more meaningful than catching a home run ball. It's really a testament to my parents and coaches who never let my head swell too much as a result of what happened." And as for the Yankees? Maier says that if there had been replay then, the Yankees still would have won that series with Baltimore. "That was a good team and had been through a lot mentally and always found a way to claw through adversity."
• Fans in Peoria this spring had little idea they were watching perhaps the two worst teams in baseball sharing the same training complex. At last glance, the Mariners and Padres had the worst records in each league and had been outscored by more than 100 combined runs. Dating back to last Aug. 25 when they were 73-53 and three games up in the wild-card race, the Mariners are 21 games below .500. What's worse than having the worst record in baseball despite the highest payroll in franchise history ($117 million)? Increasing your financial investment by giving a three-year, $24 million contract extension to a 32-year-old catcher who is batting .227 with 12 RBIs and is not exactly the pitchers' first choice to have calling a game for them.
• With the season finale of "Lost" airing this week, it will be interesting to see whether we get any more Red Sox references that provide clues to when everything is happening. "Lost" fans remember an intriguing moment from the opening sequence of an episode a couple of weeks ago when Jack picks up a newspaper and reads the headline, "Yankees Bludgeon Sox In Series Sweep." Jack says, "A-Rod" in a disgusted tone and tosses the paper down. So what does it mean? Thanks to Eric Wilbur's blog at Boston.com, we can see a screen shot from a "Get Lost Podcast" that provides a close-up image of the newspaper and shows the series in question was last year's three-game sweep by the Yankees at the end of August. The page is a mishmash of New York Times and wire reports, plus, as one blogger points outs, a box score from an interleague game played last June. But this doesn't explain why Jack mentions A-Rod with such a disgusted tone -- Rodriguez went 0-for-3 in the series finale (though he homered in the previous game).
FROM LEFT FIELD
In case you missed it, the minor league Calgary Vipers traded pitcher John Odom to the Laredo Broncos for 10 maple bats with a value of $650 (Odom was unable to get into Canada due to a minor but unspecified infraction). Odom appears to have a good attitude about the trade; he told ESPN's "First Take": "Hopefully I can turn it into a good thing. I mean, I might be able to turn it into a feel-good story. ... It's just one of those funny stories that will go down in history and that I'll be able to tell my kids about." That's the attitude. Odom isn't the only player ever acquired for an unusual price -- including some people who wound up in the Hall of Fame. Some of the more interesting ones:
Ernie Harwell: The Brooklyn Dodgers acquired the broadcaster from the Atlanta Crackers in exchange for catcher Cliff Dapper.
Lefty Grove: Traded by a minor league team for the repair costs of its outfield fence that was knocked down in a storm.
Dave Winfield: The Twins traded him to Cleveland during the 1994 strike for a dinner between the GMs if the season did not resume.
Randy Winn: Tampa Bay traded him to the Mariners for the right to sign Lou Piniella as manager.
Harry Chiti: The Mets traded the catcher to Cleveland in 1962 for a player to be named later. The player wound up being Chiti, who went back to the Mets.
Tim Fortugno: Minor league Reno traded him to Stockton for 12 dozen baseballs and $2,500 in 1989.
Johnny Johns: Traded for a 25-pound live turkey.
Joe Martina: Texas Leaguer traded for two barrels of oysters.
Al Michaels: To sign the announcer, NBC traded ABC/Disney the copyright to Disney's old cartoon character, Oswald the Rabbit.
Sources include the Seattle Post-Intelligencer and SABR.
Jim Caple is a senior writer for ESPN.com. He can be reached here. His Web site is jimcaple.net, with more installments of "24 College Avenue." His book with Steve Buckley, "The Best Boston Sports Arguments: The 100 Most Controversial, Debatable Questions for Die-Hard Boston Fans," is on sale now.