SEATTLE -- Though it occupies less than 3 percent of the world's landmass, India holds one-sixth of Earth's population. According to one report, India's cities of Mumbai and Delhi are expected to reach 24 million residents each by 2020, with Mumbai expected to have more people per square mile than any other city in the world. With a current population of more than 1.1 billion and a growth rate of just under 2 percent annually, India is projected to surpass China in size later this century.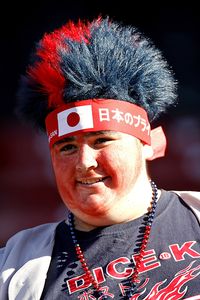 AP Photo/Winslow Townson
Members of Red Sox Nation can be found everywhere you look.
The world's fastest-growing population, however, is Red Sox Nation, which has an estimated 14,287 fans jump on the official bandwagon every time Big Papi slams a home run.
The Red Sox play 81 home games a year at Fenway Park and another 70 or so home games on the road, with Boston fans either flat-out outnumbering the local fans or out-cheering them everywhere from Baltimore to Tokyo (though New York is an obvious exception). During this week's Red Sox-Mariners series, so many replica-jersey-wearing Boston fans clogged Seattle's downtown streets, it seemed as though half the city's residents were named Ortiz and the other half were named Matsuzaka. Red Sox fans nearly matched Mariners fans in sheer numbers at the games and deliriously drowned out Seattle fans in volume during "Take Me Out to the Ball Game.'' And this is the way it is in most cities these days when the Sox come to town. (Boston again leads the league in road attendance.)
Which begs the questions: Where the @&%$ did all these Boston fans come from? And more importantly, when will they leave? To find the answers, I roamed Seattle's Safeco Field during Wednesday night's Red Sox-Mariners game to ask these fans just when it was that they jumped on the Boston bandwagon.
"I started the bandwagon," a Red Sox fan named Kali said proudly from a seat down the third-base line. "I've rooted for the Red Sox my whole life. I loved the Red Sox because my grandfather loved the Red Sox."
OK then, name four players from the 1975 Red Sox team.
"Oh, crap," she said. "I wasn't even born yet. That's not fair."
Another fan wearing a Sox cap complained, "C'mon, you can't ask me that after I've been drinking since noon," when I posed the same challenge.
They're right, it isn't fair. Most of the fans I spoke with Wednesday night have rooted for the Red Sox most of their lives, albeit more vocally (i.e., obnoxiously) now that their team has won two World Series in the past four years after zero in the previous 85. When I asked, "When did you jump on the bandwagon?" a typical response was "1978," or "1980," or "when I was 7," or some such season long enough ago to signify they were bona fide fans who had paid ample dues.
"'Bandwagon' implies you weren't always a fan, and I have been," said Jesse Ryba, who wore a Jonathan Papelbon jersey near the Mariners' bullpen. "I was born into it. My dad brought me up that way. I'm from San Diego, but rooting for the San Diego teams was never an option because San Diego fans lack passion."
Some fans I interviewed, such as Greg and Kelly Swartz, live in Boston but travel to see their team on the road because it's just plain easier to get on a plane, fly all the way across the country, rent a car, pay for a hotel room and buy tickets to another stadium, rather than buy them for a home game at Fenway Park. "I went online at 1 o'clock the first day these tickets were available and I got them right away,'' Kelly Swartz said of her Seattle seats behind home plate. "If those were tickets for Fenway, I would have been in a virtual waiting room for eight hours." And if she somehow were able to buy tickets to Fenway, she added, they certainly wouldn't be seats behind home plate.
There are other benefits to seeing the Red Sox play somewhere other than Fenway. One, the average adult can actually fit into a seat. Two, even the high prices in Seattle ($4.25 for water -- are you kidding me?) seem cheap compared to Boston. Heck, Greg Swartz is still overwhelmed by the parking lot in Cleveland that charged only $5. "And I've never seen Chinese food at a ballpark before," he said. "At Fenway, it's just Fenway Franks and draft beer."
The two have been doing the Red Sox road trip thing for six years, and they say there has been a huge increase in Boston fans the past two seasons. "There were so many Red Sox fans who went down to Baltimore the series when we were there, it was a little embarrassing," Greg Swartz admitted.
If the majority of people with whom I spoke are any indication, most of these fans are transplanted New Englanders who now root for their beloved Red Sox from afar. Dave Rogers, who moved to the Seattle area from Massachusetts in 1992, has a theory behind the migration of Red Sox Nation.
"The thing is," joked Rogers, who wore a Green Monstah T-shirt, "you have all these Catholic families in Boston reproducing there, and they can't afford the housing and they can't afford tickets to the Red Sox. So they move to cities where they can buy a home and can afford to go see the Red Sox play."
Which is all well and good. The problem for the rest of us is that we have to listen to them take over our stadiums and brag about how passionate they are, as if the present imbalance has nothing to do with the fact that their team has won so much lately while our teams have, to put it delicately, sucked. (No one has a worse record than the Mariners.)
"I wish the Mariners' fans would give us a little more of a run for the money," Jen Hanlon said from beyond right field.
See what I mean?
Actually, Hanlon and the rest of her friends and family were very pleasant and entertaining. And, almost without exception, all the fans with whom I spoke were so unfailingly pleasant, polite, engaging and good-humored that I began to suspect they couldn't really be Red Sox fans.
Or maybe they were just being humble because the Red Sox managed only two hits against Seattle, trailed most of the game, and lost 1-0 to fall 1½ games behind Tampa Bay.
Jim Caple is a senior writer for ESPN.com.