Wednesday brought a discouraging development in the worlds of sports and petroleum. Chipper Jones' batting average (.419) sank below the price of unleaded gas at my local station ($4.23). He's still above the last reported national average, but given the way the latter is going, I'm more hopeful about Jones' matching Ted Williams this summer than I am about his staying with Exxon Mobil. Not that I give Jones much chance to match Williams either, though I'm certainly rooting for him.

Though home run milestones unfortunately have lost all their magic for fans, and the DH, better medicine and increased longevity have made the 3,000 Hit Club less exclusive than Oprah's Book Club, batting .400 retains as much luster as it did long ago when Williams' head was still at room temperature.
With all due apologies to Ken Griffey Jr.'s recent milestone, .400 is the new 600.
For that matter, .400 is also the new 700, the new 715, the new 756 and the new 762 (Barry Bonds' current/final home run total, in case you've forgotten). It's also the new 61, the new 70, the new 73, the new 74, and any other number associated with home runs.
Though everyone assumes steroids have boosted home run totals, few complain they've helped batters hit for higher averages. This is mostly because while home runs have soared and homer records have been shattered, the more humble batting-average records remain unchallenged (even if there have been some high averages in recent years). Though Roger Maris' single-season home run record has been bettered by nearly 20 percent, no one has come remotely close to Roger Hornsby's record .424 average, neither during the steroid era nor for decades before it, either. That's because, even with steroids, the .400 hitter is as extinct as players nicknamed Rube, Dummy and Heinie.
In the 66 seasons since Williams hit .406, only one player -- George Brett in 1980 -- was even hitting .400 in September (see FROM LEFT FIELD below). Only two players -- Brett in 1980 and John Olerud in 1993 -- were hitting .400 at the end of a game in August (Todd Helton lifted his average to .400 during a game in August of 2000 but finished the day at .399). How hard is batting .400? When Ichiro broke George Sisler's single-season record with 262 hits in 2004, he still would have needed to hit safely in 33 subsequent at-bats to raise his average to .400.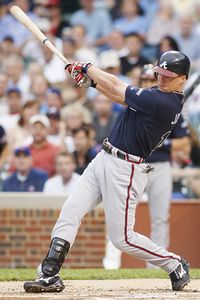 AP Photo/Jerry Lai
Will he stay above .400? Doubtful. But wouldn't it be great if he kept it going for a while this summer?
Why is .400 as elusive a figure as Gisele Bundchen's? Stephen Jay Gould, a great baseball fan and a famed paleontologist, wrote that it's due to evolutionary factors. In a nutshell, as animals and systems develop throughout time, extremes on both ends of the spectrum get winnowed out and everything shifts to the mean. Or, as Gould explained it, the reason Wee Willie Keeler could "hit 'em where they ain't" so effectively was that fielders hadn't figured out where to position themselves. Once they did, it became harder to hit .400. (Then again, maybe Gould was pessimistic because he was born three weeks before Williams finished at .406 in 1941 and never saw anyone else reach that mark in his lifetime.)
Batting .400 became increasingly difficult as gloves improved. Compare a pre-1950s era mitt to a modern glove and you will instantly appreciate that the old-timers could not possibly catch as many balls as today's fielders can (though Manny Ramirez might be an exception).
(The only number more magical than .400 to most fans is 56, though batting .400 is a greater feat than Joe DiMaggio's record hitting streak. As impressive as DiMaggio's record is, hitting streaks always involve a certain amount of luck, requiring that your hits find holes in the defense rather than gloves. To keep a long streak alive, you need a ball to land just inside the foul line for a double instead of just outside it for strike two. You need a screaming line drive hit right to the hole instead of right to the second baseman. You need a blooper to drop in for a single instead of falling into a diving shortstop's glove for an out. Obviously, those are factors in batting .400 as well, but throughout the course of a season, such "luck" generally evens out.)
In the past 12 months alone, we've seen four players hit their 500th home runs, two players hit their 600th and, of course, Bonds break the career record. Not even the latter generated genuine excitement, and the rest barely attracted attention. Frank Thomas has 500 home runs? I didn't even know he was still playing. For better or worse, rightly or wrongly, we're no longer impressed by home run milestones.
But batting .400? That remains special. And after the beating the sport has taken from the media and Congress the past few years, a realistic run at .400 is just what baseball needs. If Chipper can carry this thing into August -- a long and very difficult way off, to be sure -- we'll check the box scores religiously each day, following Jones' batting average as closely as the Dow Jones Average.
At the very least, it would bump the latest Roger Clemens story inside the sports pages, by the tire and strip-joint ads.
BOX SCORE LINE OF THE WEEK
Johnny Damon tied the American League record (held by many) for most hits (six) in a nine-inning game. Dontrelle Willis, who earlier had this amazing line -- 5 IP, 1 H, 3 R, 3 ER, 7 BB, 0 K -- gave us this doozy Monday: 1 1/3 IP, 3 H, 8 R, 8 ER, 5 BB, 2 K, which earned him a demotion to Lakeland, making him the highest-paid player ($9.6 million) in Class A. Impressive, but not good enough to beat out the performance by Toronto reliever Jesse Carlson.
His line is a little old, but Off Base was on hiatus last week because of a writers meeting, so it's still eligible. Carlson threw exactly one pitch against Kansas City in a recent game and gave up a hit but still managed to record an out. Not an easy thing to do. His line:
1/3 IP, 1 H, 0 R, 0 ER, 0 BB, 0 K, 1 pitch
How did he do it? Carlson took over in relief with Alex Gordon on second base and Mark Teahen at bat. He gave up a single to Teahen on the first pitch, but Alex Rios threw out Gordon trying to score on the hit.
(Thanks to reader Greg Wilson for mentioning the line.)
TELL YOUR STATISTICS TO SHUT UP
• This just in: Big Brown trainer Rick Dutrow says that it is a foregone conclusion Lance Berkman will win the Triple Crown unless jockey Kent Desormeaux is on his back.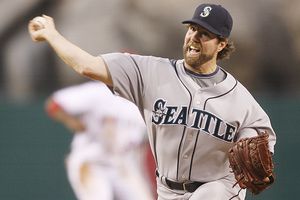 AP Photo/Gus Ruelas
Maybe R.A. Dickey can help rejuvenate the hapless Mariners.
• Fans entertained by
R.A. Dickey's conversion to pitching the knuckleball
should have been pleased to see the box score from Monday's Toronto-Seattle game, when Dickey earned his first big league victory in three seasons. The Mariners left Dickey off their opening day roster -- their first glaring mistake this year, but certainly not their last -- but he's been outstanding since being recalled last month. Dickey has allowed just one run in his past 17 innings. He likely would be in the starting rotation if the Mariners weren't on the hook for giving $60 million to Carlos Silva and Jarrod Washburn and thus weren't reluctant to give up on them. (Honestly, though, was there a worse free-agent signing last winter than giving Silva a $48 million, four-year deal when Kyle Lohse could have been had for $4 million?)
• Speaking of the Mariners, you've probably seen the story about the stadium usher who asked two women to refrain from kissing each other. One of the women, Sirbrina Guerrero, told Seattle Post-Intelligencer columnist Robert Jamieson that when they asked why, the usher told them, "There's children in the crowd. It's not fair for parents to have to explain to their kids why two women are kissing." Naturally, that caused a stir. After all, as one of our editors pointed out, the more appropriate response would have been, "It's not fair for parents to have to explain to their kids why 25 men who are paid $115 million are sucking so bad."
• Can we have a moratorium on "What Will The Fan Do With The Home Run Ball?" stories? Don't get me wrong -- I don't have a problem with a fan selling the ball to the highest bidder, just as I have no problem with teams selling their tickets or players selling their services. It's the speculation about prices attached to relatively meaningless home runs that has grown so tiresome. It's one thing to talk about a record home run ball -- especially when it involves a fistfight -- but why would anyone pay $50,000 to $100,000 for Griffey's 600th home run ball, as has been quoted? This whole business got out of hand when the Psychic Friends Network founder purchased Eddie Murray's 500th home run ball for $280,000 in 1996. The Psychic Friends Network went bankrupt soon thereafter, proving that even people naive enough to call up Dionne Warwick for psychic advice aren't willing to pay $3.99 a minute for predictions from someone stupid enough to think paying $280,000 for a baseball would be a good investment.
• Looking for a good Father's Day or graduation present? Check out the posthumous gathering of assorted David Halberstam sports writings, "Everything They Had." The collection contains several favorites, including a long story written in 1984 about Reggie Smith playing in Japan, titled "The Education of Reggie Smith." Halberstam wrote the piece long before Americans had much (if any) exposure to Japanese baseball, and I remember being fascinated by the story when it first appeared in Playboy. (Yes, I really did read Playboy for the articles.) Another gem is his 1970 essay "Baseball and the National Mythology," which includes a glowing review of Jim Bouton's then-just-published "Ball Four." Other sports are well represented, too, particularly basketball in "The Basket-Case State," a 1985 Esquire piece about Indiana hoops.
FROM LEFT FIELD
How long can Chipper Jones keep his average above .400? The bet here is that it won't last into July. That's no disgrace, given that only nine batters have had a .400 average as late as July since Ted Williams hit .406 in 1941 (including Rod Carew, twice). The list, including the player's last day at or above .400 and his final average for the season:
• George Brett (last date at or above .400: Sept. 19, 1980; final average: .390)
• John Olerud (Aug. 3, 1993; .363)
• Nomar Garciaparra (July 20, 2000*; .372)
• Larry Walker (July 18, 1997; .366)
• Stan Musial (July 15, 1948; .376)
• Tony Gwynn (July 14, 1997; .372)
• Rod Carew (July 14, 1983; .339)
• Tommy Holmes (July 11, 1945; .352)
• Rod Carew (July 10, 1977; .388)
• Andres Galarraga (July 3, 1993; .370)
* Garciaparra went 3-for-5 in the first game of a doubleheader to lift his average to .403, then went 0-for-5 in the nightcap to drop to .399.
(Sources: Baseball-Reference.com, Honus Wagner Rules at Baseball-Fever.com and old box scores on microfilm)
Jim Caple is a senior writer for ESPN.com.