Last week, while Boston fans celebrated one of the best sports years any city has ever enjoyed, Seattle continued its depressing candidacy for one of the worst. The Mariners, who have the worst record in baseball, fired general manager Bill Bavasi on Monday and manager John McLaren on Thursday. And that was the good news, compared to what was going on across town, where the Sonics were in a federal courthouse in an attempt to break their lease and move to Oklahoma City.
The court case, which is scheduled to end Thursday, might specifically involve the Sonics and Seattle -- and more specifically yet, a "specific performance" clause in the team's lease -- but what is really on trial here is modern sports in America. What obligations does a city have to a team that is so often considered vital to the community? What obligations does a team have to a city from which it expects undying loyalty and frequent taxpayer support?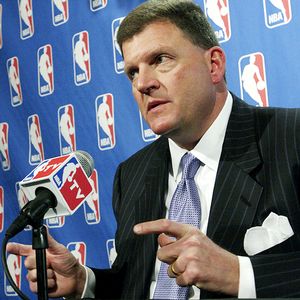 AP Photo/Tina Fineberg
Only Mr. Bennett really knows if he ever intended to keep the team in Seattle.
Those questions haven't exactly been clearly defined in a trial so crammed with absurdity that the judge practically needs a zone defense to combat it all. While arguing that they will face undue losses if forced to stay in Seattle, the Sonics actually complained that fans are reluctant to purchase three-year leases on their luxury suites. Not that such poor sales possibly could be the fault of the owners, who are 51-113 since buying the team (second worst in the NBA) and whose stated goal is to play absolutely none of those upcoming seasons in Seattle.
Hey, the Sonics might be gone, but remember, those leases are good for the Storm games AND that George Michael concert.
(One thing that has been difficult during this case is keeping it straight that the Sonics are the bad guys. I hear someone say, "The Sonics had a good day in court," and I think, "Excellent!" Then a second or two later, it hits me that the person meant it was a good day for new owner Clay Bennett and his carpet-bagging minions who are trying to move the team out of Seattle. For the record, the Sonics no longer represent the teams of Gus Williams, Jack Sikma, Gary Payton, Shawn Kemp, George Karl and Nate McMillan. They are now the Bad Guys.)
At one point, a Sonics lawyer asserted with a straight face that if the team is forced to stay in Seattle as a lame duck team for the next two years, it will be a challenge to sign free agents. I feared being kicked out of the courtroom for not being able to stifle a laugh. A difficult time signing free agents? Since purchasing the team, Cash-Us Clay & Co. has scrupulously followed the rules for destroying a franchise, as established in the movie "Major League." The Sonics traded their two best players, Ray Allen and Rashard Lewis. They bad-mouthed the arena. They alienated a loyal fan base by announcing they were moving. They switched the radio broadcasts from a popular all-sports station to a conservative talk station with a weaker nighttime signal. They wouldn't make Kevin Durant available for radio interviews. Hell, the only tricks they missed were signing Corbin Bernsen and peeling off clothing from a pinup queen version of Bennett.
At least the Mariners have been above board in producing what is currently the worst record in baseball. They have tried to win this year and still failed miserably.
Aside from the almost magical seasons in 1995, 2000 and 2001, such has been the Mariners' legacy. They are one of just four teams to have never played in the World Series. And until the current $510 million ballpark opened, much of their tenure in Seattle was spent threatening to move elsewhere. The Seahawks also threatened to move and nearly did so a dozen years ago until the state agreed to build Paul Allen, the Microsoft co-founder and at the time the planet's fourth-richest man, a $430 million open-air stadium complex for a team that plays much of its schedule during Seattle's rainy season.
So Seattle fans have some experience with this subject.
Whenever a team demands a new facility, we usually hear about how much money said team generates in the community, but what is interesting about the Sonics' case is that the team (i.e., the Bad Guys) IS CLAIMING THE EXACT OPPOSITE. They are taking great pains to declare that pro teams don't generate substantial local revenue and that cities are rich and vibrant whether they have an NBA team or not. Both assertions are true, yet oddly, when they were seeking tax benefits in Oklahoma for moving there, the Sonics' owners claimed the team would generate $170 million a year in Oklahoma City.
In other words, we've heard some stretchers in this saga.
Minority owner Aubrey McClendon infamously told an Oklahoma City paper last summer that the ownership group "didn't buy the team to keep it in Seattle; we hoped to come here [Oklahoma City]." During a deposition, McClendon said the statement was inaccurate because it was "an incomplete thought" and was spoken at the end of an exhausting day. In an e-mail, however, McClendon apologized to Bennett for causing a ruckus with what he told the paper but maintained "the truth is we did buy it with the hope of moving to Oklahoma City." McClendon also testified that he sometimes just says things without knowing why, such as claiming "the sky is green."
Not that I'm implying anything, but McClendon helped fund Swift Boat Veterans for Truth during the 2004 presidential election.
Bennett, meanwhile, responded to an e-mail from another minority owner asking whether there was any way the Sonics could move to Oklahoma City for next season by answering, "I am a man possessed! Will do everything we can." During the trial, he stated under oath that what he really meant in the e-mail was -- get this -- he was "a man possessed" to find a solution to keep the Sonics in Seattle. Well, maybe, although that hardly explains why within a couple of days of his "man possessed" e-mail, he contacted NBA executive Joel Litvin about how he could go about moving the team to Oklahoma City early and soon started looking to reserve dates at the arena there.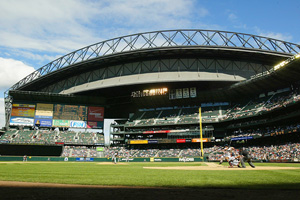 Otto Greule Jr/Getty Images
You can't put a price tag on the experience friends, fans and families have at Safeco Field.
All this fuss could have been avoided had the Seattle community simply agreed to give the team $400 million for a new arena. Bennett acknowledged at the trial that had this happened, he and his partners would have turned around and sold the team to a local owner for "a sweet flip" and looked to buy another team to move to Oklahoma City. Of course, given that the community has invested roughly $1 billion for new arenas and stadiums in the past 15 years -- including an $84 million complete overhaul of the Seattle Center arena to the Sonics' specifications -- the city was a little reluctant to make another "investment" in a "partnership" with a team.
The more important point is this: Where does this all end? How spectacular must an arena be for 10 tall men to throw a leather ball through metal hoops while running around a length of wood floor? Bennett might have us believe that you need luxury suites and club seating and private restaurants and a health club and a four-star hotel and, for all I know, a museum, a racetrack, a nuclear power plant, an antigravity chamber, a court of pure gold and platinum, and a retractable roof with panels painted by Michelangelo.
Seriously, when Key Arena opened, NBA commissioner David Stern described it as "very special" and "a beautiful building. … It's intimate. The sight lines are great. The decorations are terrific. I think Seattle should be very proud of what's going on here tonight." If an arena can go from such praise to condemnation in just a dozen years, what will be required of a "state of the art" building to be considered "state of the art" in the future?
Bennett acknowledged during the trial that Key Arena has excellent sight lines for watching basketball but dismissed this as inconsequential. Meanwhile, he complained that the arena isn't large enough to account for separate seating areas with special amenities for the wealthiest fans. So what interests Bennett and fellow owners is further establishing the stratification of classes in our society. This is the precise opposite of why we value sports. Sports should unite a community, giving young and old, rich and poor, doctors and laborers, meat lovers and vegans something they all can cheer. Instead, the new wave of sports arenas and stadiums further divides us into the rich who have private clubs, the richer who have private clubs and private ushers, and the richest who sit in luxury suites with the darkened windows sealed and their backs turned to the action while they watch the games on plasma screen TVs.
Look, if you want to make a fortune selling customers overpriced beverages and food, there are better options than owning a basketball team -- Starbucks owner Howard Schultz, who sold the Sonics to Bennett, could testify to this (c'mon, $4 for a coffee?). If you want private clubs and restaurants, then start up -- oh, I don't know -- a restaurant. But if you want to own a major league sports team, there are some obligations that should go with that.
A colleague says he doesn't find anything wrong with an owner moving a team from one city to another. He says we might not like such occurrences, but that's the way our free market system works. The problem with that view, however, is that in the case of sports franchises, we do NOT have a free market system; we have publicly subsidized monopolies. If any city could join the leagues by starting a team with the requisite financing, none of this would be an issue.
The city's lawyers, who occasionally deliver the sort of performance that makes me wonder whether Bill Bavasi hired them, have devoted much time and energy to trying to prove the financial value of the Sonics. They brought in economist Andrew Zimbalist to testify to this, only to see the Sonics' attorneys pull his pants down on the witness stand (Zimbalist's testimony might have been the most embarrassing performance in Seattle sports since the Sonics lost in the first round of the 1994 playoffs).
The whole endeavor of assessing a financial value is pointless anyway. Whatever figure an economist names is as meaningless as it would be for me to place a price on my weathered giveaway cap from the first night game at Wrigley Field when I sat through a torrential rainstorm with two of my best friends, or on the ticket stubs my family saved from the 1995 Mariners-Yankees division series, or on my friend's authentic jersey that Gus Williams wore during the Sonics' 1979 championship season. Whatever price you name misses the entire point.
It's not the economy, stupid. It's the experience.
During his 1968 campaign for president, Robert Kennedy criticized the gross national product as a poor barometer of the nation's health because GNP counts "cigarette advertising and ambulances to clear our highways of carnage … special locks for our doors and the jails for those who break them … napalm and the cost of a nuclear warhead … and the television programs which glorify violence to sell toys to our children." What GNP does not measure, he said, is "the health of our children, the quality of our education or the joy of their play," nor "the beauty of our poetry [nor] the strength of our marriages … [nor] our wit and our courage." The GNP, he said, "measures everything, in short, except that which makes life worthwhile. And it can tell us everything about America except why we are proud that we are Americans."
Similarly, an analysis of a team's economic impact will measure the state income tax from the superstar earning $20 million a season, the $10-per-hour part-time jobs selling $12 hamburgers in the concession stands, the $5 beers sold at the sports bar across the street and the receipts from the nearby parking garage. It will not measure the bonding experience of best friends sitting in the bleachers through a storm of Old Testament proportions for a game that winds up being rained out, or a family sitting around a table at Thanksgiving and talking spiritedly about the common passions and sense of community brought on by an October postseason series, or the dedication of my friend with the Gus Williams jersey, who has felt such joy through the Sonics that he requested only one Father's Day present: that his wife and daughter attend a "Save Our Sonics" rally outside the court room with him last week.
In short, the economic analysis will measure everything except that which makes having a team in your city worthwhile.
(By the way, it should be noted that the Washington Nationals played in a stadium named for RFK but just moved into a $600 million ballpark built entirely at taxpayer expense, where seats behind home plate sell for $325 and seats in center field cost as much as $70 and nachos go for up to $8.50.)
Almost all cities have dealt with teams repeatedly extorting them for new facilities. So what to do about it? I propose a covenant between owners and communities.
1. Communities SHOULD help pay for arenas and stadiums. Teams do have value to citizens, and it is in communities' interests to retain them. We know this is true, even if we can't place a price tag on it.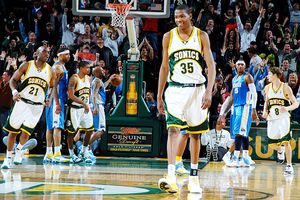 Terrence Vaccaro/NBAE/Getty Images
Who is to say that Kevin Durant won't bolt Oklahoma City, too?
2. Owners must pay their fair share.
While we know teams have value, we also weren't born yesterday. We know real economic benefits are negligible. So there is a limit to how much communities should pay beyond, say, the price of tickets, concessions and souvenirs. The rest -- preferably half -- must come from the owners, and by that I mean REAL MONEY directly from their pockets, not future revenue from naming rights or the income taxes of their players.
3. Communities are not responsible for subsidizing salaries. It's one thing for owners to tell a city, "You should build an arena that your citizens will repeatedly enjoy for both sports and concerts." It's quite another to say, "You know, we can't control our spending. So we'll need the taxpayers to kick in some money to help us pay for Vin Baker's salary."
4. Less is more. And even when it isn't, less is still less expensive. Whenever I walk into Jacobs Field, I am struck by the overwhelming presence of luxury suites: three levels of them stretching from foul pole to foul pole. It just seems so ostentatious and excessive. Why do new stadiums and arenas cost so much? For the same reason people traveling on expense accounts spend more on dinner than they would otherwise: When someone else is paying the bill, you're more inclined to order that bottle of wine. Force the owners to pay a larger share of the construction cost, and I guarantee you they will think twice before demanding an IMAX theater for showing instant replays.
5. Teams have deep roots. The reason teams are worth so much money is that they are so highly valued by their fans. As long as they operate in a subsidized monopoly based entirely on fan devotion and support, owners must recognize this fact and respect it. They may sell their teams whenever they choose and for however much they wish. But they must sell them to owners who will keep the team in the city. This will not limit their profits -- look at how much the Red Sox sold for a couple of years ago, even though they play in the oldest stadium in major league sports and there was NO CHANCE they would move.
I will not bother holding my breath waiting for the leagues and owners to sign off on this covenant.
Of course, there is a simple solution to the Sonics' case -- and all such cases, really. If the NBA truly thinks Oklahoma City has a large enough and wealthy enough population base with a sufficient broadcasting market to support a team -- and that could well be the case -- the league merely needs to grant an expansion team to one of the two cities. To borrow a phrase often used by the Sonics (Bad Guys), this would be a win-win solution for everyone involved. Seattle retains a franchise in the NBA. Oklahoma City gains a team. The existing owners receive a lucrative cut of the new team's expansion fee. The league broadens its fan base and adds a new market without sacrificing a successful and substantial base. And with the league's constant proclamations about the game's growth and popularity in Europe and Asia, there certainly must be a dozen additional players somewhere in the world to fill the roster of one more team.
After all, why talk about expanding the league to Europe when there are two markets here hungry for a team?
How will the Sonics' case end? It's difficult to predict how Judge Marsha Pechman will rule (she cares so little for sports that she didn't even know who Ken Griffey Jr. was during his glory days with the Mariners). She could side with the city and hold that the lease's "specific performance" clause requires the Sonics to play their games in Seattle and nowhere else. Or she could side with the Bad Guys and rule that this is essentially a bad marriage the Sonics should be able to buy themselves out of with a suitable divorce and alimony payment. It could go either way, but based on the way Pechman usually upholds the Sonics' objections and rejects the city's, at this point, I would take the team and the points.
But even that won't necessarily mean the Sonics are moving, or at least not right away, because Schultz is suing to get the team back, claiming Bennett breached the contract by not giving a good faith effort to keep the team in Seattle.
Before Seattle fans get too discouraged that they will never see another NBA team if the Sonics leave, they should be reminded that the very reason the Mariners are around to cause us such anguish this season is a lawsuit. After all, when Bud Selig hijacked the Pilots to Milwaukee following just one season in Seattle, the city sued the league and won an expansion team in 1977.
That decision brought us the Mariners and a lot of losing seasons (Bob Kearney!), but in time, it also brought us Junior, Edgar, Randy, Boone, A-Rod, Lou and Ichiro. It brought us the magical autumn of 1995 and the sublime summer of 2001. It brought us the sight of Griffey chasing down fly balls, the sound of Dave Niehaus' voice on our car radios and the aroma of garlic fries floating through the ballpark. It brought us so much joy and entertainment and genuine sense of community that we don't even mind much anymore that the stadium cost a half-billion dollars.
Not that you would notice it much this season. I mean, $40 for a seat way down the left field line to watch a team with a payroll of $117 million buried in last place and on pace to lose 106 games? It's almost enough to make you stay home on the couch watching the Red Sox. Almost.
Jim Caple is a senior writer for ESPN.com.