If VeloNews is correct in reporting that Lance Armstrong will come back to ride in next year's Tour de France, here's how his comeback decision probably went down.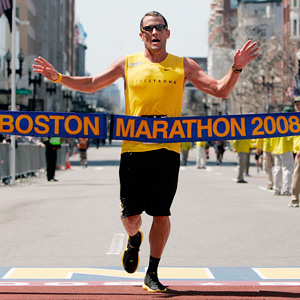 AP Photo/Michael Dwyer
Looks like Lance is going to give up the marathons and start cycling again.
Mary-Kate Olson -- or was it Ashley? I can never get those Olson twins straight, which one is the blonde again? -- probably made some totally mean remark about his age, such as, "Jonah Hill tells me that you are, like, so incredibly old." And Armstrong replied, "Oh yeah? Well, I'll show you who's old! I'll just come out of retirement and win the Tour de France again! Let's see Jonah do that! Although maybe I shouldn't have mentioned 'coming out of retirement' while making my case that I'm not old."
Anyway, it appears Armstrong is coming back. (Although he hasn't commented on the VeloNews report, and the team with whom the magazine says he'll ride, Astana, says it wasn't aware of a comeback and has no plans for him to ride.) The only real question surrounding the possible comeback, however, is why did it take him so long? He's been out of racing for three years, which is enough time for Brett Favre or Michael Jordan to retire and unretire six times.
Armstrong turns 37 next month, which not only is ancient in Olson Twins years, but it's even older in Tour de France years. Competing in the Tour de France at age 37 is like quarterbacking in the NFL at age 47. It's possible, but let's just say you wouldn't use a first-round fantasy draft pick on him. Cyclists hit a wall around 34, and after that they're simply unable to recover well enough from stage to stage to be a threat to win the overall race. The oldest Tour de France winner was Firmin Lambot, who won it at age 36 way back in 1922, when derailleurs were not allowed. (Seriously, no derailleurs.) Riders were allowed, however, to replace broken parts with spares, provided they carried the broken parts with them the rest of the way. (The 1921 champion, Leon Scieur, carried a bent wheel strapped to his back that, according to Matt Rendell's "Blazing Saddles," "cut deeply into his skin, scarring him for life."
No other cyclist older than 34 has ever won the Tour. So it's doubtful Armstrong has much chance at 37, when he'll be four years removed from his previous Tour. For that matter, it will be interesting to see whether he'd even be the team leader for Astana, or have to ride in support of potential teammates Alberto Contador (2007 Tour champion) and Levi Leipheimer (2007 runner-up).
Carry your own @#$%8$ water bottles!
Astana, for that matter, still has to be officially accepted in the Tour de France -- it was prohibited this summer, officially due to doping violations in previous years, and unofficially due to a dislike of team manager Johan Bruyneel. So maybe this is a way for Armstrong to place a little pressure on the Tour to accept Bruyneel, his good friend and former manager.
However Armstrong performs, his comeback would be good news for cycling, which could use some favorable publicity. The sport is working hard to clean itself up -- I'll say it again: The reason so many cyclists test positive for performance-enhancing drugs is because the sport tests so thoroughly, unlike, say, the NFL -- and it has made important strides. Team Garmin-Chipotle and Team Columbia subjected themselves to rigorous and public testing, yet performed very, very well this year. But the media stubbornly focus only on the dopers, so it would be helpful to have a little positive spin for a change.
Naturally, there are those who think Armstrong doped his way to seven yellow jerseys, so his return would raise those suspicions again. But even though that would be a big part of the coverage, the overall story would be Armstrong the cancer survivor and American hero, rather than Armstrong the possible doper. That would especially be the case if, as has been suggested, he races for no money and posts his test results for the public to examine. His return would bring casual fans to the sport, and increase TV ratings and exposure. Cycling doesn't need Armstrong to save the sport, but he certainly would help it.
Plus, if he rides well, he might be able to impress Megan Fox.
Jim Caple is a senior writer for ESPN.com.