For the first time in his major league career, Derek Jeter has the entire month of October free. How will the Yankees' captain spend the time? Thanks to the Page 2 Way-Forward Machine, we're able to take a peek at his October diary from the upcoming 31 days …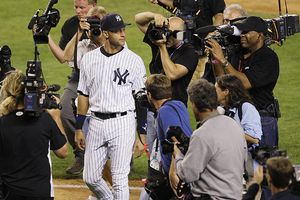 AP Photo/Julie Jacobson
Jeter's so used to the cameras being on him in October. What's he going to do this year?
Oct. 2: People think I'm completely devastated by the Yankees not being in the postseason, but I'm not devastated at all. Really, I'm not. I mean, sure, I'd rather be playing ball right now -- what competitor doesn't want to play for the championship? But actually it's very refreshing to finally have an October off to enjoy all the things I've always wanted to do. I'm going to travel, read, watch college football, see the fall colors in New England, catch some movies, maybe take some Pilates or spinning classes. Really expand myself. It's going to be great! As Hal Borland wrote, "October is the fallen leaf, but it is also a wider horizon more clearly seen. It is the distant hills once more in sight, and the enduring constellations above them once again."
Or as David Wells taught me, if life hands you lemons, cut them up and use them in your gin and tonic.
Oct. 3: I've been inspired by the words of William Bliss Carman, who wrote, "There is something in October sets the gypsy blood astir;/We must rise and follow her/When from every hill of flame/She calls and calls each vagabond by name.'' So screw the playoffs! While there won't be any champagne for me this fall, there will be beer -- I'm going to Germany for Oktoberfest! I booked my flight today for this weekend and I can't wait to go.
Oct. 5: I'm writing this as I wait in the first-class lounge for my flight to Munich. They're showing the Cubs-Dodgers game on the TV, and they keep showing close-ups of Joe in the dugout. I feel sorry for him. I bet he wishes he had October off, too, and was traveling with me, just kicking back and relaxing with no postseason pressure and no one second-guessing him. Yeah, I don't miss that one bit. Did I mention this month is going to be great?
BTW: Why are the White Sox in the postseason when we had a better record?
Oct. 6: A very distressing turn of events. It turns out Oktoberfest begins in September and ended yesterday before I got here. This makes no sense at all. It's like calling Reggie Jackson "Mr. November." Oh well. There's still all that history and architecture and beer here, even if Oktoberfest is over. I'm going to have a great time. As Humbert Wolfe wrote: "Listen! The wind is rising, and the air is wild with leaves. We have had our summer evenings, now for October eves!"
I hope they're showing the playoffs at the Hofbrauhaus.
Oct. 7: Back in New York. I flew home early because there really wasn't much to do in Munich after all, what with that whole Oktoberfest mix-up. Plus, I couldn't find any place showing the MLB playoffs on TV. Not that I really care that much who wins or loses since we're not in it. But I would like to be able to catch a couple innings every now and then. Just to check out how Joe is doing.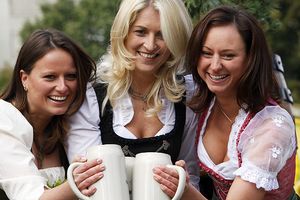 AP Photo/Matthias Schrader
It's actually hard not to have fun at Oktoberfest, or in Munich in general.
Oct. 9: Called up A-Rod today to see whether he wanted to drive up to New England and check out the fall colors. You know -- New York's two most eligible bachelors on the loose. Only it turns out I'm going to have to go solo, because he's leaving for Hawaii in two days! He says it's his week for the time-share. When I asked him why he would buy a time-share for the middle of October, he just said it has never really been an issue for him.
Oct. 10: I'm at a B&B in Vermont, which is very nice, but it's a little remote. It doesn't have any TVs, and it also has awful cell phone coverage. So I can't get any updates on the playoff games. But that's exactly the way I want it! It's great to be removed from all the noise of the playoffs and all the hype. When I think of all the pressure Joe must be under, and all the repetitive questions he's probably getting from the reporters … well, I know I wouldn't change places with him, that's for sure. Being here is just so relaxing and such a nice change of pace. It makes you reflective. I like what Thomas Bailey Aldrich once wrote. "October turned by maple's leaves into gold; the most are gone now; here and there one linger. Soon these will slip from the twig's weak hold, like coins between a dying miser's fingers."
I wonder if they're showing the game at that little tavern I passed about 40 miles down the road.
Oct. 11: Back in New York. The ALCS has started and I didn't want to miss it. Not because I care -- I DON'T!!! -- but just in case Fox wanted me to provide commentary on the series. But they didn't.
Oct. 13: Called up Roger to see what he was up to, and whether he wanted a visitor for a couple days. But he said he could only talk if I agreed to have the call recorded, and then the conversation got difficult because his lawyer kept interrupting to say "At the present time, it would not be prudent to comment on that."
Oct. 14: No NLCS game today. The teams have a travel day, even though they're not traveling. What kind of messed-up schedule is that? Boy, I'm glad I don't have to deal with it.
Balanced my checkbook.
Oct. 18: Went to the store to buy Halloween candy for the trick-or-treaters, only to find out it was too late because they already had their Christmas displays set up. All is not lost, however. The checkout girl said if I can wait a week, they'll have their Easter candy on sale. Plus she gave me half off on a Valentine's Day chocolate sampler. And then she came back to my townhouse for the night.
Oct. 22: Tonight was the first game of the World Series, but I don't care. I'm having such a great month away from baseball. I'm not going to watch the Series. No, not a single minute. I'm going to kick back and relax, read that new Oprah Book Club book, study up on the presidential candidates, meditate, attend the New Yorker lectures, do some yoga, catch a show on Broadway, find out why Oktoberfest is in September … and stay away from the TV. Because I have NO interest in the World Series. None. Zip. Zero. Nada. As far as I'm concerned, it's not even being played.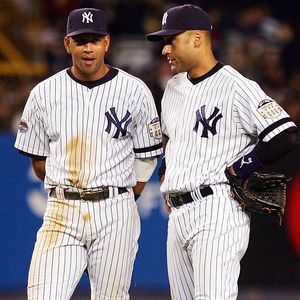 Jim McIsaac/Getty Images
A-Rod could teach Jeter a few tricks for keeping busy in October.
Oct. 23: Good god, I can't get Tim McCarver's voice out of my head.
Oct. 26: The World Series continues, but I will not waste my precious free time on a couch watching the trivial exploits of others. Not when there is so much else available! As Thomas Merton wrote, "October is a fine and dangerous season in America, a wonderful time to begin anything at all. You go to college and every course in the catalogue looks wonderful."
Merton's right. And I'm going to start looking at courses right after the YES Network's marathon of the 1996, 1998, 1999 and 2000 World Series.
Oct. 30: The marathon is over, as is the real World Series. October is ending, and I must admit now that I have had an empty feeling the entire month, like a hunger that cannot be sated no matter how much you eat. I can't pretend any longer. No matter what I wrote, I missed the postseason. I missed it deeply. October baseball is a part of my soul, my very being. Thomas Wolfe wrote: "All things on earth point home in old October; sailors to sea, travelers to walls and fences, hunters to field and hollow and the long voice of the hounds, the lover to the love he has forsaken." I know just what he meant. It's time to stop kidding myself, and to return to the way of life that brought me such joy and fulfillment over lo these many years.
Oct. 31: Slept with a model, an actress and a beauty pageant winner. November is going to be awesome!!!
Jim Caple is a senior writer for ESPN.com.