Forget Cole Hamels and the Phillies. No one in baseball had a more impressive fall than Nate Silver.

Silver is the Baseball Prospectus managing partner who applied his baseball statistical analysis and forecasting models to the 2008 presidential election with his Web site, fivethirtyeight.com (the name refers to the total of 538 electoral votes). He started the site, he says, because of "an annoyance at how polls were covered by the mainstream media, cherry-picking the numbers." Convinced he could do better, Silver used his sabermetric models to correctly forecast some Barack Obama victories in key primaries, and went on to predict that Obama would be elected president with 52.3 percent of the popular vote and 349 electoral votes. With a few votes still being counted, Obama won with 53 percent and 364.
"We worked hard to get the media to treat numbers in baseball in a serious manner and it was fives times worse in politics," Silver said. Yet he convinced them. The site became must-reading for political fans -- Silver says it had three million hits on Election Day -- and was considered one of the most reliable sources of information on the campaign.
So what's easier, predicting how Kosuke Fukudome will play in Chicago, or how John McCain will perform in Virginia?
"I think politics is easier," Silver said. "It's less complex. In baseball, you have 750 players who are active at any one time and each have 30 statistical categories and each have a season. If you look at the matrix of numbers, there are just so many permutations. In politics, there is only one election and a limited number of polls."
Silver says one similarity to baseball forecasting was comparing states that had similar demographics, such as Ohio and Pennsylvania. If McCain or Obama was doing well in one state, you could expect the same trend in the other state as well. "It's like comparing similar players and applying that algorithm," he said. "But there is always the Ichiro Suzuki problem. He's unlike any other player and there are certain states, like Florida, or West Virginia, that aren't like any other state."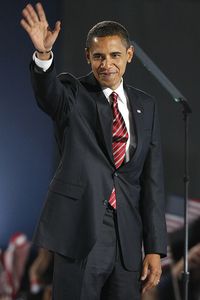 AP Photo/Pablo Martinez Monsivais
Nate Silver nailed the election results on his Web site.
Asked for baseball comparisons, he said McCain's campaign reminded him a lot of this year's Houston Astros. "Start out slow, get ridiculously hot in August, and then completely blow it at the end. Obama, conversely, might be the White Sox, who consistently overachieve expectations but never make it look easy."
More importantly, what would Sarah Palin's VORP be?
"Sarah Palin, I think, would have to have a VORP of -10 or so. Somewhere in the Neifi Perez range; she tangibly hurt that ticket. A replacement level, do-no-harm VP candidate would have been more someone like a Tim Pawlenty or an Evan Bayh."
Silver said the fivethirtyeight site was so successful he's going to keep it alive, even though there isn't another presidential election for four years and another midterm election for two. "We'll have something to say," he said. "We'll look at Congress. If you want to see Chase Utley's stats, you go to ESPN.com and look at his player card. Or you look at his player card on Baseball Prospectus. But if you want to look at Ted Kennedy's player card, where do you go? And we'll look at random things, like why do airlines charge for bottled water?"
A Ted Kennedy player card? A Ted Stevens player card? I can't wait. Unfortunately, we'll have to wait, because right now Silver is exhausted. He barely slept the last couple weeks of the campaign -- "By the end, it was full-time plus" -- and for that matter, he says he couldn't have kept it up had the campaign lasted two days longer. Plus, he has his Baseball Prospectus duties.
"We write our book from now through the first of the year," he said. "I have a week to relax and then it gets just as busy again. In February of 2009 I will just have to find an island in the Caribbean and throw my BlackBerry in the ocean."
One thing Silver hopes people learned from fivethirtyeight.com is how to more intelligently analyze polls. "If there is an outlier that doesn't make sense, you should question it," he said. "But people take the most unusual of the poll results and take them the most seriously. Democrats are like Cubs fans, they expect the worst."
(By the way, Silver is a Democrat, as well as a Detroit Tigers fan by birth, and he says his team was the equivalent of Fred Thompson in 2008 -- though I think they were probably more similar to Rudy Giuliani. Which begs the question: Which team was the Dennis Kucinich of baseball -- the Royals or the Pirates?)
TELL YOUR STATISTICS TO SHUT UP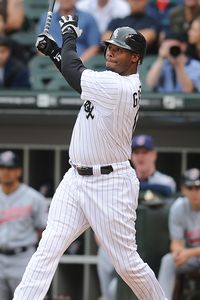 David Banks/Getty Images
He didn't look right in a White Sox uniform anyway.
• Now that Ken Griffey Jr. has filed for free agency, who needs a 39-year-old outfielder who has lost considerable range, suffered a substantial loss in production, and is prone to injury? The Mariners, of course. After losing 101 games despite having a $117 million payroll, Seattle desperately needs to rebuild. But Griffey would make sense, at the right price. For one thing, the team's return to contention appears to be a couple seasons away. The fan base realizes this -- but in the meantime, the return of Griffey would at least give them something to get excited about. And if he consented to a mostly DH role, he also might be able to stay healthy enough to hit 20-30 home runs while filling in occasionally in the outfield or at first base. In some ways, it would be a bit like the Mariners of the early '90s, when you had a couple exciting players and a potential ace (this time Griffey, Ichiro and Felix Hernandez, instead of Griffey, Edgar Martinez and Randy Johnson) to satisfy the fans while management builds the rest of the team around them. True, Griffey is way past his prime (and Ichiro isn't getting any younger), but Seattle fans deserve something fun to watch in return for their money. Plus, the starting rotation could -- cross your fingers and toes -- be pretty decent, perhaps even good enough that the Mariners might surprise people within a season or two. Again, it would have to be the right contract, but signing Griffey sure makes more sense than re-signing Willie Bloomquist.
• The Mariners, by the way, are now the only team to spend their entire history in one city without ever reaching the World Series. (The only other two teams never to play in a World Series are the Rangers and Nationals).
• Meanwhile, the Rays-Phillies World Series matchup continued a very positive trend: the past eight World Series have featured 13 different teams, including teams that had gone 28, 86 and 88 years since their previous world championship. The negative trend is that it was the fifth consecutive World Series decided in five games or less, and the eighth in the past 11. And that's a huge reason why the TV ratings have suffered, bigger than the cities involved, the day of the game, or the time of the game -- how can fans get excited about a series that seems over by Game 3? It might be just one of those things. It might be partially due to American League dominance (though that wouldn't explain this year's Phillies or the 2006 Cardinals). Or it might be that the extra playoff round and the added off days have disrupted the baseball routine so much that play is significantly affected. Regardless of the reason, when a rain delay is the most notable moment of a World Series, you've got some problems.
• But let's not have any more suggestions that baseball move the World Series to a neutral site, in the hopes of better weather. The last thing baseball needs is to become more corporate. Tickets are already expensive, and the strip purchasing system already eliminates poorer fans from attending. But at least many real fans still can attend, and you still know by the home crowd's reaction which team is winning (as opposed to the suit-filled Super Bowl). Sure, sitting in the rain isn't fun, and watching players slide around in the mud isn't optimal, but it's far superior to moving to a neutral site. How many fans could get off work and afford to fly at the last minute to another city where the hotels would probably cost $200-$300 a night? If baseball wants to improve the chances for good weather in the World Series, it should start the season a couple days earlier, end it a couple days earlier -- fans don't go out to see teams out of contention the final weekend anyway -- and then take out the unnecessary off days that were added last year.
• At least the Japan Series is faring well. Last year's series ended famously with a 1-0 perfect game, and this year's series has advanced to Game 6 between the Yomiuri Giants and the Seibu Lions (the Giants lead 3-2). And there is no danger of a rainout -- both teams play in domes.
Jim Caple is a senior writer for ESPN.com.