Henderson Elected To Hall Of Fame
Imagining Rickey Henderson's acceptance speech at the Hall of Fame this July ...
[Following the speeches by the Spink and Frick award winners, Hall of Fame director Jane Forbes Clark takes the podium and unveils Rickey's plaque on a nearby frame.]
"And now it is the Hall of Fame's distinct pleasure to introduce its newest member, the greatest leadoff hitter and base stealer of all time, Rickey Henderson!"
[She looks to her left, but there is no Rickey. She looks to her right, but there is no Rickey. She looks all around. No Rickey. She turns to an assistant and mouths, "Where is he?" And the assistant whispers, "He was playing cards in the back room a couple minutes ago." Suddenly, Rickey races onto the stage and slides -- head first -- into the lectern. He stands, dusts the dirt from his suit, adjusts his sunglasses and pops an Omega vitamin. He grabs his plaque off the frame, lifts it high above his head and shouts:]
"Today, I am the greatest!"
[He listens for applause. Then nods humbly before putting his hand to each ear in an "I can't hear you" gesture.]
"Thank you, thank you. As Rickey looks around at Rickey's fellow Hall of Famers today -- Willie Mays and Lou Brock and Frank Morgan and Yogi Bear and What's-his-name and that guy over there and the guy next to him and that other guy, too. No, not him. He wasn't that good. Rickey means the other guy, the ugly one. Rickey just wants to say what an honor it must be for them all to be up here with Rickey today."
[Points at longtime Oakland teammate Dennis Eckersley and winks.]
"Good to see you again, Roger. You still pitching for Oakland?"

[Glances down at speech, continues.]
"This is Rickey's first visit to Coopersville and he is delighted to be here. Rickey toured the Fame Hall last night and looked at all the plaques of his fellow Fame Men. And he noticed there was a player with the Padres who had 3,000 hits, which is funny, because Rickey had 3,000 hits when he was with the Padres and there was another guy in San Diego when Rickey was there who also had 3,000 hits. Three players with 3,000 hits on one team -- just goes to show you what a great career Rickey had."
[Waits for more applause. Continues.]
"Back in the day, a lot of people criticized Rickey as being selfish and greedy, but the only thing Rickey ever asked for is what he wanted. And what he wanted most was this moment here, being honored for all his accomplishments and his great career. Well, this and a Ferrari Testarossa and a contract that guarantees he'll always make $1 more than anyone else."
[Turns to Clark]
"Speaking of which, where is the check for signing with Coopersville?"
[He looks back at his Hall of Fame plaque, which depicts him wearing a San Diego Surf Dawgs cap. Memories flood his mind as he reads his accomplishments. Tears of pride and joy well up in his eyes.]
"Rickey has played 25 seasons and he has scored more runs than anyone else and has reached base more times than almost anyone else and he has stolen way, way more bases than anyone else has or ever will. He also has pretty much changed teams more times than anyone else but that's only because everyone knew what a great guy Rickey is to be around. He is the greatest leadoff man in history -- don't be comparing Ty Cobb or Rock Raines or Peter Hustle or Ichiro to Rickey. There was only one Rickey and there still is. ... "
[Pauses. Frowns.]
"But they're going to have to make a new plaque with another cap on it because this one is going to be out of date real soon. Yes, Rickey is going to sign with the Phillies for the stretch drive. Because Rickey still has skills. He watches 'Baseball Tonight.' He gets 'MLB Extra Innings.' He knows he can still outrun half the outfielders in the league. And he knows for a fact he can hit if Jamie What's-his-name is still getting guys out. Not that Rickey needs to hit to get on base. He can just crouch at the plate without swinging the bat and with that keen eye of his, get two, three walks a game, easy. And then -- boom! He's gone and on second before you can blink, steals third and scores on a groundball and we're back in the postseason.
"So we'll see you all in Philly beginning next week. Just as soon as this issue gets settled about the contract bonuses, the guaranteed hotel suite on road trips and the Porsche Carerra GT."
[Rickey wipes tears from his eye and pulls out a gold chain. He attaches one end of the chain to the upper-right hand corner of his Hall of Fame plaque and the other end to the upper left-hand corner. He waves to the crowd, drapes the plaque over his head to wear as a necklace and moonwalks off the stage like Leslie Nielsen in "The Naked Gun."]
TELL YOUR STATISTICS TO SHUT UP
• Rickey may have boasted a time or two during his career, but as he might say, it ain't bragging if it's true. And the thing is, even though Rickey talked himself up, he still was seriously underrated -- hell, he not only was left off the All-Century team, he finished behind Carl Yastrzemski in the voting (no offense to Yaz, but Rickey was by far the superior player). One reason for that is we historically undervalue runs and overvalue RBIs. But the fact is, runs are a more important stat than RBIs, if for no better reason than the fact that games are determined by runs, not RBIs. But there is a better reason: It is more impressive to score 100 runs than to drive in 100 runs. Why? Because you can only score one run per plate appearance but you can potentially have four RBIs with one swing. Sure, scoring a run often requires the help of someone driving you in but the reverse is also true. So why do we insist on considering the RBI a batter receives for driving in a runner from second with a single more significant than the run the baserunner receives after having doubled to put himself in scoring position?
• If anyone in addition to Rickey is elected to the Hall today, congratulations. And if they aren't, better luck next year, or eventually with the veterans committee. In particular, good luck to Ron Santo, whom the veterans confusingly continue to not vote in. A nine-time All-Star, a five-time gold glove winner, a great fielder who hit for power in an era dominated by pitchers --what more do the veterans want?
• As my good friend Rod notes, apparently, they froze the wrong parts of Ted Williams.
• With Lee Smith knocking on Cooperstown's door, it's time for another Off Base rant on closers. While Lee Arthur was a very good pitcher for a very long time, and while he began his career as a closer back when the position included an actual workload, Smith also benefited greatly when the role evolved into a ninth-inning specialist. More than 200 of his saves came from 1991 onward when he was averaging just over an inning per appearance. He saved 82 percent of his opportunities, which not only puts him between Billy Wagner and John Franco, it is lower than the major league average for successfully protecting a lead of three runs or fewer in the ninth inning -- throughout baseball history, regardless of relief strategy. Sorry, but that is not a Hall of Fame achievement.
• And finally, speaking of acceptance speeches: No matter how over the top Rickey goes this July, he won't surpass the performances of Colin Ferrell after he won a well-deserved Golden Globe Sunday night by thanking his agent, his lawyer and his publicists, or of Kate Winslet, who acted so overcome she had to be helped to the stage and rambled on so long that she thanked her makeup and hair stylists. (By the way, here's hoping "Slumdog Millionaire" follows up its Golden Globe with an Oscar for Best Picture next month. Off Base's Top 10 movies of 2008 (leaving a slot for "The Wrestler," which is still to be viewed): "Slumdog Millionaire," "Frost/Nixon," "In Bruges," "Milk," "Wall-E," the first half of "Iron Man," "The Band's Visit" (though technically released in 2007) and the documentaries "Man on Wire" and "Bigger, Faster, Stronger."
Jim Caple is a senior writer for ESPN.com.
HALL OF FAME 2009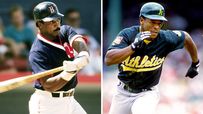 Rickey Henderson and Jim Rice will make up the 2009 Hall of Fame class. Henderson was voted into the Hall in his first time on the ballot and Rice gained admission in his final time:
STORIES
VIDEO
AUDIO
SPORTSNATION
ESPN Top Headlines