Normally at this time I am eagerly awaiting the arrival of pitchers and catchers to spring training, but this year I've expanded my focus from the frankly ridiculous sight of millionaires in a scandal-stained sport swinging bats and chasing balls while wearing what are essentially long white pajamas. This year I am also looking forward to something loftier, something far more dignified: watching athletes in a scandal-stained sport riding their bikes while wearing colorful lycra shorts.
I realize that cycling is a niche sport with a damaged reputation in this country but I don't care. I grow more interested in the sport each year and this season offers compelling reasons why even people who haven't ridden a bike without a banana seat should tune in when the Tour of California begins this weekend.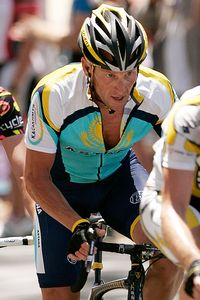 Ezra Shaw/Getty Images
After racing in Australia, Armstrong returns to the U.S. this weekend for the Tour of California.
1. You know who is back.
As you might have heard, the man with nearly as many yellow jerseys as the Lakers equipment manager has come out of retirement after spending the past 3½ years raising millions upon millions for cancer research, running marathons, hanging out shirtless with Matthew McConaughey, finding his name in political rumors and being linked with about every actress older than Hannah Montana. Lance Armstrong finished 29th in last month's Tour Down Under, the first race in his comeback, and races again in the Tour of California. He'll also race in the Giro d'Italia for the first time in May and then that Tour day France thing in July.
Armstrong insists that he is coming back to draw attention to his cancer research fight, which is admirable, though I suspect he also really wants to race again. We've seen aging, iconic athletes come out of retirement before but even by jaundiced media standards, Armstrong is attempting something extraordinary. Not only has no cyclist ever won the Tour de France at his age -- he'll be two months shy of his 38th birthday during the Tour this year -- only one rider older than 34 has won it (Firmin Lambot, at age 36 in 1922).
Can Armstrong do can it? The odds would seem to be against him, but it seems to me he has faced tougher odds at winning a Tour de France when he was lying in a hospital while cancer ate at his body and brain. Jens Voight is the same age as Armstrong and has been competitive enough to win stages of the Tour de France and Giro the past couple years. Plus, remember that Armstrong retired pretty much at the top of his game (ala Jordan in 1993), not past his prime (a la Jordan in 2001).
So an eighth yellow jersey is definitely possible, and yellow wristbands coming back into fashion is quite likely.
2. Quarterback controversy?
Armstrong is riding for Astana, which is sponsored by a consortium of Kazakhstan companies. Yes, Kazakhstan, Borat's country, though the real country is vastly different from the one portrayed in the movie. The real Kazakhstan covers portions of central Asia, not rural Romania, and is a major oil exporter whose national drink is not fermented horse urine.
The thing is, Astana already had Alberto Contador, who is one of a handful of riders to ever win all three Grand Tours (the Tour de France in 2007, the Giro d'Italia and the Vuelta a Espana last year) and probably is the world's best stage cyclist right now. It also has Levi Leipheimer, who finished third in the 2007 Tour de France, second in the 2008 Vuelta and has won the past two Tour of Californias. (It also has Andreas Kloden, who finished second in the TdF in 2004 and 2006.) So what we have here is the equivalent of the 1927 Yankees, only with less body fat than Babe Ruth (thank God the Yankees wore pinstripes, not lycra). Astana manager Johan Bruyneel -- Lance's good friend and boss when he won his Tour titles -- has yet to say which rider will be the leader in France (though the stated goal is for Leipheimer to win in California, where Contador will not be racing).
Contador recently told reporters he was happy with the situation, but adding Armstrong to the mix is a bit like Bill Belichick going out and signing Brett Favre and saying that he, Tom Brady and Matt Cassell will all share the quarterback job. It could work out extremely well -- Astana could finish 1, 2, 3 on the podium in Paris -- or it could be a reality show. Or, quite possibly, both.
3. Remember these guys?
After keeping the world's legal system gainfully employed for two years, Floyd Landis returns from his two-year ban following his 2006 Tour de France "victory." Landis either cheated when he rode his infamous Stage 17 or got hosed, and I lean to the latter given that even the arbitration board ruling against him acknowledged the test lab failed to follow procedure and handled his samples sloppily. Whether he ever rides in the Tour again remains to be seen but he'll ride in California for the wonderfully named sports medicine team, OUCH.
Ivan Basso, the Italian climber and 2006 Giro winner, is also back from a suspension. He finished second to Lance in the 2005 Tour but pulled out just before the 2006 Tour and hasn't ridden it since due to his involvement in the Operation Puerto doping scandal.
And then there is Tyler Hamilton, who is so tough he makes NFL linemen look like "American Idol" losers. He rode virtually the entire 2003 Tour de France with a broken collar bone suffered during a crash, which is nothing compared to his second-place performance in the 2002 Giro when he rode with a broken shoulder that caused such pain he ground his teeth to the point they needed to be capped. He also received a ban for blood doping in 2004 -- explaining why tests detected the presence of someone else's blood in his sample, he used the infamous "vanishing twin in the womb" defense previously invoked on "All My Children" -- and hasn't ridden in a grand tour since. After returning to win the U.S. road championship last year, he'll ride in the Tour of California for Rock Racing, a controversial team whose attitude is probably best captured by its logo of a gleaming skull.
So, yeah, the presence of those guys in the Tour of California is a good reminder that cycling still has some doping issues. And no, cycling doesn't have the greatest reputation at the moment. But remember, there are two reasons so many cyclists have been busted in recent years. Obviously, one is that -- duh -- many of them have, in fact, doped. Another reason, however, is that the sport actually tries to catch and punish the dopers.
Cycling is trying to clean up its sport and many cyclists want to see changes. Team Columbia-Highroad (George Hincapie, Mark Cavendish, Kim Kirchen) and Garmin-Chipotle (Christian Vande Velde, David Miller, David Zabriskie) have imposed strict independent testing systems and been very successful.
So from rides across the Golden Gate Bridge, through Italy, out of Monaco and up the draining slope of Mont Ventoux, what cycling provides this year is the perfect formula for drama: a little dirt, a little soap and quite a bit of soap opera.
Jim Caple is a senior writer for ESPN.com.