SEATTLE -- I was hoping Ken Griffey Jr. would sign with the Mariners and come home where he belongs. In fact, if he had taken longer to make up his mind I might have stood outside his window holding a boom box above my head a la John Cusack in "Say Anything" (the iconic Seattle film that was released the same week in April 1989 that Junior played his first game in the Kingdome). I only wish the Mariners had gone further with the homecoming theme.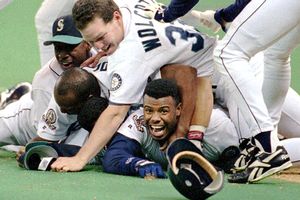 AP Photo/Elaine Thompson
Mariners fans will never forget Griffey peeking out from beneath the pile after scoring to beat the Yankees in the 1995 ALDS.
In addition to bringing back Junior, the Mariners should have signed Randy Johnson, Jamie Moyer and Derek Lowe as free agents, and even Omar Vizquel. Seriously. That's how far this team has fallen in recent years, how few players it has developed since winning 116 games in 2001 (no, I don't count Willie Bloomquist). The Mariners would actually be a better team if they had replaced the players they had last year with those who are 46 years old (Moyer), 44 (Johnson), 42 (Vizquel) and 39 (Griffey). And for good measure, they could have re-signed Raul Ibanez, then traded for Alex Rodriguez -- who, despite the recent moral outrage, remains the league's best player -- and be in position to win the American League West.
But I'm satisfied with Griffey, who gives Seattle fans something to smile about after suffering through the worst year in sports history. I didn't quite realize how much I wanted Junior back until it appeared he was going to sign with Atlanta. It was like having him jilt Seattle all over again. But when he finally made up his mind and picked the Mariners, a grin the width of the pitching rubber slid across my face.
Look, I'm not kidding myself. I know this is not 1997. I know Griffey is not 28 years old and he is not going to hit 56 home runs and drive in 140 runs and scale outfield walls as if Mary Jane Watson's life depended on it. Nor is my Microsoft stock going to double in value and split several times. This is 2009, and Junior looks more like Ken Griffey Sr. these days, and why not? He's nearly as old as Senior was (40) when the two homered back-to-back in 1990. More than likely, Junior will hit 20 home runs and miss a month of games on the disabled list, and my Microsoft stock will decline another 10 percent.
Junior Comes Home
Top 10 Ken Griffey Jr. moments with the Mariners:

1. At age 19, doubles to left-center off Oakland's Dave Stewart in first major league at-bat in April 1989.

2. In first at-bat in the Kingdome, homers off Chicago's Eric King.

3. Robs the Yankees' Jesse Barfield of a home run with a spectacular catch, holds the ball up and sprints to the dugout with a huge grin (1990).

4. Senior and Junior hit back-to-back home runs off the Angels' Kirk McCaskill (1990).

5. Goes 3-for-3 with a home run to be named All-Star Game MVP (1992).

6. Homers off Minnesota's Willie Banks, his eighth straight game with a home run, tying Dale Long and Don Mattingly for the major league record (1993).

7. Griffey (who had recently returned from the DL after a broken wrist) homers off the Yankees' John Wetteland to deep right to give Seattle a 9-7 win ... and sparking Seattle's amazing comeback from 13 1/2 games out of first place in late August (1995).

8. Trailing 4-2 in Game 5 of the 1995 ALDS, homers off the Yankees' David Cone in the eighth inning. M's would later tie the game and ...

9. Scores from first base on Edgar Martinez's double to left, giving the Mariners a dramatic playoff win.

10. Hits 56 home runs and drives in 147 runs in 1997 to win his only MVP award.


But that's all right. Because there is so little downside to this deal. The contract is the baseball equivalent of food stamps -- about $2 million plus incentive bonuses -- and the Mariners should make more than that in increased ticket sales. They didn't have a dependable DH -- nor should you develop young players as DHs -- and they didn't have a left fielder who can hit, so no one's development will be hurt. And more importantly, there is a good chance that Griffey, if healthy, will actually help the team (though the more games he plays as DH and not in left field, the better).
Plus, he'll give fans something to cheer. I don't understand the criticism that signing Griffey is primarily a move to boost attendance. Yeah, gee, we sure wouldn't want to give loyal fans who have sat through so many miserable seasons something actually worth watching in exchange for their $40 tickets and $8 beers.
What could go wrong? Not much. Here's the worst-case scenario:
Junior tears his hamstring jogging out a grounder in spring training and spends so much time on the disabled list that the Mariners never get an attendance bump. He mopes around the clubhouse and complains that the ball doesn't carry well at Safeco with the roof open or with it closed, that the fans like Ichiro more than him and that the ice in the trainer's room isn't cold enough, while Adrian Beltre complains he doesn't play the game the right way. Griffey bats .240 with eight home runs and 44 RBIs, but hits just well enough in September that Seattle feels obligated to re-sign him for 2010.
Even if all that happens, though, he still will be more productive than Jose Vidro last year, and costs about a quarter of the price. So what's the harm?
Meanwhile, he probably will be much better than that. Here's the best-case scenario:
As a full-time DH and sometime left fielder, Griffey largely avoids injury and is able to play 140 games. He hits 31 home runs and drives in 94 runs, giving the Mariners needed power in the lineup, which, along with otherwise significantly improved defense and a healthy rotation, helps them win 85 games and contend in a weak AL West. The Mariners sell 100,000 extra tickets to fans specifically coming to see Griffey, and another 100,000 to fans eager to see a winning team. The entire city's morale soars, reversing the housing market, sending Microsoft stock up and prompting local politicians to agree on a transportation package. Meanwhile, with personal financial losses mounting, Oklahoma City Thunder owners Clay Bennett and Aubrey McClendon agree to sell the NBA team to Microsoft CEO Steve Ballmer, who moves the team back to Seattle. And then Griffey re-signs for 2010 and the Mariners return to the postseason for the first time since 2001. Felix Hernandez and Brandon Morrow pitch the Mariners into the 2010 World Series (i.e., the November Classic), and Junior retires to Orlando after finally achieving his career goal.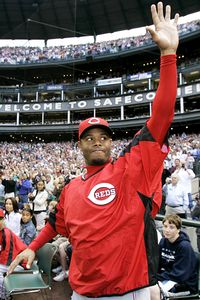 AP Photo/Ted S. Warren
Griffey received a huge ovation when he returned to Seattle with the Reds in 2007.
Griffey never should have left Seattle. He was one of the best players in the game when he left, but his career nose-dived soon after. He hit 40 home runs with 118 RBIs his first season in Cincinnati, but never got above 93 RBIs or 35 home runs again, mostly because he missed an average of 60 games a year due to injuries. Seattle didn't do all that well, either. Boeing moved its headquarters to Chicago, Microsoft stock lost 62 percent of its value and they set "Grey's Anatomy" here.
Seattle fans were offended when Junior left, but all is forgiven. He's back home, and seeing his name on the roster again is like seeing his smile on that Upper Deck rookie card of his in 1989.
So I'm going get my Ken Griffey Jr. chocolate bars out of storage, wear some flannel and listen to grunge and pretend this is 1995 and four-bedroom homes with a view on Capitol Hill go for less than $500,000 and Microsoft shares keep splitting and the Sonics are still in town and Junior is taking a lead off first base while Edgar Martinez steps in against Jack McDowell.
Yes, that's nostalgia talking. Yes, I'm letting sweet memories of the past cloud my vision of the present. But so what? It sure beats watching Richie Sexson strike out with runners in scoring position.
Jim Caple is a senior writer for ESPN.com.