Julian Tavarez set a big league record for candor last week when the veteran reliever explained why he signed a minor league deal with the Washington Nationals after turning down a similar offer during the winter. "Why did I sign with the Nationals?" he said to a group of reporters. "When you go to a club at 4 in the morning, and you're just waiting, waiting, a 600-pounder looks like J-Lo. And to me this is Jennifer Lopez right here. It's 4 in the morning. Too much to drink. So, Nationals [are] Jennifer Lopez to me."
In other words, Tavarez considers the Nationals fat and ugly, and he only signed with them because he was drunk and desperate, and it was so late he was unable to make an intelligent decision. But other than that, they're a winner!
Here's what others might have said about their moves this offseason, had they been as brutally candid as Tavarez:
Ken Griffey Jr.
"Why did I sign with the Mariners? Remember that girl you were in love with in college and how she worshipped the ground you walked on? But after graduation you moved away for a job with a great salary back in your hometown? Only the company immediately started downsizing, and the other employees started resenting you because you made so much money, and eventually they moved you to another floor and acted like they never should have hired you. But then you find out that your old girlfriend is divorced and wants you back. She's gained about 70 pounds from having five kids, is up to her ears in credit card debt thanks to a bad recent relationship and has been living in a cellar the past five years, but she still loves you, she really loves you. So you get back together. That's me. I'm the aging guy looking to recapture the lost opportunities of my youth, and the Mariners are the old girlfriend, who still looks as beautiful as Angelina Jolie to me, even if none of her kids can hit for power.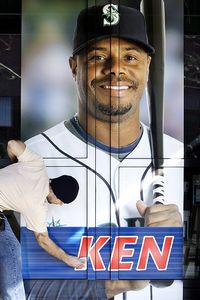 AP Photo/Elaine Thompson
Seattle is preparing to welcome back Ken Griffey Jr. this season.
"Although I can't help wondering whether I would be happier with Atlanta."
Pedro Martinez
"Why am I holding out for $5 to $8 million when it's less than three weeks until Opening Day, I've only won 17 games total the past three years, and posted a 5.61 ERA last season? Because you know those aging guys who hang around nightclubs? They used to be real players back in the day. I mean, they could have any girl they wanted just by snapping their fingers. Only they don't realize they've put on 30 pounds, they have a bald spot on the back of their head, only middle-aged dudes wear Tommy Bahama shirts these days and the women are all 20 years younger than them. But they keep expecting that if they continue working the room, they'll go home with that 23-year-old lingerie model. Well, I'm that lounge lizard, and it might be 4 in the morning, but I just know that if I bide my time, the Dodgers will be my Gisele Bundchen."
Brian Cashman
"Why did we sign A.J. Burnett for $82 million even though the guy has only been healthy enough to pitch more than 165 innings two of the past six seasons? It's like that time when you were celebrating in an expensive bar, and you knew you had had enough to drink and that you should stop, that you would only regret it later, but you were also just buzzed enough that you said, 'What the heck, this is fun, I can afford it, point me to the vodka slide.' And you wound up so drunk you had to pay for a cab home, your wife told you to sleep on the couch, you woke up with an enormous hangover, you were late for an important meeting and you got an angry message from your boss demanding that you explain why you signed Carl Pavano. Too many drinks, and Burnett is that last $18 shot of aged Scotch.
"By the way, you can drink 'til 4 in New York City, and the next round of absinthe is on me. We're about to sign Pedro for $18 million for two years, plus a player option for 2011! Woo hoo!"
Nate McLouth
"Why did I sign a four-year contract extension with the worst team in baseball? When you're in a casino at 4 in the morning -- and I'm not talking about one of those glitzy casinos on the Vegas Strip; I'm talking about one of those old, sad casinos in Reno, with 80-year-old guys wheeling their oxygen tanks from slot machine to slot machine -- and you've lost almost everything, but you just have a feeling in your gut that the odds are finally going to turn in your favor. So you get an advance on your credit card to make the big score. I'm that compulsive gambler, and the Pirates are the face card I'm splitting."
Manny Ramirez
"Why did I sign with the Dodgers? Wait a minute -- I signed with the Dodgers? Really? When?"
TELL YOUR STATISTICS TO SHUT UP
The first-round World Baseball Classic game between Japan and Korea drew a 37.8 television rating in Japan, making it the highest-rated sporting event in Japan since the country's appearance in the 2006 WBC championship game. In other words, a first-round WBC game outdrew the 2008 Olympics.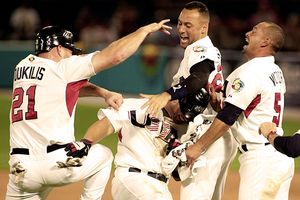 AP Photo/Jeffrey M. Boan
Well, the U.S. players certainly seem excited about the World Baseball Classic.
It's not just Japan that is excited. The WBC prompted Fidel Castro to write a column about the tournament in which he criticized Japan for bunting with one out in a close game. "I am sure that for our experienced team," the Cuban dictator wrote, "that would have seemed an error whichever elemental way it is analyzed." That sort of analysis makes you wish Castro had gone into sports writing rather than revolution. After all, just think of what he could have written about Manny's new contract:
"It is shameful that the decadent American society pays one citizen such an obscene amount while millions are left homeless on the streets by the evils of the capitalist system. Plus, Manny's VORP has declined significantly in recent years."
Meanwhile, WBC interest in the United States remains somewhat lower, with the NCAA tournament figuring to distract fans even more this weekend. That's a shame. Because the WBC consistently delivers outstanding entertainment. From the moment I tuned into the first U.S.-Canada game, I was so hooked that I've started recording games so I don't miss them. Despite the tournament's limitations (maximum pitch counts being the most obvious one), the games are gripping. From the Netherlands' staggering upset of the Dominican Republic in the first round to America's three-run ninth-inning rally Tuesday night to advance to the semifinals, the WBC has been a joyride of baseball performance and emotion. We might be accustomed to our spring training routines, but it's really fun to watch games that matter at this time of year.
I don't want to come off like one of those soccer bores who always moan that Americans are missing out. And I'm not saying you shouldn't care more about your team's spring preparation, or camp out on your couch for March Madness. But I will say this: In between filling out your NCAA bracket and studying for your fantasy draft, give the WBC a chance. It really is fun. One game will be far more persuasive than any words I write.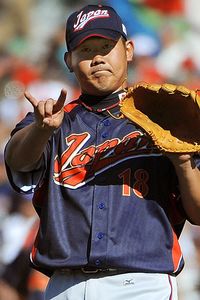 Kyodo/AP Images
Daisuke Matsuzaka has pitched extremely well in the WBC.
BOX-SCORE LINE OF THE WEEK
Seattle's Garrett Olson had an interesting game over the weekend, in which he allowed seven runs on three hits and five walks in less than two innings. But what really caught the attention of Mariners fans was the performance of Felix Hernandez in Venezuela's 2-0 victory over Puerto Rico, when he threw 4 2/3 scoreless innings to get the win, but needed 86 pitches to do it.
Yes, 86 pitches. Considering that Hernandez has been considered Seattle's future for several years now, it's not surprising some people were a little uncomfortable with that pitch count in mid-March. But last I checked, the pitchers back in spring training camp were the ones who were out with everything from a sore forearm (Brandon Morrow) to a sore buttock (Erik Bedard). Will the high pitch count hurt King Felix down the road? Let's hope not. Meanwhile, remember that Daisuke Matsuzaka was the star of the 2006 WBC and it didn't hurt him any that season.
Speaking of Dice-K, he had this week's best line with his performance against Cuba over the weekend:
6 IP, 5 H, 0 R, 0 ER, 0 BB, 8 K
He also threw 86 pitches and raised his WBC record to 5-0 in five starts.
Jim Caple is a senior writer for ESPN.com.