Commentary
Let's savor these early surprises
Updated:
April 29, 2009, 8:17 AM ET
By
Jim Caple
| Page 2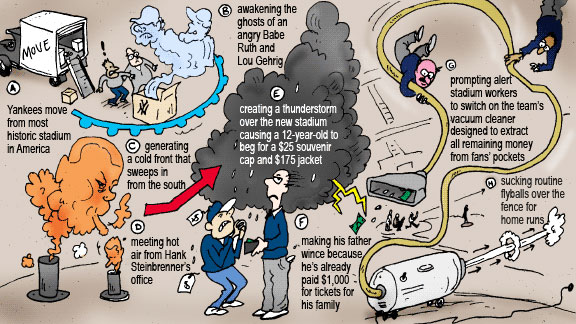 Kurt SnibbeWhat causes the wind tunnel effect and all those home runs at the new Yankee Stadium? After studying weather charts, architectural plans and environmental impact statements, Off Base reveals the answer.
This is the time of the year when those "experienced" buzz-killers warn us that baseball has a very, very long season, and that the first two weeks are a tiny sample size, and that it's way too early to get excited about your team's hot start, and that the Pirates will tumble back to earth as surely as the cherry blossoms will fade and fall from the trees.
Oh, and your favorite player is probably on steroids.
These are the same people who will lean over at your table while you savor a chocolate soufflé oozing raspberry sauce under a scoop of French vanilla ice cream and say "You know how many calories are in that, don't you?" Or congratulate you on a winning exacta at the track by saying "You'll have to report that to the IRS." Or elbow you at a magic show and say "He didn't really make that elephant fly and then burst into flames."

Please. Can we just enjoy the moment?
Look, I understand there are still 24 weeks left in the season. I know Zack Greinke will not only give up runs this year, but will also (gasp!) lose games. I know the Pirates will not continue to throw two shutouts a week, the Padres will not win three out of every four games they play, and Jarrod Washburn is not going to win every start for the Mariners. But there's plenty of time to think about the negative when it happens. God knows, if you root for the Pirates, you've spent most of the past 17 years thinking about nothing else but unpleasant reality. What's wrong with enjoying the rich possibilities while they exist?
"There's nothing wrong with that," Tampa Bay first baseman Carlos Pena said. "In fact, it's a necessity. Thinking about all the possibilities is actually a very good thing."
Pena is in a good position to know. His Rays entered last season as the worst franchise in baseball -- even worse than the Pirates! -- a team so bad, when the players found themselves in first place during a June road trip to Boston, they took photos of the standings on the Fenway Park scoreboard to preserve the moment because … well, you know, just in case.
Fortunately, "just in case" never happened. The Rays shocked the baseball world by remaining in first place the rest of the season, winning the AL East, and winning the American League pennant before losing the World Series to the Phillies. And, just as the Rockies did the previous season, they gave fans everywhere reason to hope.
"Baseball is a game where everything can happen," Pena said. "That's a beautiful concept for the entire world to grasp. People relate their lives to baseball, and it's cool to see a team that wasn't supposed to be where we were suddenly in the World Series playing for the world championship. I thought it was very inspiring. It was a story the world needed to hear."
The Rays are why you should not reflexively discount the early part of the season. First of all, if your team is destined to collapse as expected, this is the time you need to enjoy, rather than placing it under a magnifying glass in search of blemishes. Secondly, you just never know. Maybe that deceptive start isn't so deceptive.
[+] Enlarge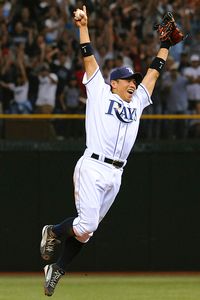 Kyodo/AP ImagesHey, who expected the Rays to be doing any celebrating a year ago?
Like everyone else, when the Rays were in first place last May, I was just waiting for them to collapse. I fully expected them to be like Wile E. Coyote racing off a cliff in pursuit of the Road Runner, running along on nothing but air until he eventually realizes there is no ground beneath him and then plummets thousands of feet, landing with a plume of dust on the valley floor.
Except that never happened with the Rays. They just kept winning and winning and winning.
"Too many times, there is so much publicity and so many outlets of information -- television, radio, newspaper, whatever -- that people tend to believe that [negative] stuff," Tampa Bay manager Joe Maddon said. "But it's about the group and how they interact and how good they think they are and what their skill level is. I always talk about circling the wagons and believing what we believe in."
Most teams with a long history of losing do not magically turn things around overnight. There are reasons, after all, why they finished so far out of first place for so many seasons. But every once in a while, teams not only surprise us; they capture our imaginations. One year after finishing in ninth place, the 1967 Red Sox went to the final game of the World Series, a season that turned around the franchise forever. After losing an average of 107 games their first seven seasons, the Mets won the World Series in 1969. In 1991 the Twins and Braves met in the World Series, after both teams finished in last place the year before. The 1994 Mariners had the second-worst record in the American League, yet a year later they won their first division title and saved baseball in Seattle. The 2007 Rockies … well, you get the point.
So don't tell me we have five and a half months left in the season and before it's over the Padres will trade Jake Peavy, the Mariners' lack of offense will cripple them and the Pirates will soon realize there's no ground beneath their feet. You don't need to tell me that. I've watched baseball all my life, so I know what is likely to happen.
But I'm not thinking about any of that. Right now, I'm just going to sit here and take in the beauty of baseball's cherry-blossom season for as long as it lasts. Because after watching baseball all my life, I know there is the delightful possibility that one of these teams' blossoms just might produce enough fruit to last into October.
Just as I know that the first two weeks are a pitifully tiny sample that is utterly meaningless, and the Giants' poor start is a complete aberration and they will start winning soon.
BOX SCORE LINE OF THE WEEK
Last week was a great one for box-score lines. The Rangers' Ian Kinsler had a terrific one -- 6 AB, 5 R, 6 H, 4 RBI, 2 2B, 1 3B, 1 HR -- when he hit for the cycle. Tim Lincecum took a tough no-decision despite this line: 8 IP, 5 H, 0 R, 0 ER, 0 BB, 13 K, while teammate Randy Johnson picked up career win No. 296 with this gem: 7 IP, 1 H, 0 R, 0 ER, 2 BB, 7 K. Kansas City's Zack Greinke (9 IP, 7 H, 0 R, 0 ER, 0 BB, 10 K) and Texas' Kevin Millwood threw rare complete games against each other. Milwaukee's Mike Cameron had a symmetrically pleasing output: 3 AB, 3 R, 3 H, 3 RBI. And then there was Seattle's Miguel Batista, with this perplexing line: 0 IP, 2 H, 1 R, 1 ER, 0 BB, 1 K (the batter reached first on the strikeout due to a passed ball).
But this week's award goes to this simple line:
Att-43,068
[+] Enlarge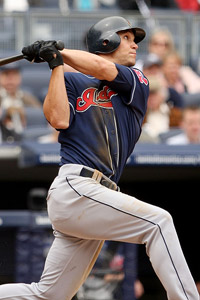 Ezra Shaw/Getty ImagesLook past Grady Sizemore, and size up the empty seats.
That was the announced attendance for the fourth game at the new Yankee Stadium, played under sunny spring skies on a Sunday afternoon. As these photos by Paul Katcher show, the Yankees might have miscalculated a bit when they set their ticket prices for the new stadium -- at least for those that go for $350 behind the dugouts, and the notorious $2,500 seats behind home plate. The Yankees didn't even sell out the very first game at the new stadium.
The Mets are having similar problems at their new ballpark. After selling out the opener, they've drawn crowds right around 36,000, or about 6,000 less than capacity.
If, like me, you've been asking yourself for years when sports teams would finally reach a limit on the price fans will pay for a ticket, consider it reached. But before you crow too much over the Yankees' avarice, bear in mind that they still sold about 85 percent of their tickets, despite what are by far the game's highest prices. And while we might scoff at the Yankees trying to sell seats behind the dugouts for $350, they apparently were able to sell tickets for $90-$125 behind the right-field fence.
So while the New York teams reached the limit on ticket prices, they didn't miss by much.
Two important questions are: 1.) Whether they'll be forced to lower prices on those "premium" seats to avoid the embarrassing empty sections. Maybe they will, maybe they won't. The Nationals still are trying to sell their premium seats for $300-$335.
A more important question to ask about new stadiums is: 2.) While the new parks are almost always more pleasant places to watch a game, are they really better for fans overall if the smaller capacity drives up ticket prices enough that some people can't afford to attend as many (if any) games?
[+] Enlarge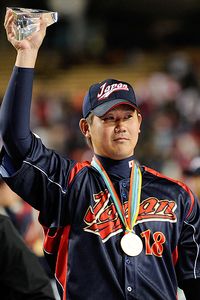 Kevork Djansezian/Getty ImagesIs the WBC to blame for Matsuzaka's injury? Who knows?
TELL YOUR STATISTICS TO SHUT UP
• When Kenji Johjima joined Daisuke Matsuzaka on the disabled list just one day after Ichiro came off the DL, speculation rose that the injuries were due to the players' participation in the World Baseball Classic. Red Sox manager Terry Francona told a radio station he thinks Dice-K's sore arm is related to the WBC. But are the injuries really WBC-related? That's impossible to know for sure. It's certainly possible that pitching in playoff-intensity situations this early in the year could lead to an arm injury. But why would it lead to an injury for a position player? (Or in the case of Ichiro, a bleeding ulcer?) It's not like these guys were competing in mixed martial arts; they were playing baseball. Nor are they the only players with injuries. At last count, there were 105 players on the DL, roughly 12 percent of all major leaguers. Yet only about five percent of players who participated in the WBC are on the DL. Korean pitcher Cha Seung Baek is on the DL, and he didn't play in the WBC, while Shin-Soo Choo, who did, is healthy and has hit three home runs for Cleveland. So what does it all mean? Who knows? But pinning Dice-K's injury on the WBC -- remember, he had a great season after the 2006 WBC -- is mere guesswork. Francona might be right. He also might be wrong. The WBC might actually prevent injuries by better preparing players for real game situations. We just don't know. The only thing we know for sure is that players get hurt all the time in baseball. Ask Atlanta's Yunel Escobar. He strained an abdominal muscle while jumping up and down in the on-deck circle.
• The reduced "suspension" of Josh Beckett this week is another example of how punishments need to be changed for starting pitchers. Forget whether Beckett did or did not intentionally throw at Bobby Abreu. Suspending a player is supposed to force him to miss games in which he would otherwise participate. But Beckett essentially will not miss a start (he has to miss four games anyway), so he's not being punished at all. If the suspension is to discourage pitchers from throwing at batters, they must actually lose playing time. For starting pitchers, that means making them wait until at least two other starters have each pitched two games from the time the suspension takes effect, or a minimum of 10 days if the team is unable to have two starters do so because of injuries or general ineffectiveness.
• Bob Feller is 90 years old, but he will start and plans to pitch an inning or two in the first annual Hall of Fame Classic game this Father's Day in Cooperstown. "I throw in the backyard here where I live outside of Cleveland," he said on a media conference call last week. "I throw a rubber ball up against a bankboard on the basket to keep my arm loose. I can still throw 60 feet six inches, and that's all that's necessary, they tell me." And he still probably throws harder than Jamie Moyer.
• Nice first two weeks for Kansas City reliever Kyle Farnsworth. He blew a 2-1 lead on Opening Day by serving up a three-run homer in the eighth inning for his first loss, gave up three runs in the seventh inning last Wednesday for his second loss, and gave up a walk-off homer Sunday for his third loss. … Florida became the first team in history to sweep a three-game series despite trailing in the ninth inning of each game. … There were six shutouts Saturday.
Jim Caple is a senior writer for ESPN.com.