Commentary
Former All-Star Zimmerman dreams again of majors
Updated:
April 30, 2009, 5:37 PM ET
By
Jim Caple
| Page 2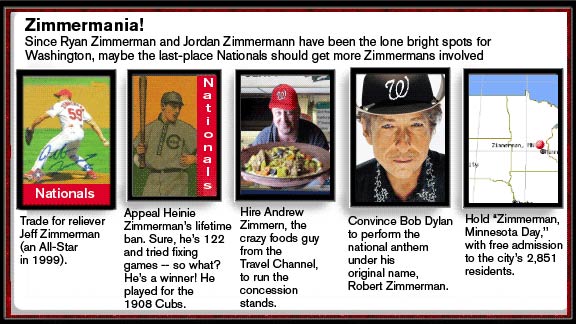 Jim Caple/Kurt Snibbe
April was a great month to be named Zimmerman. Nationals third baseman Ryan Zimmerman signed a $45 million contract, while teammate Jordan Zimmermann (note that he spells his name with two n's) won his first two major league starts to account for half of Washington's victory total for the season.
Given that success, the 4-15 Nationals should consider incorporating more Zimmermans into their game plan. I called the city hall in Zimmerman, Minn., and was told by an official that the town would love to help the Nationals. "Are they in the playoffs?"
Ummm, no.

Unfortunately, the Nationals missed out on former All-Star Jeff Zimmerman, who signed with the Mariners earlier this month and is pitching in extended spring training camp. He's 36, hasn't pitched in the majors in eight years and hasn't pitched in the minors in six. But if returning to the majors after an eight-year hiatus seems unlikely even for someone named Zimmerman, bear in mind Jeff already took one of the most unlikely roads to reach the big leagues the first time. "I'm trying to top myself," he said. "I never do things the easy way."
That first trip to the majors not only involved living on peanut butter and crackers while pitching for an independent league team in Canada, it also took Zimmerman a little farther afield when he pitched a season with the Montpellier Barracudas in France. That's right. France. "The food was pretty decent, and the scenery was outstanding," Zimmerman said.
Montpellier is part of the eight-team French Elite League, and for one summer Zimmerman was its Nolan Ryan. There were obvious perks to pitching in the south of France but pay was not one of them, which is why Zimmerman somehow lost weight despite living on the Mediterranean. "I wasn't making a whole lot of money so I had to either spend it on meat or wine, and I went with the wine," he said. "I lived on cabernet and baguettes."
He returned from France and pitched with the Canadian national team, hoping to reach the Olympics. When Canada failed to qualify for the 1996 Olympics, he left baseball and earned his MBA. The degree didn't help him find a job in the financial world, but the slider he developed in France helped him get a uniform with the Winnipeg Goldeyes of the independent Northern League. The Rangers saw him there and signed Zimmerman in 1997.
Two years later he was a rookie pitching in the All-Star Game at Fenway Park and in the postseason against the Yankees. Two years after that, he saved 28 games as the Rangers' closer and signed a three-year, $10 million contract.
And that was the last season he pitched in the majors. Asked to describe what happened after the 2001 season, Zimmerman said "A medical mess." He blew out his elbow twice, requiring two Tommy John surgeries -- "I think Jose Rijo had three; I don't want to tie his record" -- and endured assorted nerve pain. When his arm didn't recover adequately, he retired from baseball in 2006 and returned to his home in Vancouver, B.C. His last actual game was with the Rangers rookie league team in 2003.
[+] Enlarge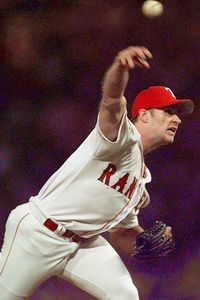 AP Photo/Roberto BoreaZimmerman pitched in the All-Star Game in 1999, when he went 9-3 with a 2.36 ERA.
Zimmerman, now 36, never quite gave up on that baseball thing, though, and this January, he says, "There was nothing for me to do around the house except get in my wife's way, so I started throwing the ball around and lo and behold."
His arm felt fine. More than fine; it felt awesome. He started out throwing a T-ball inside a racquetball court, advanced to throwing a regulation baseball in a tennis court and then threw off an actual mound while visiting his brother, former major leaguer Jordan, in Arizona in March. Jeff felt so good he wanted to get an accurate reading of his velocity, so his agent contacted the Mariners and asked to borrow a radar gun. The Mariners sent over scouting director Carmen Fusco to take a look instead. Fusco was impressed, and Zimmerman signed a contract with Seattle a couple of days later.
He's determined to reach the majors and to fully appreciate the journey this time, even if it doesn't include cabernet or topless beaches in the south of France.
"I didn't really enjoy it as much as I should have," Zimmerman said of his first trip to the majors. "There were some awesome moments, but I never took time out to appreciate how far I had come and how awesome it was. I never even let my guard down at the All-Star Game. I had this image of myself that I was never really good enough. I was always around high draft picks and felt like I had to work twice as hard as everyone else. I probably worked too hard on the rehab, and never gave my mind a rest.
"It's the opposite this time around. I just want to go out and enjoy it."
Right now Zimmerman is concentrating on building back his arm strength and has yet to face batters. That will come, though. And with the success for Zimmermans this year -- "We're having a real renaissance at the back of the alphabet," Jeff said -- perhaps Jordan, who pitched briefly with the Mariners in 1999, should attempt a comeback, too.
"He's getting all sorts of grief [because of Washington's Jordan Zimmermann]," Jeff said. "He sells real estate in Arizona and I asked him how his week was and he said, 'I sold three houses and today's my birthday, does that count as a good week?'"
Are you kidding? Considering the housing market, that might count as the best week by a Zimmerman of them all.
BOX-SCORE LINE OF THE WEEK
There were some beauties out there this week. Yankees first baseman Mark Teixeira (1 AB, 3 R, 0 H, 0 RBI) had only one official at-bat and no hits Saturday, yet he scored three runs by drawing five walks. Colorado rookie Dexter Fowler stole five bases Monday (in the first four innings). Cincinnati starter Edinson Volquez (5 IP, 1 H, 3 R, 3 ER, 7 BB, 7 K, 1 HBP) walked the bases loaded in the fourth inning and then forced in two runs by walking two more batters, including Atlanta pitcher Javier Vazquez, who hadn't had a hit in three seasons and an RBI in four.
But this week's award goes to the line produced by Florida closer Matt Lindstrom (2/3 IP, 4 H, 7 R, 6 ER, 3 BB, 2 K) after he walked three batters and served up a grand slam to turn a 3-0 lead into a seven-run loss Friday. Impressive as it is, Lindstrom's line isn't the actual award winner, though. No, the award goes to the Phillies' linescore, which you definitely don't see every day, especially in a 7-3 victory:
PHI 000 000 007
By the way, the Phillies have scored 25 runs in their final at-bats this season.
TELL YOUR STATISTICS TO SHUT UP
The Yankees finally bowed to economic reality Tuesday and cut the prices of many of their highest-priced tickets in half. And I'm sure the Yankees' phone lines are jammed with fans placing orders now that those $2,500 seats behind home plate are now a bargain-basement $1,250 apiece. "I mean, $2,500 was just a little out of my price range. But at $1,250? Are you guys serious? That's only $101,250 for one seat for the season! How can I afford to turn that price down? Give me four! I want to bring my kids, too." Of course, if you already bought season tickets in the $2,500 section -- raise your hands, we know you're out there -- you don't get a price cut, but do get an equal number of seats in the section for free. Or your first child back. At this point though, the prices might not be the only problem with selling those tickets. After all the negative attention, are there enough people without a single ounce of shame who will subject themselves to public ridicule by seating in that section?
Interesting couple of days for Colorado's Glendon Rusch and Jason Grilli. On Monday night, Grilli walked out of the clubhouse with his first victory. By the time he left the clubhouse Tuesday, the W had been stricken from his record and given to Rusch instead. Why? When Rockies starter Jason Hammel gave up five runs in the first three-plus innings Monday, Rusch took over in the fourth with a 6-5 lead. He held San Diego scoreless for two innings then gave up two runs in the sixth and left with a 10-7 lead and two out. Grilli got out of the inning and pitched a scoreless seventh. Because Hammel didn't pitch the five innings required for a starter to get a victory, it was up to the official scorer to determine which of the relievers deserved the win. On Monday night it went to Grilli, but upon further review, it went to Rusch. Being the official scorer is not as easy a job as it seems.
Tuesday's doubleheader between the Mariners and the White Sox took only three minutes more to play (4:24) than Saturday's Red Sox-Yankees game (4:21). The Red Sox, in fact, played 4:21 on Friday (the game went 11 innings), 4:21 on Saturday (the 16-11 game) and 4:19 on Tuesday against Cleveland. Even Sunday's 4-1 win over the Yankees took 3:09.
Jim Caple is a senior writer for ESPN.com.