Commentary
How worried should we be about Michael Phelps and marijuana?
Updated:
May 19, 2009, 9:43 PM ET
By
Jim Caple
| Page 2
Michael Phelps returned to the pool over the weekend, and somehow our society weathered the crisis.
[+] Enlarge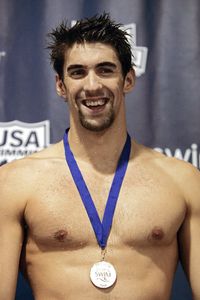 AP Photo/Gerry BroomeMichael Phelps actually was beaten twice over the weekend.
Parents momentarily forgot the threat posed by a 23-year-old athlete/role model's smoking marijuana to better focus their fears on the possibility that their children could be sexting. Teenagers did not catch swine flu by sharing celebratory bong hits because they were too busy texting their friends while their parents lectured them about sexting. And Kellogg's, always concerned with projecting a healthy image for America's youth, extended its contract with Toucan Sam to endorse Froot Loops.
Phelps, meanwhile, can go back to the cover of Sports Illustrated instead of the cover of High Times. Or, at least, I hope so.
"The poor guy," Rick Steves said of the outrage over Phelps' infamous bong hit. "Kellogg's wants to preserve this fantasy that good athletes don't smoke pot. Good athletes smoke pot. Smart good athletes don't get caught."
If you've had the good fortune to travel to Europe, or the lesser fortune of tuning in to a PBS pledge break, you're probably familiar with Rick Steves. His "Europe Through the Back Door" guide books are the best European travel guides by so wide a margin that I'm not sure which is more essential for a trip overseas, your passport or your Rick Steves book. He also is an outspoken proponent for the decriminalization of marijuana, so I called him recently to learn what he thought about the fuss over Phelps.
"I think it's a good example of how America is sort of hysterical about a drug that the rest of the world doesn't think is very dangerous," he said. "About half the people in America have smoked marijuana. The president has. Some members of the Supreme Court have … many people have. But if a celebrity athlete smokes pot, they lose their endorsements."
There was far more public outrage over Phelps' smoking marijuana at a party this winter than when he was busted for driving while intoxicated after the 2004 Olympics. That's due in large part because when Phelps had the DUI, he was far lower on the celebrity food chain. However, he became the biggest athlete in the country when he broke Mark Spitz' record, which meant he was bound to get blasted no matter the indiscretion.
"A British tabloid printed photos of Michael Phelps entering the '15 Items or Less' line even though he clearly had 17 items -- and 22 if you count a six-pack of Coke as six items. What will we tell our kids?"
Still, the overreaction points out how silly our attitudes can be toward marijuana. Rather than pretend we're shocked that a 23-year-old smoked pot, we should examine whether marijuana ought to be illegal in the first place.
The answer is simple for Steves. We should decriminalize pot.
"Nobody is saying drugs are good. No one is saying you should smoke pot. People are just saying: Don't arrest adults who smoke pot," Steves said. "It's a civil liberty. They stopped arresting people in the Netherlands 25 years ago and marijuana use hasn't gone up. They treat it as a health problem, not a crime. The U.S. is stuck in this mindless war on drugs costing billions of dollars. There are 80,000 people in jail right now for simple laws regarding marijuana. There were 800,000 people arrested last year for marijuana, most for simple possession."
Steves wants to be clear. He isn't saying kids should be allowed to use marijuana, just as he doesn't think they should smoke or drink alcohol. And he isn't advocating the legalization of harder drugs. "I acknowledge there is a serious drug abuse problem in this country," Steves said. "I'm the parent of two teenagers. I don't think they should smoke pot."
What he is saying is that prohibiting marijuana "causes more trouble than the drug does."
There are many others who don't see it that way, which is fine. We need to hear those views. We need to hear all sides, as part of a serious discussion on this subject, and then make a rational decision about whether marijuana should be legal in this country.
What we do not need is to waste any more energy fretting over a college-age athlete smoking pot and the negative lesson it sends to the nation's youth. Otherwise the negative message kids will learn from Phelps' bong hit is this: Adults are too busy shouting about meaningless crap to intelligently discuss what is actually important.
Jim Caple is a senior writer for ESPN.com.