Commentary
Kauffman Stadium is better than ever
Updated:
July 6, 2009, 3:44 PM ET
By
Jim Caple
| Page 2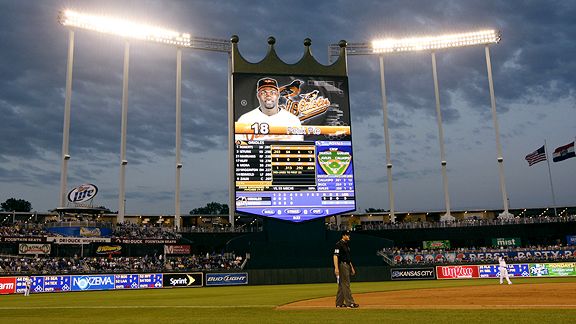 Jamie Squire/Getty ImagesKauffman Stadium 2.0 has earned the love of hardcore fans and players alike.
KANSAS CITY, Mo. -- Remodeling Kauffman Stadium is like sending Megan Fox to a plastic surgeon. Completely unnecessary but a worthy effort, nonetheless.
Although it was built in the same era that gave us Veterans Stadium, Riverfront Stadium and the other soulless cookie cutters, Kauffman Stadium was always one of baseball's best and most underrated ballparks. That such a classic design could have come out of the '70s is as surprising as glancing through high school prom photos from that decade and finding students wearing stylish Armani rather than powder blue leisure suits and polyester shirts with collars that could poke out your dance partner's eye.
New York would have torn down and rebuilt this stadium at a cost of $800 million to $1.5 billion so that Bernie Madoff and his ilk would feel adequately pampered in their box seats behind home plate. At $250 million, Kansas City's new remodel was by no means cheap but the result is a far better, more crowd-pleasing ballpark than either the new Yankees or Mets stadiums we've heard so much about.

"I love this place," Minnesota manager Ron Gardenhire said after Tuesday's Twins-Royals game. "It's amazing to me that they took a stadium that was this old and made it look brand-new."
I like it as well, though I do miss the old expanse of vibrant green berm beyond the outfield walls. Seeing it made you just want to spread a blanket out on the grass and enjoy a picnic by the fountains. That lawn has been replaced by limited outfield seating, a Royals Hall of Fame (opening this month), an enormous kids play area and enough concession stands, bars and party areas to pump out more liquids than Kansas City's famous fountains.
"It does look busy out there," Gardenhire said. "You used to look out at all that grass and the fountains and they were just gorgeous. You wanted to climb up there. It's busy now, but you know what, that's the way modern stadiums are. It looks like a party out there. It looks like they're having fun."
He's right about that. They do have a party out there. Fans might have felt the urge to picnic on the old outfield lawn but now they can actually do so, enjoying barbecue sandwiches, sipping (or guzzling) brews and cooling themselves in the mist from the fountains. Even as much as I miss the old grass, I must admit, it is a pleasure to stand amid the fountains and feel the mist on your back with the game in front of you.
"It's a whole new experience being right next to the fountains," Tiffany Seifert said from her seat in left-center. "And you feel so close to the players down there."
Tiffany and her husband, Brandon, are huge Twins fans, but they love Kauffman so much they make the drive to Kansas City at least once a year. They even came here on their honeymoon. Which may sound crazy, but it's nothing compared to where they went the day after their wedding: the Metrodome. Romantic, huh? The blue Hefty bag in right field matches your eyes, honey. "He's the biggest Twins fan in the world," Tiffany said. "But I was just as excited to go as he was. I wasn't dragging my feet." And if you really want to know what a keeper Tiffany is, consider her reaction when Brandon knocked on her door for their first date in October 2005: "I said, 'Do you mind if we just stay here and watch the playoffs instead?'"
(Sigh. Why are all the good ones taken?)
The aesthetics of the missing grass aside, the remodel leaves most of the stadium looking relatively unchanged except for some important fixes that enhance the fan experience. In a play area that stretches from behind the outfield to approximately Nebraska, kids can amuse themselves at a speed-pitch booth, a batting cage, a base-path run, a miniature sandlot and even a mini-golf course. About the only thing missing is a George Brett pine tar pit for them to roll around in so they can get the car seats all sticky.
The stadium scoreboard has been replaced by a massive and beautiful HD screen. The concourses are wider and more manageable, and the concession stands offer a broader array of food, from some of the league's best barbecue (which you expect in Kansas City) to strawberry smoothies (which you don't). Prices are typical ballpark-high, but I've seen worse. In fact, one stand sells Blue Moon beer for $7 and Miller for $7.25. Yes, one of the country's best microbrews for less than Miller. It's enough to make you buy a season ticket.
(One item does stand out as remarkably overpriced. Water is $4.25 at most stands, which is bad enough, but some stands offer "premium" water for $5.50. Premium water? How can water be premium? Does it promote hair growth? Clear up acne? Increase virility? You would think grounded, hardworking Kansas City citizens would know better. People, it's just water! Save some money -- get it for free from the drinking fountain! Premium water, grrrrr, don't get me started.)
Kansas City fans have put up with a lot since the Royals won their only World Series in 1985 but if the baseball has often been bad, at least there were few better places to watch it from on a warm summer evening than the original Kauffman Stadium. I prefer the original pastoral look but the same holds largely true for the remodel. As the Roger Maris quote displayed in the Diamond Club reads: "I don't know if I want to go to New York. They'll have to pay me a lot more money because I like it here in Kansas City."
I know the feeling, though I'm not quite sure I would want to spend my honeymoon at the ballpark.
Unless, of course, Zack Greinke is pitching.
BOX-SCORE LINE OF THE WEEK
Mariano Rivera picked up his 500th career save and also walked with the bases loaded for his first career RBI in the same game (unlike other closers, at least Mo occasionally pitches more than one inning). Tampa Bay's David Price had a terrible game early in the week (4 1/3 IP, 7 H, 10 R, 5 ER, 2 BB, 2 K) before rebounding with perhaps his best game yet (6 1/3 IP, 2 H, 1 R, 1 ER, 5 BB, 4 K). Chicago's Carlos Marmol picked up a "hold" despite this line (1/3 IP, 2 H, 2 R, 2 ER, 3 BB, 0 K). Seattle's Brandon Morrow turned an unassisted double play (DP, Morrow), which is not an easy thing for a pitcher to do. And Tim Lincecum put up another dazzler with his third complete game of the season (9 IP, 2 H, 0 R, 0 ER, 0 BB, 8 K, 95 pitches).
This week's award goes to Tony Gwynn Jr., however, for this line when he hit his first home run with the Padres:
Gwynn, rf 5 AB 1 R, 1 H, 1 RBI
No, it's not that big a deal except that, as Tom Friend conveys in this splendid piece, it's just fun to look at a San Diego box score and see the name Gwynn again.
TELL YOUR STATISTICS TO SHUT UP
• Did you catch this line in the story about Pittsburgh's trading Eric Hinske to the Yankees for two minor league prospects? "In addition (to Hinske), the Pirates will give the Yankees cash." As my colleague, Paul Lukas, put it, there is just something fundamentally wrong with a transaction that sees money (in this case $400,000) going from the Pirates to the Yankees. What's next? The Pirates will mow the outfield grass and whitewash the fences?
• Top Brewers prospect Jeremy Jeffress was suspended for 100 games for testing positive for a "drug of abuse," which was not specified but is believed to be marijuana. If he tests positive a third time, he will be banned for life. While the prospect of a lifetime ban should provide even the Dude in "The Big Lebowski" with sufficient incentive not to smoke weed in the future, the larger issue is why baseball tests minor leaguers for this drug and punishes them so harshly. Yes, marijuana is illegal but it is not remotely a performance enhancer. And if everyone from Lou Piniella to President Obama has admitted to smoking dope, it is draconian and silly to threaten someone with the loss of his livelihood for its use.
• Adrian Beltre received grief from some Seattle fans disappointed that he didn't live up to their expectation after he signed a five-year, $64 million deal with the Mariners following his season of 48 HR, 121 RBIs, .334 in 2004. But it wasn't his fault Bill Bavasi gave him so much money. And aside from that career year before free agency, his seasons in Seattle were similar to, if not better than those in Los Angeles. Plus, he provided Gold Glove defense. The pleasantly surprising Mariners will be hard-pressed to replace him while he's on the disabled list following surgery to repair bone spurs in his left shoulder.
Jim Caple is a senior writer for ESPN.com.