Commentary
HR Derby isn't hazardous to your health
Updated:
July 15, 2009, 12:28 PM ET
By
Jim Caple
| Page 2
Here's what I don't understand when players complain that hitting in the Home Run Derby will screw up their swings: How?
Remember, these are major league hitters. They have been swinging a bat and honing their strokes practically since they had umbilical cords. They take batting practice every day, usually multiple sessions per day. They take BP much of the winter -- many veterans have batting cages in their homes -- followed by every day of spring training, followed by every day for the six months of the regular season. They adjust from game to game and inning to inning depending on whether they're facing Tim Lincecum's 95 mph smoke or Jamie Moyer's changeup or Tim Wakefield's 60 mph knuckler.
Yet we're supposed to believe that one night of the Home Run Derby will send them into a funk that lasts the rest of the season?
[+] Enlarge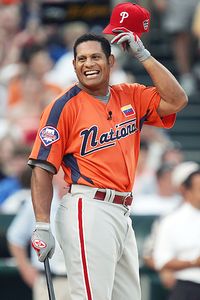 Jonathan Daniel/Getty ImagesBobby Abreu enjoyed a torrid first half in 2005, but he cooled off after winning the Home Run Derby. Coincidence? We think so.
"It doesn't. It's just a matter of whether you want to participate," said Texas outfielder Josh Hamilton, who was the star of the 2008 Home Run Derby. "That's what it comes down to. In batting practice, you have one or two rounds where you really try to cut it loose and hit it over the fence. A lot of power hitters might have a little uppercut in their swings, and that's perfect for the Home Run Derby. It's not going to change anything."
Now, I can see why batters might want to avoid certain risky behavior during the All-Star break. In fact, here are the top 10 things batters should avoid:
10. Watching Padres hitting videos
9. Harvesting acres of wheat with a scythe
8. Wiffle ball tournaments
7. Marathon "Wii Baseball" sessions
6. Children's piñata parties
5. Russian kettle bells
4. Arm-wrestling tournaments
3. Those midway carnival games for which you try to knock over the milk bottles that never fall over no matter how hard you throw the ball
2. Lumberjack tree-chopping competitions
1. "Land of the Lost" (just out of general principle, not because it would necessarily screw up your swing)
But the Home Run Derby? C'mon, get real. It's just more batting practice. How could it hurt your swing?
"I've never done one of those, but I think it wouldn't hurt your swing," Rangers third baseman Michael Young said. "I think as a big league hitter, better yet as an All-Star big league hitter, you can find a way to adjust your swing a little bit so that you don't kill yourself in one night. … I don't think it does anything to mess up your swing."
Exactly. Do NBA players complain that the 3-point contest on All-Star Weekend totally messes up their shot?
"It doesn't make any sense at all," Young said. "It just doesn't make any sense to me."
Much of this angst over the Home Run Derby factor arose when Bobby Abreu hit 18 home runs in the first half of 2005, competed in the Derby, then hit just six home runs the rest of the season. But that's hardly proof that his power dropped because the Derby messed up his swing. It's more likely the power drop had nothing to do with the Derby and everything to do with the usual ups and downs and streaks and slumps of the baseball season.
"If you have a big day and you're swinging perfect, you're not going to have that perfect swing the rest of your life or the next couple days. So I don't think a bad swing will affect you for the next couple days," Detroit third baseman Brandon Inge said. "The other side of it is, if you're hitting in a game with a guy on second base and no outs, you take a different swing to get the guy over, and with a guy on third and no outs, you take a different swing to drive the ball in the air. In batting practice, honestly, if they want you to hit the ball to right, center or left or anywhere, you can do it. The ball is coming in a lot slower.
"We're professionals. As Albert Pujols or Ryan Howard said, you can make adjustments. It won't stick with you anyway. Someone once told me it takes 30 days for muscle memory to become habit. I wouldn't think that few swings in one night would affect you."
I should point out that Inge said that before he went homerless in this year's Derby, going 0-for-10. It was a very disappointing performance, especially if you took the over on Inge's home run totals.
But not to worry, Inge is correct that it won't affect his second-half performance. As Hamilton says, this whole "oh, it will mess up my swing" nonsense is nothing more than a convenient excuse for a player not to participate without coming out and saying he doesn't want to. Alex Rodriguez pulled it last year, complaining that the Derby messes up your swing for three weeks, but as Jayson Stark pointed out, the last time A-Rod participated (2002), he hit four home runs in the first four games after the break and 30 total in the second half.
Now, if you'll excuse me, I need to end this column. I've written well more than 800 words, and I'm worried that if I keep typing, I'll develop carpal tunnel syndrome and ruin myself for the second half.
Jim Caple is a senior writer for ESPN.com.