Commentary
The joy, and sorrow, of cycling
Originally Published:
July 21, 2009
By
Jim Caple
| Page 2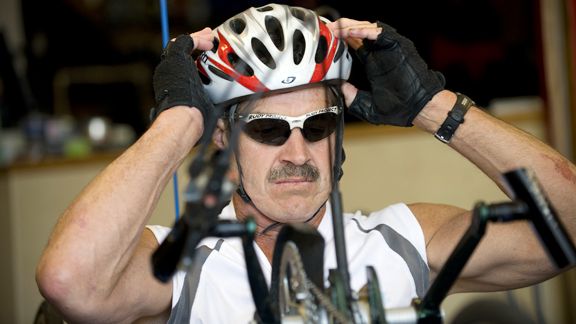 Rod Mar for ESPN.comEd Farrar has not let his paralysis keep him from one of his favorite pastimes.
WENATCHEE, Wash. -- The Farrar home offers a spectacular view of the Wenatchee Valley and Columbia River, but you have to earn it. The house sits near the top of a daunting stretch of road that rises more than 600 feet in one mile. With an average gradient of 12 percent, it is a beastly little climb. Tyler Farrar bicycled down this road on his way to school as a child, with his mother, Cindy, picking him up at the end of the day to drive him back up the hill. By age 11, Tyler no longer needed the car ride. He cycled up the road on his way home from school almost every day until he graduated. This is how you get to the Tour de France.
One of the world's top sprinters, Tyler, 25, is riding in his first Tour this year. He has already covered more than 1,600 miles, finished second in two stages, and crashed into a guard rail. But to reach the Tour's finish in Paris later this week, he must race 550 additional miles, ride through Switzerland and Italy and back into France, and fight his way up mountain roads as high as 8,000 feet with more than 30,000 feet in combined elevation gains.
It is his father, however, who is making the greater climb.
Dr. Ed Farrar, 58, is a handsome, adventurous man who played linebacker at Georgia Tech, summitted Himalayan peaks, paddled white-water rapids and cycled to the top of the Col du Galibier, often the highest climb in the Tour de France. As he told an audience earlier this year, "There are not many things I have put off." Shake his hand and you feel a grip so powerful it's as if he could rip your arm off. Yet those are also the hands of a skilled spinal surgeon who healed broken bodies and allowed people to walk again.
[+] Enlarge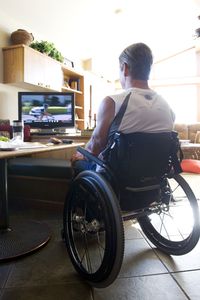 Rod Mar for ESPN.comEd Farrar eagerly watches his son, Tyler, compete in the Tour de France.
The horrible irony is that Ed will never walk again. While riding his bike to work last October, Ed was hit head-on by a car, an accident that nearly ripped his body in half, cost him an inch of his spinal cord and left him paralyzed from the chest down. He can no longer perform surgery.
Ed and Cindy should be in Europe this week, rooting on their son to win the final stage along the Champs-Élysées. Instead, Ed watches the Tour on TV each morning and then pulls himself into his specially designed hand bike for a daily two-hour ride that allows him to feel the wind in his face, the joy of movement and the sensation of what his life used to be like.
"My cycling is separate from real life. What he's dealing with is real life," Tyler said. "What I'm doing is sport. What he's doing is a lot more serious. I have a lot more respect for what he's going through than whatever hardship I'm experiencing going up a mountain."
July 9: A bicyclist was killed late Wednesday night when he was struck by a motorist on an Aurora Avenue North off ramp. … July 5: A bicycle rider has been fatally injured in a collision at a rural intersection northwest of Bremerton. … July 2: A 39-year-old cyclist was killed in a collision with a van this morning in Ballard. …
-- From Seattle news reports
Cindy Farrar prays for her son before every race. Not that he will win, though she hopes for that as well, but that he will finish the race safely. She has seen Tyler crash and break his collarbone five times, and helped "pick rocks out of all parts of his body" many more times. Such is the life of a pro cyclist and his family. As Daniel Coyle details in "Lance Armstrong's War," pro cyclists face a 1-in-4 chance of being hospitalized during a six-month season. The threat is significant enough that after a crash sent cyclist Saul Raisin into a coma with severe brain damage in France several years ago, Ed and Cindy bought supplemental insurance that will pay for Tyler's transport back home should he be seriously injured in Europe.
Crashes happen all the time in cycling. During the Giro d'Italia in May, Garmin teammate Christian Vande Velde crashed and fractured his pelvis, two ribs and three vertebrae -- but not only is he back riding in the Tour, he is in 12th place, only four minutes off the lead. (Cyclists are a tough lot.) Tyler crashed two weeks ago on the Tour's sixth stage, cracking over a guard rail and terrifying his parents watching on TV back home before they learned he was all right and would continue in the Tour.
"I worry always," Cindy said. "I've worried a lot more since Ed's accident. My worry now is if Tyler gets hurt, I'm so acutely aware of what it's taken to get Ed to this point."
On the morning of Oct. 22 last year, Ed was cycling up Wenatchee's Skyline Drive on his way to perform surgery at the local hospital. It was the same route he rode whenever he worked at the hospital. He knew every rise, every turn of that ride. On that morning, however, a car veered out of its lane and directly into his. The car hit Ed head-on, crushing into his chest. He collapsed to the ground, and the car, still moving, ran over him. His neck was broken in several places, all his ribs were fractured, his lungs collapsed. The accident caused such damage to Ed's body that, he says, "It must have almost ripped the top half off the bottom half."
The self-professed apple capital of the world, the Wenatchee area has a population of about 30,000. There were only two spinal cord surgeons with the expertise to handle a patient with such extensive injuries, and one of them was crushed unconscious under the car and in imminent danger of bleeding to death. The other was Hank Vejvoda, whom Ed recruited to join his clinic five years ago. Vejvoda is also a cyclist, and he was riding to work that morning along the same road. Thus, the only doctor in the area who could have saved Ed was the first person on the scene, two minutes after the accident. Had Vejvoda not been available, Ed said, "They would have airlifted me to Seattle and I would have died en route."
Within the hour, Ed was in the operating room, where his partner and other medical associates worked on him for 12 hours, pumping 16 units of blood into his body and saving his life. "It's not good to see your friends in the ER," said Tom Ettinger, a critical-care surgeon and friend of Ed's. "It was a real tearjerker day for everyone." Ed spent six weeks in the intensive care unit, then was transported to Seattle's Harborview Hospital for four weeks in one of the country's finest spinal care centers. He returned to Wenatchee for three more weeks of rehab and then was released to go home. And that's when the real struggle began.
[+] Enlarge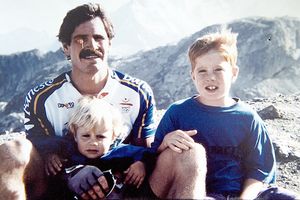 Rod Mar for ESPN.comHere's that photo of Ed and his two sons atop the Galibier in '92.
"He was always looking for the next big challenge," Tyler said. "He's in an incredibly unfortunate situation but he's making the best of it. This is a hard one. He likes challenges, but this is big."
The Farrar home is filled with family photos, reminders of what Ed's body was capable of. There is a black-and-white shot of Cho Oyu, the world's sixth-highest mountain (26,864 feet), which he climbed. A touching photo of Ed with Tyler and his youngest son Fletcher atop the Galibier at the 1992 Tour. Photos of Ed fishing, kayaking, skiing and cycling with his family.
"That's what life used to be like," Ed said.
Ed has made impressive physical progress since the accident, but the emotional healing takes just as much time. "Imagine all of a sudden that the things you can do are markedly different from what they were," he said. "You either have to accept it and get into it or you check out. That's why the incidence of depression and alcoholism and suicide are so high in spinal cord patients, because you have to live with a whole new body. It's like you're born into a whole new body. One of the things that helped me was when somebody told me 'You're like a baby again.'
"OK, so that means I'm nine months old now and I've got to learn how to walk again and talk again and learn how do everything differently. It's hard. It's hard. You're back into a normal situation but your body is no longer normal and you negotiate with your body to do the most basic things. The things that we struggle to accomplish are what everyone else takes for granted. You have to accept that's just the way it's going to be. And that's tough to accept."
Ed was a spinal surgeon for a good part of two decades. After nine months as a spinal cord patient, he said, "I'm embarrassed by how much I didn't know."
June 26: A 60-year-old man was cycling around Bainbridge Island, riding down Highway 305, when he merged into the left turn-lane. He remembers a vehicle coming up quickly to the left, behind him. According to police, the 23-year-old female driver hit him, then ran over his head. …
Like Cindy Farrar, my wife worries every time I go out for a ride, and she expressly forbids me from biking after dark. She can remember the day she received a call from the paramedics telling her that I had crashed into another cyclist and was on my way to the hospital. I suffered a minor concussion that day and still have no recollection of the actual accident.
My brother was hit by a car last month, but he was lucky. He only had two broken ribs and a collapsed lung. He spent three days in the hospital. When I saw him, I told him he was now a real cyclist because of the crash.
Cycling is a wonderful sport, both relaxing and exhilarating. And just plain fun. Generally speaking, it is also safe. Millions of people ride bikes every year without incident, just as millions more drive cars, also mostly without incident. But unlike driving, cycling is also healthy (I've lost nearly 30 pounds since biking more seriously) and the country would be better off (less oil, lower health care costs) if more Americans commuted to work and ran errands on bikes rather than in SUVs. Still, every cyclist knows all too well the possible danger on the road, and I flinch virtually every time I see an unexpected car. Tyler's Garmin teammate, David Zabriskie, was severely injured when an SUV hit him in 2003. He started Yield To Life to increase cyclist/motorist awareness and decrease accidents.
"I feel that it's important to change motorists' perception of cyclists as inconveniences or nuisances you have to hurry and get around," Zabriskie said in an e-mail. "I want to replace that perception with the notion that cyclists represent LIFE -- life deserving of a little more time, a little more space, and a lot more respect. … I feel that the positives of cycling outweigh the dangers, but it remains all of our jobs to try to minimize the risk by riding safely and making motorists aware of their duty to yield to all life on the road."
Ed was hit by a car two times earlier, but the injuries were minor. If there is anything positive that has come out of this accident, he said, "it's that it has raised awareness on sharing the road, by both the cyclist and the driver. It's a reminder of just how bad you can get hurt, it's just an awful scenario. I don't know if I'll ever ride in traffic again."
The Farrars are not a family easily daunted by challenges. Ed and Cindy have climbed mountains together in New Zealand, the Alps and the Pacific Northwest Cascades. When Tyler comes home after a season, he climbs mountains with his 19-year-old brother Fletcher. And Fletcher has gotten into speed-climbing (check out this video).
Thus, Cindy never doubted Ed would get back on a bike. "He is a man who has defined himself by his physicality his entire life," she said.
So each morning Ed watches his son ride in the Tour (he was so excited and rooting so loudly when Tyler finished second by less than a bike length to Mark Cavendish in Stage 11, he woke up Fletcher in his bedroom) and then rides 21 miles along the Columbia River. Like Tyler, he often powered up that steep road to their house, and rode 200 miles a week, but now he struggles along a recreational path he used to consider flat. And he savors every moment.
[+] Enlarge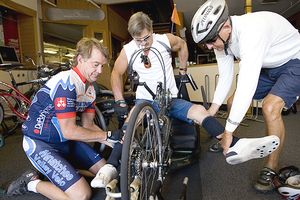 Rod Mar for ESPN.comEd has many friends who have volunteered to escort him on his rides now.
"It's my key to sanity," Ed said. "I don't know what I would do without it.
"One of the reasons I live here is being able to do things outdoors. Cycling, white-water rafting and climbing were my passions. This at least lets me get out on a bike path and cruise. … You either go nuts or you kill yourself if you can't do something. It's one thing to be a paraplegic as a kid; it's another in your 50s. How do you forget the life you lived?"
Ed is never alone on these rides. On this morning, Tom Ettinger and Terry Peters served as his domestiques, constantly moving ahead, beside and behind Ed, supporting him, protecting him. They occasionally sprint ahead to an intersection or blind spot, making certain that there is no danger from an approaching car, truck or cyclist. They stop to hand him water bottles and spray cooling water over his body. They are among a dozen friends who take regular turns riding with Ed.
Tyler's Garmin-Slipstream team has two riders among the top 12 in the Tour plus Zabriskie, who wore yellow in the 2005 Tour, but it is Ed who has the best support group.
"Ed must be well-liked in this city to have so many supporters," I said to Peters as we waited for him at the top of a hill. "Liked?" Peters replied. "Worshipped is more like it. He can't go anywhere without having someone thanking him and saying it's because of him that they're able to walk."
Michael Hansen is Ed's physical therapist, and he said there has been "a boatload of people who wanted to be little Sherpas and help Ed up the hill. … He just keeps fighting, keeps pushing. We keep putting challenges out there and he keeps meeting them and inspiring everyone."
Hansen, by the way, was Ed's patient after breaking his neck in a bike accident last year. With Ed's help, Hansen was able to recover and go on to win a state road biking championship in the masters division in May.
"He's just the greatest guy in the world," Hansen said. "He's so caring and loving. He's a throwback to the old-school doctors. He would come to my house to check on me. If I called him on a Friday he would be there. If I called him on a Sunday he would be there. He was just a saint, he was always by my side. I used to think I was special but he was like that for everyone."
Ironies abound in this story. A Tour de France cyclist's father is hit by a car while biking. A biker critically injured is saved because another cyclist was on the road. A spinal surgeon becomes paralyzed. The surgeon learns the most about the injuries he treated after he can no longer perform surgery. The surgeon rehabs with a physical therapist who was a former patient he helped heal after a critical biking injury. But perhaps this is the biggest irony of all. Ed Farrar nearly died riding a bike. Now biking helps keep him alive.
[+] Enlarge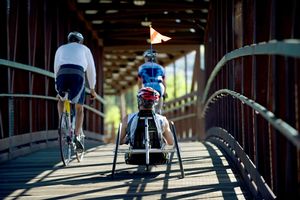 Rod Mar for ESPN.comLife is surely not the same for Ed Farrar. But he's still living, and cycling, to the best of his ability.
Straining at his hand crank and gasping for breath, Ed reached the top of a rise on the bike trail, where a young woman came riding up behind him. Her face was beaming. The woman said she just recently took up cycling and has absolutely fallen in love with the sport. She can't adequately express the joy of riding along a trail, the wind in her face, the beauty of the mountains rising beyond the Columbia. "Do you know who this is?" I said to her. "This is Ed Farrar. His son is in the Tour de France." She was delighted. "I've heard about you!" she shouted.
The two talked briefly, and then as Ed's powerful arms turned the crank and he pulled away, he gave the woman two words of advice:
"Keep riding."
Jim Caple is a senior writer for ESPN.com.