Commentary
The painful possibility of going cupless
Originally Published:
August 19, 2009
By
Jim Caple
| Page 2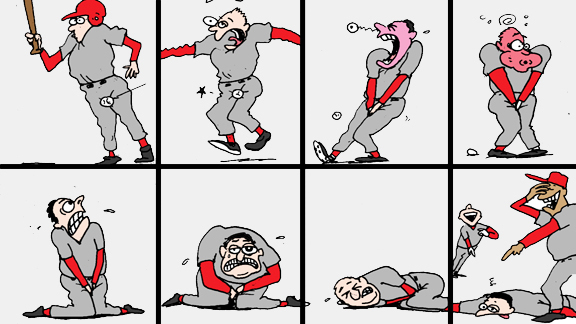 Kurt Snibbe
There are three things in baseball that are a reliable source for laughter.
1. Mr. Met.
2. A player getting hit in the groin.
3. Mr. Met getting hit in the groin.
Oh sure, at first we grimace and turn away when we see someone hit in the toolbox, but once the player gets out of the fetal position and stops vomiting, that grimace almost always turns into a grin. Not that getting hit in the Chicken McNuggets is a comic device strictly limited to baseball. It is the single most reliable gag in movie comedies, challenged only by someone farting. Which brings up an obvious question: Why does something that we all know hurts so damn much make us laugh so often?
I ask this because Seattle Mariners third baseman Adrian Beltre took a hard-hit grounder in the frank 'n' beans last week. Beltre does not wear a protective cup and suffered a severe contusion in the right testicle -- feel free to wince -- that put him on the disabled list and may knock him out for the season.

And yet when Beltre's teammates saw the play, they couldn't help but laugh.
"I feel bad for him, but it was funny," Ken Griffey Jr. said. "You laugh after you found out he was OK. While he's still on the ground rolling around, it's like, 'Awwwww.' But once we found out he was OK? It became funny."
Here's the thing, though. After the Mariners later found out the injury actually was fairly serious, Griffey says they still laughed: "Because we knew he was going to be OK. It might take him a little longer, but he was going to be able to lead a normal life."
Even manager Don Wakamatsu chuckled when describing the seriousness of Beltre's injury to reporters the next day. And remember, this was not only a manager on the fringe of a wild-card race who just lost his third baseman for a month or more, but also a former catcher who was hit in the Lion, the Witch and the Wardrobe many times, including so hard once that it broke his cup (he missed several games after that one).
Asked why we laugh when a player takes one in the Lower House of Parliament, Wakamatsu replied, "Location, location, location."
Screenwriter Ken Levine wrote for "M*A*S*H," "Cheers," "Frasier" and "Wings," so he knows comedy. He has also done play-by-play for the Mariners, Orioles and Padres (he currently hosts "Dodger Talk"), so he knows baseball, too. "Here's what's odd," Levine said. "Usually, in movies, we are allowed to laugh because we know it's fake. We can enjoy the indignity of some poor sap taking a spill or getting hit in the 'Beltre.' But his teammates had to know this was real. So I don't quite understand why they were laughing."
Well, it goes back to what Levine says is an adage about physical comedy. It's only funny when it happens to someone else. In other words, if you can't draw humor from someone else getting hit in the Urologists Wing of the Baseball Hall of Fame, from where can you draw humor?
As Wakamatsu says, "I think people can relate to how painful it is and are grateful that, 'It didn't happen to me.'"
OK. That makes sense. But here's the question you're all probably wondering: Why wasn't Beltre wearing a cup? After all, cups are so important they are usually required when you're in Little League. (That requirement put me in the awkward position, as a 17-year-old coach, of having to explain to a 12-year-old girl why she needed to wear a cup. On the one hand, I don't think I explained it very well. On the other hand, at least I didn't get arrested.)
Anyway, apparently there was no such cup requirement when Beltre was growing up in the Dominican Republic, which may explain why so many great infielders come out of that country -- there is strong incentive to develop good hands. When he signed with the Dodgers and started playing pro ball here, Beltre's team told him to wear a cup, but doing so felt uncomfortable to him.
I can understand that. Wearing a cup can be uncomfortable. It's why we so often see players adjusting themselves down there as if they were Michael Jackson rehearsing a video shoot. Of course, sometimes it gets out of hand (Julio Lugo) and you wish the guy would just get a cup that fits.
Anyway, in a desire for comfort, Beltre tossed aside the cup and went commando. He figured that if he could get by without a cup on the crappy, bad-hop amateur infields in the Dominican Republic, he wouldn't need one on the well-groomed professional infields here.
And he didn't. Until last week.
"He might wear one now," Derek Jeter said.
Jeter always wears a cup and assumes most players do, as well, but he doesn't know for sure about that because "it's not really a question I ask." Well, I did ask some players before Sunday's Yankees-Mariners game, and I got a full range of answers (as well as some odd looks).
Yankees pitcher CC Sabathia says he doesn't wear a cup, nor does Seattle pitcher Ryan Rowland-Smith, even though he once saw a catcher get hit there so badly that the player went into shock and needed an ambulance, paramedics, an oxygen tank and, eventually, ultrasound. (On a positive note, Rowland-Smith says the nurse performing the ultrasound on his teammate was very attractive.) After Beltre got hit in the Undersea World of Jacques Cousteau, Mariners rookie pitcher Luke French decided to wear a cup his next start. He put it on while warming up in the bullpen but took it off because it felt uncomfortable. He says he'll continue to wear a cup while warming up until he becomes comfortable enough to wear it in a game. (No doubt, he'll cross his fingers until then.)
Mariners third baseman Jack Hannahan says he would "feel naked" playing without a cup, while catcher Rob Johnson says he would never go behind the plate without one. "I have one son, and my wife and I want to have more kids. So I don't want to take any risk, especially knowing how much it hurts."
Griffey, on the other hand, says he doesn't wear a cup in the outfield. "If I get hit in the [Insert Your Favorite Euphemism Here] from 300 feet, I deserve it."
BOX-SCORE LINE OF THE WEEK
Dodgers starter Randy Wolf finished a triple short of the cycle, which is a bit like finishing an ace, king and queen of diamonds short of a royal flush. But it's still pretty good for a pitcher. Meanwhile, Detroit's Ryan Raburn, filling in at third base so Brandon Inge could rest his sore knee, made three errors in one game. But this week's award goes neither to an individual player nor to a team, but to the Angels and the Orioles for the amazing line they combined for on Sunday.
Baseball fans and writers love to say that you can go to a game on any given day and see something you've never seen before. This was certainly true when you could look up at the out-of-town scoreboard and see this line:
Angels: 301 201 100 000 9 -- 17
Orioles: 002 220 011 000 -- 8
Yes, a team held a nine-run lead in the 13th inning of a game. According to Elias, there had only been three previous games that went that long and were decided by that many runs -- in 1919, 1933 and 1933. None of those games ended 17-8, so it's probably safe to say that fans who saw that score on the board Sunday were indeed seeing something for the first time in major league history.
TELL YOUR STATISTICS TO SHUT UP
• There are already suggestions for repairing baseball's draft in the wake of the Stephen Strasburg signing, but here's a better idea: Just get rid of it. The original point of the draft was to hold down signing bonuses, but it no longer does that. It also doesn't mean the poorer teams will sign the best players available. And obviously, it also unfairly impedes a player's right to freely choose an employer. Would stopping the draft benefit the richest teams by allowing them to sign the best players? That's certainly the prevailing belief, but I'm not so sure. Yes, they will sign some of the best players, but they can't sign anywhere near all of them, even if they could accurately project each player's future career. Which they wouldn't. Despite all the scouting, most prospects flop -- a whole lot can go wrong on the way to the majors -- so teams would also be throwing away a whole lot of money on what likely would turn out to be very expensive, very bad investments. Think of it this way -- the more money the richest teams spend on players who never reach the majors, the less money they can spend on players who are in the majors.
• Griffey was Seattle center fielder Franklin Gutierrez's hero when he was a kid and Junior gave him a great complement recently after watching him chase down a fly ball into the gap. "Man," Griffey told him, "you're amazing." He is. I've covered Griffey, Kirby Puckett, Torii Hunter and Mike Cameron, and Gutierrez covers as much ground as any of them and more than several (his ultimate zone rating is 17.9). He is also developing as a hitter.
• It doesn't seem possible that Jeter has been around long enough to have more hits than any shortstop in major league history but he does. Jeter set the record for most hits by a shortstop Sunday, passing Luis Aparicio's total of 2,674. "It's kind of hard to believe," Jeter acknowledged. "I just try to be consistent from year to year and if you do that, good things happen." Right behind Jeter is Omar Vizquel, who had 2,669 as a shortstop as of this weekend. By the way, Jeter is currently third in the American League in Baseball Prospectus' VORP statistic. Are people touting the wrong Yankee as New York's top MVP candidate? Is Jeter (gulp) underrated this season?
The AL leader in VORP and the Off Base MVP, meanwhile, is Joe Mauer, who hit his 24th and 25th home runs Tuesday and raised his league-leading average to .383. According to Elias, the last four American Leaguers to have 25 home runs with an average of .380 this late in the season are Babe Ruth, Lou Gehrig, Ted Williams and Joe DiMaggio. (George Brett hit 24 home runs in 1980).
Jim Caple is a senior writer for ESPN.com.